World Facts
The Longest Rivers in Alabama
The Tennessee River is the longest river in the US state of Alabama.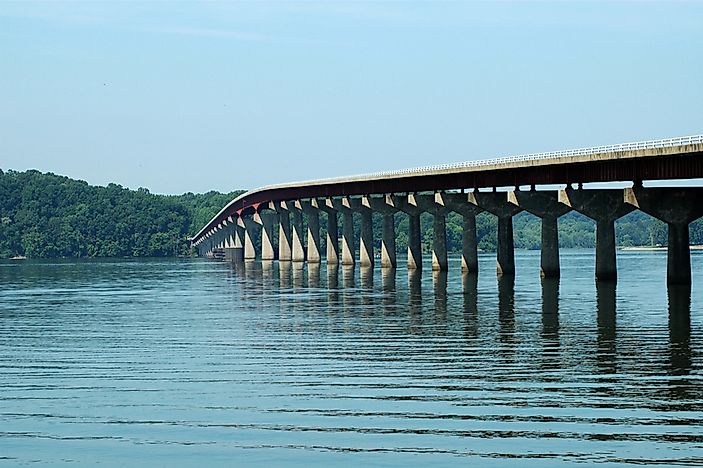 The state of Alabama has many rivers, some of which have attained significance due to their biodiversity, while others are popular tourist destinations. A list of the ten largest rivers in the state of Alabama is provided below.
1. Tennessee River (1,049 km)
The Tennessee River is 652 miles in length and flows through the Tennessee Valley. Its was previously named the Cherokee River due to the fact that the Cherokee tribe had established a settlement along the banks of the river, and later renamed the Tennessee after the village of Tanasi, an important Cherokee village.
2. Chattahoochee River (690 km)
The Chattahoochee River is a tributary of the Apalachicola River and is one of the longest rivers in Alabama. Its total length is 430 miles. Along with the Flint and Apalachicola, the Chattahoochee forms the Apalachicola–Chattahoochee–Flint Basin.
3. Alabama River (512 km)
The Alabama River is one of the longest rivers in Alabama, and is created from the union of the Tallapoosa River and the incoming River Coosa River at Wetumpka. The Alabama River meets the Tombigbee River, and then discharges into Mobile Bay, which is part of the Gulf of Mexico.
4. Coosa River (450 km)
The Coosa River's length is approximately 280 miles. Although not entirely located in Alabama, the majority of its length (Almost 90%) does flow through Alabama. Hence, it is considered as one of the longest rivers of Alabama.
5. Tallapoosa River (426 km)
The Tallapoosa River is approximately 265 miles in length. Damming of the river has created Lake Martin, which is a popular tourist spot for water sports.
6. Tombigbee River (320 km)
The Tombigbee River runs for almost 200 miles and is one of the rivers that joins together to form the short Mobile River, which discharges in Mobile Bay.
7. Conecuh River (319 km)
The Conecuh River runs for 198 miles. Once the Conecuh River reaches Escambia Creek, its name changes to the Escambia River.
8. Elk River (314 km)
The Elk River is one of the longest rivers in Alabama. It flows through both Tennessee and Alabama, and has a length of approximately 195 miles.
9. Cahaba River (312 km)
The Cahaba River has been described as one of the most beautiful rivers in the United States. It is one of the most biologically active rivers in the entire country. The Cahaba River has a length of about 194 miles and drains an area of about 1,870 square miles.
10. Black Warrior River (286 km)
The Black Warrior River runs for about 178 miles and was named after Chief Tuskaloosa of the Mississippian tribe, whose name translates to "Black Warrior." A large number of locks and dams have been created along the river to create hydroelectric power and provide water for human consumption.