World Facts
The Country With Disney Cartoon Characters on its Currency
The Pacific island nation of Niue has an interesting official currency.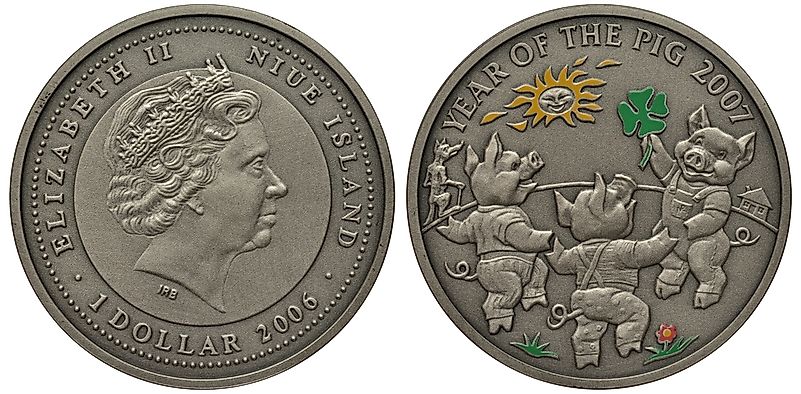 Niue is an island country in the Pacific Ocean that has coins with famous fictional characters. The currency is one of the beautiful things (such as rugged coastline and crystal clear water) the country has. Niue uses New Zealand dollars, but they have their own commemorative coins, which bear Disney Cartoon characters on them. The production of these unique coins began in 2014 and comprise of one-dollar and two-dollar denominations.
The Niue Dollar
Niue uses two formal tender currencies, the Niue Dollar, and the New Zealand dollar. The use of the New Zealand currency in this country is due to the free association between the nation and New Zealand. The coins in the currency of Niue comprise the Niue dollar that is used for collector's purposes. Initially, the country was using the pound sterling and Niue pounds or shillings.
The country started to issue the first universal coins in 2009. The denominations of these coins are 5, 10, 20, 50 cents and 1 dollar. They can be distinguished from the New Zealand coins since they have a different metallic composition and are thicker. All sets of standard coins in Niue have images related to the country and surrounded by a distinctive border. The coins also portray an official figure of Queen Elizabeth II or the national crest on the front. The New Zealand Mint produced a set of Niue Dollar, which honor the Star Wars series of motion pictures. The series depicts several significant characters from Disney series, and Lucasfilm Ltd. seemingly authorized it.
The introduction of coins with Disney characters began in 2001 when the officials of the country came up with the fantastic idea of featuring Pokemon characters on their currency. The characters of the Disney series feature on the coins are Snow White, Goofy, and Mickey Mouse. Other fictional characters that feature on the coins include the Godfather, Star Wars, Doctor Who, and Pokémon. Every time collectors buy a coin belonging to the country, the country earns a royalty. In fact, the collectors have been purchasing them online by paying hefty sums to get them.
Other Interesting Facts About Niue
In addition to having a special currency, Niue is associated with several other interesting facts. Niue was the first country in the globe to provide free Wi-Fi across the entire island in 2003. Over a thousand people on this island are enjoying the free Wi-Fi. Moreover, despite the fact that the Niue coins sell at high price, the economy of this country is small, probably because of its relatively small population. The GDP of the country in 2003 was NZ$17 million at purchasing power parity.