Travel
The 10 Cheapest Caribbean Islands For Budget Travelers
The Caribbean is a popular destination for those seeking the sun, sea, and sand amidst colorful settings.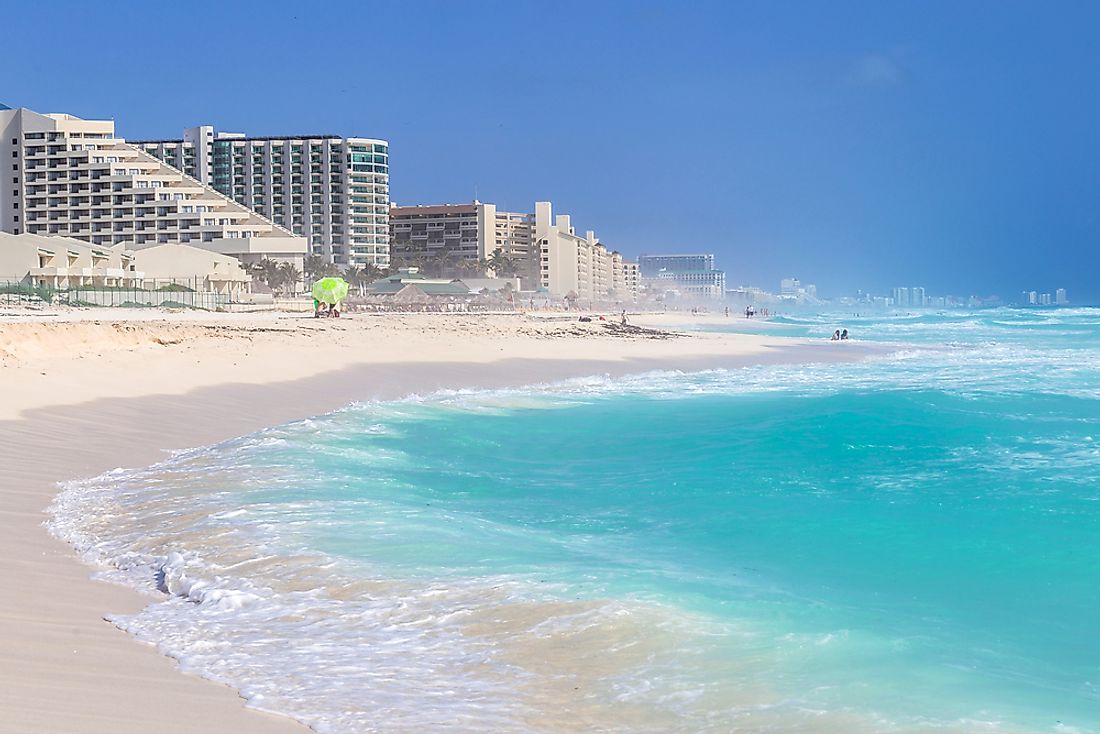 The appeal of white, sandy beaches and clear, turquoise waters draws many tourists to the Caribbean on vacation. Traveling, however, can be somewhat cost prohibitive for many people, which makes finding a cheap destination paramount. This article takes a look at some of the cheapest Caribbean islands for people looking to enjoy the wonders of a tropical island at an affordable price. The following prices consider two round-trip flights from New York City in the US and a week long stay at a 3-star, or better, hotel.
1. Cancun, Mexico
The cheapest and one of the most popular destinations in the Caribbean is Cancun in the Yucatan Peninsula of Mexico. From here, nearby sites include the Playa del Carmen and Cozumel. Although this location is not technically an island, it does have a few islands that can be included on the itinerary. The average cost for a 1-week stay is around $825, making it an excellent option for budget travelers. Here, people can go snorkeling, scuba diving, or exploring Mayan ruins.
2. Varadero, Cuba
Varadero, Cuba is the most popular tourist spot in this island nation. Its popularity is not too surprising, given that it is also the second cheapest Caribbean island getaway. For only around $1,086, 2 individuals can enjoy a week of rest and relaxation. This site is located on a 12-mile long peninsula that seems far removed from the rest of Cuba. It offers tourists beautiful beaches, catamaran cruises, and a taste of the local culture.
3. Curacao
Curacao, part of the Netherlands Antilles and located off the coast of Venezuela, makes for a unique Caribbean getaway. This island is filled with remnants of its past as a Dutch colony. Visitors can admire the Dutch architecture along the waterfront in the city of Willemstad or go snorkeling at the marine park. Other popular activities include: touring the Hato Caves, shopping on the floating market, and visiting some of the many museums located here. The average cost for a 1-week visit is $1,132.
4. Puerto Plata, Dominican Republic
The fourth cheapest Caribbean destination is Puerto Plata in the Dominican Republic at an average weekly cost (for flight and hotel) of $1,166. This area is most famous for its all-inclusive resort deals, which often help keep the cost of food and drink to a minimum. Puerto Plata is also home to the interesting Museum of Amber, a replica of the Christ the Redeemer statue, and the historic San Felipe Fort. The more adventurous at heart can go hiking through the Damajaqua Cascades, a canyon with 27 waterfalls, or go windsurfing at Cabarete Beach.
5. Punta Cana, Dominican Republic
Punta Cana is located on the eastern edge of the Dominican Republic. This tourist destination is considered the fifth cheapest in the Caribbean at only $1,235 for a weeklong stay. Punta Cana has grown up around the tourist industry, so a trip can really fulfill all the expectations of a Caribbean vacation getaway. History buffs will enjoy visiting Santo Domingo, which is a UNESCO World Heritage Site and the site of the first European settlement in the western hemisphere. Additionally, Punta Cana offers a number of watersports and boat tours if visitors grow tired of relaxing on its white, powdery beaches.
The list below offers a look at an additional 5 locations that make great Caribbean getaways for budget conscious travelers.
The 10 Cheapest Caribbean Islands For Budget Travelers
| Rank | Island | Country | 7-nights + Flight Index |
| --- | --- | --- | --- |
| 1 | Cancun/Playa del Carmen/Cozumel | Mexico | $825 (for 2 people) |
| 2 | Varadero | Cuba | $1,086 (for 2 people) |
| 3 | Curaçao | Curaçao | $1,132.00 |
| 4 | Puerto Plata | Dominican Republic | $1,166.00 |
| 5 | Punta Cana | Dominican Republic | $1,235.00 |
| 6 | Barbados | Barbados | $1,255.00 |
| 7 | Rincon | Puerto Rico | $1,262.00 |
| 8 | La Romana | Dominican Republic | $1,287.00 |
| 9 | Guadeloupe | Guadeloupe | $1,302.00 |
| 10 | Negril | Jamaica | $1,363.00 |
About the Author
Amber is a freelance writer, English as a foreign language teacher, and Spanish-English translator. She lives with her husband and 3 cats.
This page was last updated on August 3, 2017.
Citations
Your MLA Citation
Your APA Citation
Your Chicago Citation
Your Harvard Citation
Remember to italicize the title of this article in your Harvard citation.