Travel
Stockton Beach, Australia - Unique Places around the World
Stockton Beach is the longest stretch of sandy beach in the Australian state of New South Wales.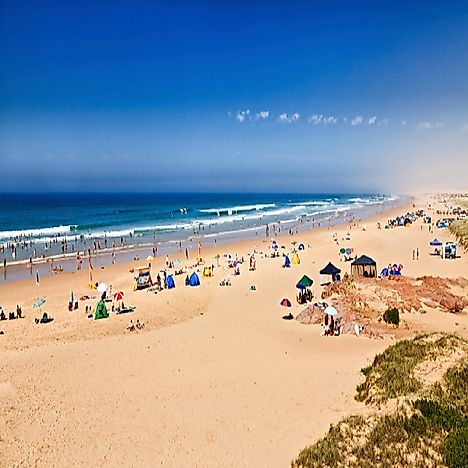 Description
Stockton Beach is located on the Tasman Sea coast of New South Wales, Australia. The beach is famous for having the longest stretch of sandy beach in all of New South Wales, with its 20 miles of sandy shore stretching from Stockton to Anna Bay. It is also known for its sand dunes, which reach heights of 30 meters, located closer to the Anna Bay end. The sandy shores at some point are as wide as a kilometer around the Anna Bay Road entrance, while the narrowest points are at the Stockton end. There is an entrance admission fee for vehicles. Summertime, which is during the same time as winter in the Northern Hemisphere, is the best time to visit Stockton Beach.
Tourism
Daytime brings about 4,000 tourists and locals to the beach. Of the nighttime, it becomes a favorite campground for as many as 2,000 campers. An annual beach run, the "Big Beach Challenge" is staged at the same time, with a 10-mile event right on the beach. The Stockton beach area allows four-wheel-drive vehicles to recreate on its bare sand dunes, while Birubi Point attracts surfers. Swimmers also seem to prefer the area, and good fishing spots are available in the breakwaters. The average tourist won't have any problems in getting to this destination in Newcastle, New South Wales. The Anna Bay entrance is at Lavis Lane, while the Stockton Beach entrance is at the Worimi Conservation Lands. Visitors from abroad commonly come into New South Wales through the Kingsford Smith airport in Sydney.
Uniqueness
Stockton Beach has some special areas that are integral parts of its charm to visitors. It is a nursery to a community of great white sharks at its Stockton end, and Humpback whales also pass nearby the Stockton Beach area during their yearly migration. Several old ships have washed up along its shores, as the waters around have been the location of many old shipwrecks in the distant past. The beach's more recent past includes it being used as a military bombing range, though today it has come a long way from a target. It has some new residential construction underway, and more and more tourists are coming to appreciate its beauty. Conservation has become part of the local way of life as well.
Habitat
Stockton Beach is blessed with many small coastal environments. In its coral reefs, there are sponges, marine fish, anemones, octopi, crabs, and barnacles. The avian population consists of terns, stints, turnstones, oystercatchers, and tattlers. In the nearby forests are emu, Australian possums, lyrebirds, and kangaroos. The forest plant community includes such native vegetation as a variety of orchids and trees. Other sites nearby include swamp forests, open forests, and wet heaths. Several types of weeds and bushes also thrive on some of the sand dunes, with wildflowers even being seen in some areas. Some of the current dune vegetation was introduced, and are now considered as weeds, such as the Bitou bush. Rabbits can also be found among the sand dunes.
Threats
Sharks are one of the main dangers to swimmers and surfers on the Stockton end of the beach. Strong riptides close to the Anna Bay area, where they are quite common, also present a hazard to swimmers. Other hazards are such shoreline marine animals as the Blue-Lined Octopus, which produces strong venom. Conversely, human impact in the form of urban construction has affected some areas, and sand mining also damages the local ecosystem. Four-Wheel-Drive vehicles have caused sand dune erosion by their constant driving over these dunes, and tourists and locals trampling the vegetation on the beach also contribute to negative human impacts. As a result, habitat loss and fragmentation of local fauna are clearly seen in many areas.
This page was last updated on April 25, 2017.
Citations
Your MLA Citation
Your APA Citation
Your Chicago Citation
Your Harvard Citation
Remember to italicize the title of this article in your Harvard citation.