Shanghai Disneyland Park is set to reopen its gates on Monday, May 11. It is the first Disney theme park in the world planning to open back up after being closed on January 25 because of COVID-19. The news came on Tuesday, May 5, when Disney's CEO Bob Chapek held an earnings conference call with investors and analysts.
Chapek explained that the park will not be operating under normal circumstances, and will have temporary restrictions in place for guests. Disney is planning on a "phased approach," to keep staff and visitors safe.
Safety Measures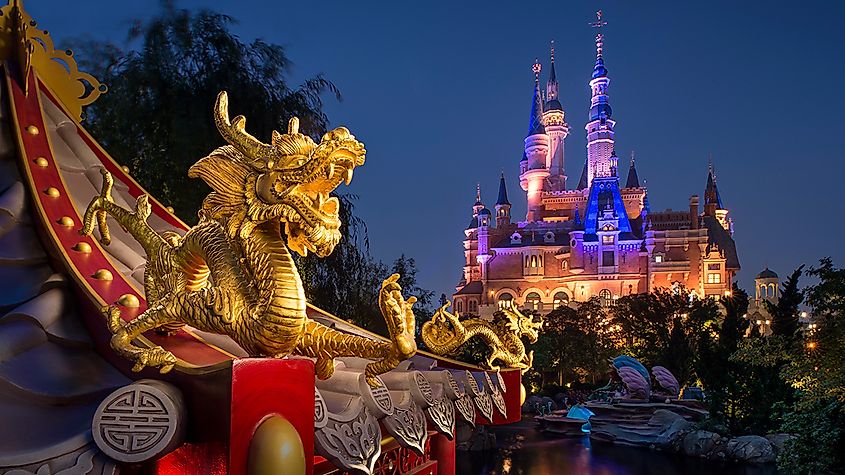 During the call, Chapek described how the new measures will be in place to prevent the spread of the coronavirus. There will be an enhanced reservation and entry system, which will work to control guest density. Although the park's normal capacity is 80,000 visitors each day, this number will be reduced to less than 30%. The property will initially open with even fewer guests per day and will work its way up to 30%, or 24,000.
Disney Shanghai will also be following other "strict government-required health and prevention procedures," including social distancing rules, temperature screenings, early detection systems, and contact tracing. All visitors and most Disney employees will also be wearing masks. The company will also open up Shanghai's Disneyland Hotel, Wishing Star Park, and Disneytown on May 11, with similar safety measures.
Hard Hit
Disneyland Shanghai was the first Disney park to shut down in response to the COVID-19 pandemic. Hong Kong Disneyland was the next to close, and Japan's Tokyo Disneyland and Tokyo DisneySea followed suit towards the end of February. The company estimated that the global lockdown caused around $1 billion in lost revenues to their Parks, Experiences, and Products segment.
Disney was hoping to reopen its parks by the middle of April, but this was not possible. All parks, along with their surrounding shopping districts and hotels, were shuttered until further notice. This led to widespread furloughs of the parks' staff members, and some executives have taken large salary cuts. It was also reported that Chapek's salary was cut by 50%, and Disney executive chairman and former CEO Bob Iger gave up his entire salary during the crisis.
Looking to the Future
As for when the remaining Disney attractions around the world will reopen, no dates have been released.  Disney's Chief Financial Officer Christine McCarthy stated that they do not know when their parks, resort properties, retail stores, and cruise ships will be back in operation. However, on April 29 Florida officials released a new set of guidelines pertaining to how Walt Disney World resort can safely open in time. The Florida theme park reopening will also be done in phases, starting at a 50 percent capacity. Additional regulations will include face masks and temperature checks for cast members, and hand sanitizer available throughout the park. Guests will also be required to keep six feet apart from one another while waiting in lines. The second phase will allow the park to increase capacity to 75 percent.
Shanghai Disney also sent out a press release, stating that they were looking forward to "recognizing and celebrating medical professionals who helped make our reopening possible."