Society
Sexual Orientation In The Developed World
According to the most recent nationwide surveys on hand, Western countries vary considerably in terms of adults that consider themselves LGBT.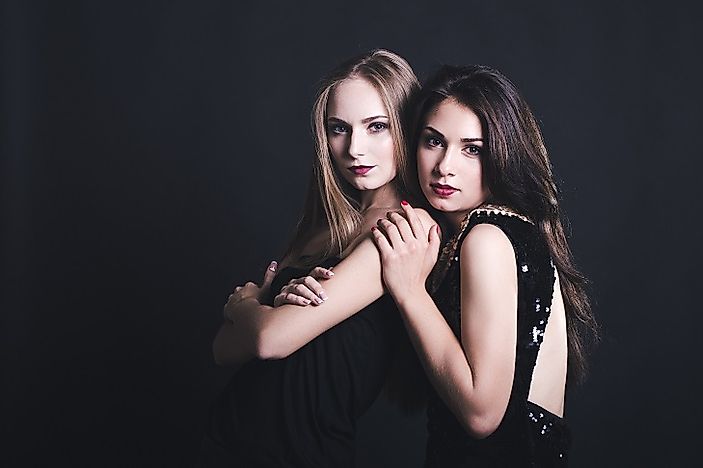 In some parts of the world, homosexual activity is considered a several criminal offense prospectively bringing terrible consequences, while in others it is widely accepted socially. According to recent national surveys, Western countries vary considerably in terms of adults identifying status as lesbian, gay, bisexual, or transexual. Statistics within self-reported surveys may not be accurate representation of a country, but instead as a measure of the national perception of being LGBT. People with past LGBTQ relationships may not identify, and there can be severe variations within regions of countries. A self-reported survey completed in San Francisco would show a remarkably different United States versus Arkansas!
Australia 3.5%
Melbourne, Australia will be home to Australia's first Pride Center, serving as a resource hub for LGBT health, support, and community. The final design is yet to be announced. Official apologies from the Victorian State government to Australians imprisoned for homosexual acts followed the announcement.
Brazil 9.0%
Brazil is a uniquely contradictory country. It has the highest LGBT murder rate in the world. Despite this horrifying statistic, Sao Paulo, Brazil, is host to the world's largest gay rights parade.
Canada 3.0%
Same-sex marriage for Canadians was legalized in 2005. In July 2016, Ontario became the first Canadian province to allow a third gender, "X" on drivers licenses. After years of restriction, the Canada Red Cross now allows gay men to donate blood after one year of abstinence. Prime Minister Justin Trudeau says this is "not good enough."
Denmark 2.7%
In 1989, Denmark was the first country to legalize same-sex unions. With its notoriously progressive stance on LGBT rights, Denmark has distanced itself from the concept of transsexuality as mental illness. Danish transpeople no longer need a medical recommendation to legally change gender.
France 6.5%
Current LGBT issues in France include lack of access to artificial insemination for lesbian couples, and the indefinite blood donation ban for gay men.
Ireland 5.5%
The notoriously Catholic nation of Ireland voted in 2015 to legalize gay marriage.
Israel 8.5%
Employment discrimination on the grounds of sexual orientation was outlawed in Israel in 1992, and LGBT people serve openly in the army. However, while Israel recognizes same-sex unions performed abroad, there is no same-sex marriage legislation.
Italy 6.7%
Adoption by an Italian LGBT couple is illegal. In February 2016, a bill passed in favor of civil unions between same-sex couples. Provision allowing "step child" rights for civil unions was struck from the legislation.
Netherlands 10.4%
The Netherlands is extremely tolerant, with only 30% of survey respondents reporting discrimination related to their LGBT status. The Netherlands was also the first country to recognize same-sex marriages at the nationwide level.
New Zealand 4.2%
In 2014 New Zealand's only plastic surgeon specializing in gender reassignment surgery retired, creating an insurmountable waitlist of 30 years for transpeople in New Zealand. The government funds a mere four gender reassignment surgeries every two years.
Norway 3.3%
In May 2016, a law was passed in Norway granting anyone over the age of 16 to determine their gender as male or female, though a gender-neutral option is not recognized.
Poland 9.0%
There is no legislation in Poland allowing for same-sex marriage, or protecting LGBT people from discrimination. With over 90% of Polish people identifying as Roman Catholic, it is unlikely that Poland's LGBT unfriendly atmosphere will change any time soon.
Sweden 6.0%
Sweden is one of the most socially liberal European countries. They were the first country to legalize gender reassignment surgery. LGBT couples have access to artificial insemination and adoption, however, gay couples cannot hire a surrogate mother.
United Kingdom 7.6%
While the UK has come a long way in terms of LGBT rights, one in ten LGBT-identifying children will be forced to leave home. Same-sex marriage was legalized in 2014 in England, Wales, and Scotland. Pride London is held annually in London, and is the country's largest Pride event. Brighton is regarded as the unofficial gay capital of the UK.
United States 3.8%
LGBT rights in the US vary widely across states. Same sex marriage is recognized by the federal government. Only 22 states have bans on workplace discrimination based on sexual orientation. Bathroom rights for transgender people is a controversial issue, with transpeople facing harassment for using the restroom appropriate to their identified gender.
Sexual Orientation In The Developed World
| Country | % of Adults of Both Sexes Identifying as Lesbian, Gay, or Bisexual |
| --- | --- |
| Australia | 3.5% |
| Brazil | 9.0% |
| Canada | 3.0% |
| Denmark | 2.7% |
| France | 6.5% |
| Ireland | 5.5% |
| Israel | 8.5% |
| Italy | 6.7% |
| Netherlands | 10.4% |
| New Zealand | 4.2% |
| Norway | 3.3% |
| Poland | 9.0% |
| Sweden | 6.0% |
| United Kingdom | 7.6% |
| United States | 3.8% |