Travel
Santorini, Greece: Unique Places around the World
The vilalges and natural scenes of the five islands of Santorini can only be described as a pinnacle of Mediterranean beauty.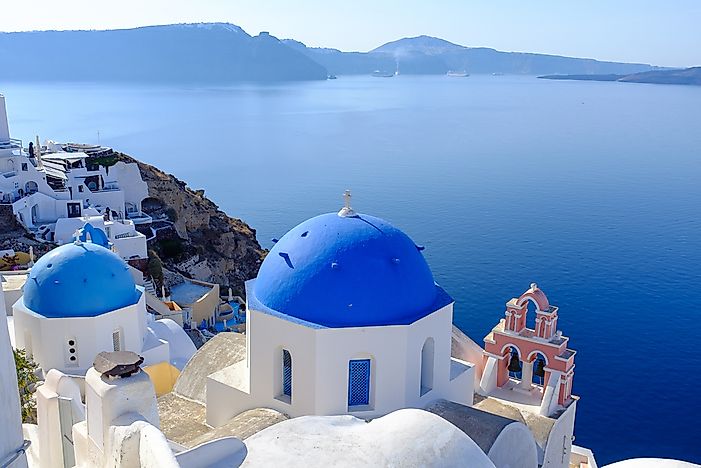 Description
Thira is one of the five islands of Santorini in southern Greece. It is said to be romantic, and to be in possession of the most beautiful sunsets and views in all of Greece. In fact, it is the largest island of Santorini, atop an inactive submarine volcano in the middle of the Mediterranean Sea. Santorini can be reached from Athens by plane, or from Piraeus by ferry or plane. It offers tourists a variety of choice destinations, from sophisticated venues to laid-back traditional villages. Tourists can visit its vineyards and cliff-top towns with their whitewashed traditional houses as well. The best time to visit Santorini and for exploring the island is between June and September, when the Mediterranean waters are warmest for swimming.
Tourism
Traditional food, wine, views and sightseeing are some of the many alluring things that tourists come to enjoy in Santorini life. The best time to come to save money is in winter, as the non-summer months are far less crowded. Winter itself may be cold, but April, May, October, and November are the best times for sightseeing. However, transportation, food, and bar drink prices do not seem to be affected by season of the year. Tourists can visit Santorini any season and still enjoy the atmosphere of the island. Getting there is easy from Athens, which has many airlines serving its international airport that links it to all of the world. If you prefer a winter vacation, Santorini has at least one flight in from or out to Athens available at that time.
Uniqueness
Warm welcoming people and great traditional hospitality make this island an unforgettable experience for visitors. Great scenery and charm makes the place attractive to tourists, in addition to the volcanic beaches and their red, white and black sand that beckon to the tourist make this island an attractive destination. Lunar landscapes and rock formations as a result of past volcanic activity lend it an air akin to a lost Atlantean city. The island has such a romantic appeal that it has attracted local Greek weddings and also couples from around the globe. Couples from all backgrounds make this place a lovers' haven in summer and fall.
Habitat
Santorini has an excellent assortment nature trails, whereupon a range of birds, including quails, doves, sparrows, swallows, sea gulls and owls, can be easily spotted in the springtime. High cliffs and fishing harbors are good places to spot birds there as well. Unfortunately, these birds are not as common during the prime tourist season. Santorini's flora is best appreciated in spring as well, after the rain has saturated the soil throughout the fall and winter. Olive trees, grapes, figs, pine trees, and indigenous vegetation all populate the island. Santorini also offers tourists such products as fine wine, and vegetables such as fava, cherry tomatoes, and kapari. It also produces world-renowned goat cheese and pumice stone, which are also exported.
Threats
Santorini is composed of five islands, but only two of the islands, Thira and Thirassia, are inhabited by humans. Thira is on top of a submerged volcano, which has been inactive for 3,600 years, and is larger than Thirassia. The island poses no danger to tourists except the risks specific to its high cliffs and deep blue waters that are posed to careless tourists. Winter weather is also quite cold, which could affect those tourists with frail states of health. On the other hand, tourists impact the island significantly, as new facilities constructed for visitors give rise to problems commonly seen with urbanization everywhere. Another set of problems for the environment there are those related to human vehicle traffic. When it comes to climate change, it is something that has become common everywhere and is a global issue, especially in island and coastal areas threatened by rising sea levels due to ice melt.