Rosa Parks - Important Figures in US History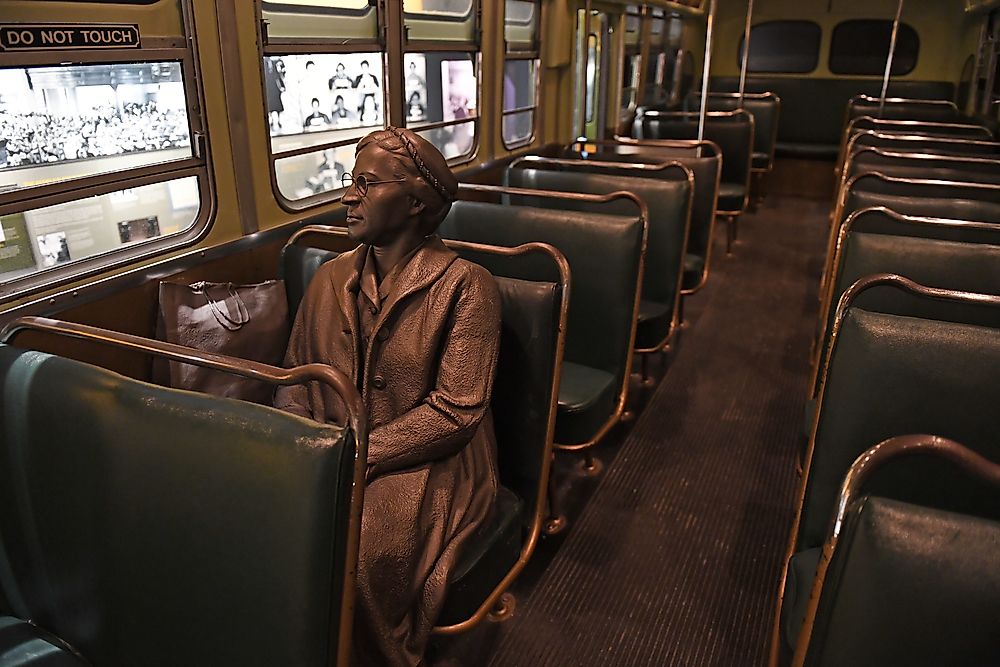 ---
Roas Parks was born Rosa Louise McCauley on February 4th, 1913, in Tuskegee, Alabama. She grew up being raised by her mother and grandparents following the separation of her parents. She experienced racial discrimination from a young age and, since both of her grandparents were activists, she became an advocate for racial equality herself early on. She attended an undersupplied, all-black school in Pine Level, in segregated Alabama. She then moved onto another segregated school system in nearby Montgomery. She did not finish high school, as she had to return back to Pine Level to help take care of her family. She then got a job at a shirt factory in Montgomery and, at the age of 19, she married Raymond Parks in 1932. Raymond was already an active member of the National Association for the Advancement of Colored People (NAACP).
4. Career
With Raymond's support, Rosa earned her high school degree in 1933. She then became an active civil rights advocator, and joined the Montgomery chapter of the NAACP in 1943. She served as the chapter's youth leader, as well as a secretary to NAACP President E.D Nixon. On December 1st, 1955, Parks boarded a bus on her way home from work. At that time, Montgomery buses were segregated and African Americans had to sit at the back, and bus drivers held power to order African Americans to move and give up their seats to whites. When the bus driver ordered Rosa to move she refused, and the bus driver called the police to arrest her. The police charged her with violation of Chapter 6, Section 11, of the Montgomery City Code.
3. Major Contributions
When asked why did not she move, Parks said she was "tired of giving in". Her courage and defiance to the racist rules and regulations inspired other people to organize and to support her. Her colleague E.D. Nixon, President of the Montgomery Chapter of the NAACP, saw Parks' arrest as an opportunity to organize a city-wide boycott of Montgomery's public buses. The date for the protest was set on Rosa's very same trial date: December 5th, 1955. African Americans were encouraged to either stay at home or use other means to get to work. Many people showed up at the courthouse to support Parks, and her trial triggered a successful boycott. Montgomery buses were mostly empty, sitting idly, and the transit company was facing severe financial consequences.The boycott continued for several months and triggered similar movements in other cities in the South. This series of boycott movements paved the way for larger demonstrations and protests in the years to come, and contributed to the passage of Civil Rights Act of 1964. And all of that can be linked, in some extent anyway, to an event that started with Rosa Parks.
2. Challenges
Although the boycott made some progress, strong resistance also came. Many segregationists reacted with violence and rage. African American churches were burned, as were the houses of both E.D.Nixon, and Martin Luther King Jr, who then was new member of the Montgomery NAACP as well. African American citizens were also arrested and harassed on a regular basis. The organizers took legal action, and Parks filed a legal lawsuit against the racial segregation laws, commonly known as the "Jim Crow laws". Both the district court and later the Supreme Court ruled such racial segregation laws to be unconstitutional. The boycott eventually forced the city of Montgomery to lift its enforcement of segregation on public buses. At the same time, however, Parks and her husband both lost their jobs because of the incident, and they had to move to Detroit, Michigan.
1. Death and Legacy
Rosa Parks died on October 24th, 2005, at the age of 92, in her apartment in Detroit, Michigan. She had suffered from dementia in her last years. Many memorial services were held for her to honor her contributions to civil rights and women's development. She received many awards and recognitions during her lifetime, including the NAACP's highest award, the Martin Luther King Jr. Award, as well as the Presidential Medal of Freedom, and the Congressional Gold Medal. TIME Magazine named her one of "The 20 Most Influential People of the 20th Century". She left a remarkable legacy through her lifelong struggle against segregation and discrimination, and her actions still inspire people profoundly today.