Society
Rise In Measles Outbreaks In Europe
In 2017, there was a reported 21,315 cases of measles in Europe, with over 25% of these in Romania.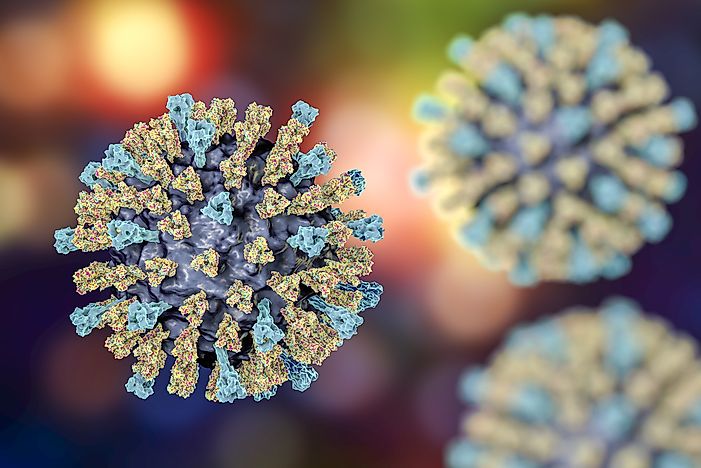 Measles, also called rubeola, is a respiratory disease which is spread when an infected person releases mucus or saliva into the air through coughing or sneezing. Measles is one of the leading killers of children worldwide. Common symptoms of measles include a sin rash, red eyes, light sensitivity, muscle aches, a runny nose, a cough, a fever, and white spots inside the mouth. While the measles vaccine does not have side effects, in very cases, it has been linked to deafness, seizures, comas, and even death.
Outbreak Statistics
There was a dramatic rise in the number of Measles in Europe in 2017. According to the World Health Organization, there were 21,315 reported measles cases across the continent. Romania contributed more than 25% of these cases, with a reported 5,562 infections. This was a sharp rise from the 1,576 cases in 2016 and it was a rise of 400% from the 2016 statistics, which had been a record low. Other countries where the measles outbreak were prevalent include Italy (5,006 cases from 843 the previous year), Ukraine (4,767 from 90), Greece (967 from none in 2016), Germany (927 from 323), Serbia (702 from 6), France (520 from 79), Russia (408 from none the previous year), Belgium (369 from 119), and the United Kingdom with 282, which was actually an improvement from the 571 cases the previous year.
Of these cases, 35 of them resulted in fatalities. However, this is a fatality rate of less that 0.2%, which is much less than the global average of in death per five infections. Still, even while this is noted down, the rise in Measles cases is an obstacle in the plan to eliminate Measles and Rubella from the European continent completely. According to the European director of the World Health Organization, Dr. Zsuzsanna Jakab, everyone, whether adult or child, should be vaccinated to prevent catching the disease and spreading it to those who are yet unable to get vaccinated.
Possible Causes Of The Outbreak
According to the WHO, the outbreaks were caused by low rates of vaccination and interruption of vaccine supplies to poor and marginalized groups, which had led to substantially less vaccinations among these groups. Furthermore, the situation had been worsened by poor monitoring by government and healthcare facilities. In addition, in certain communities, such as the Roma communities who live in abject poverty in Romania and Bulgaria (which had a severe outbreak in 2010), there is a certain level of apathy against vaccination because of the religious traditions and old beliefs linking MMR vaccines to autism. Moreover, in Italy, a group loosely known as the anti-vax movement has discouraged a huge number of Italians from getting vaccines against Measles by citing supposed risks. As a result, even when individuals are immunized, the community as a whole does not undergo a communal vaccination program, a program known as 'herd immunity', and this fractured approach to combating measles contributes to outbreaks. Hence, while a country like England had already achieved Measles elimination status, the measles outbreak in Europe led to new cases of measles being reported in West Midlands in 2017.
How Common is Measles in Europe?
In 2017, there was a reported 21,315 cases of measles in Europe, with over 25% of these in Romania.
Rise in Measles Outbreaks in Europe
| Rank | Country | Number of Measles Cases in 2016 | Number of Measles Cases in 2017 |
| --- | --- | --- | --- |
| 1 | Romania | 1576 | 5562 |
| 2 | Italy | 843 | 5006 |
| 3 | Ukraine | 90 | 4767 |
| 4 | Greece | 0 | 967 |
| 5 | Germany | 323 | 927 |
| 6 | Serbia | 6 | 702 |
| 7 | France | 79 | 520 |
| 8 | Russia | 0 | 408 |
| 9 | Belgium | 119 | 369 |
| 10 | United Kingdom | 571 | 282 |
This page was last updated on May 12, 2018.
Citations
Your MLA Citation
Your APA Citation
Your Chicago Citation
Your Harvard Citation
Remember to italicize the title of this article in your Harvard citation.