Geography is the study of the Earth's land, physical features, and human inhabitants. The objective of this science is to understand the complex nature of and history of the world and its people. There are several branches of geography and several institutions and societies dedicated to geographic research. This article takes a look at some of the most notable of these organizations.
8. Royal Danish Geographical Society
The Royal Danish Geographical Society was founded on November 18, 1876 by Professor E. D. Erslev. It was established in order to accomplish two principal objectives: to educate the public about the Earth and its inhabitants and to encourage interest in geography as a science. It is headquartered in the city of Copenhagen in Denmark.
Members of the society meet for geography-themed lectures and publish academic articles in geographic journals. Additionally, the Society maintains a collection of books and maps. This Society is well-known for its work in Arctic research. Recently, its members have been focusing on issues such as: coastal morphology, climate change, and urban development.
7. Russian Geographical Society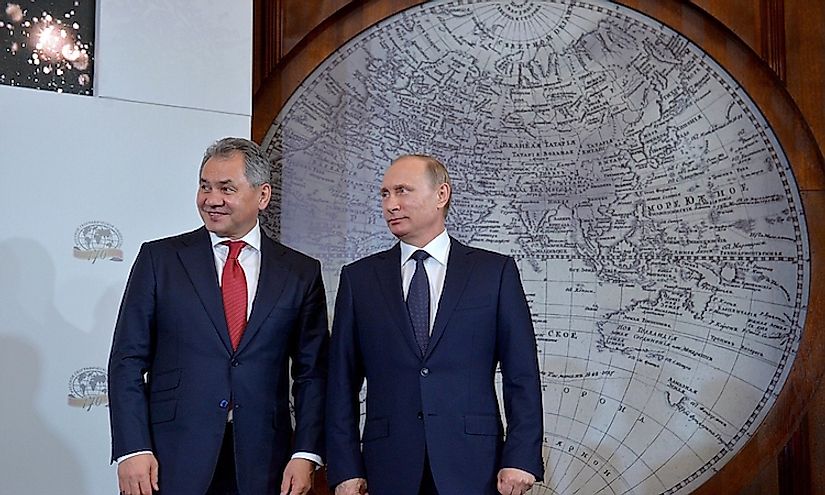 The Russian Geographical Society was founded in August of 1845 by a group of 18 individuals. It is one of the oldest geographical societies in the world. Its name has changed several times throughout the political history of Russia; originally, it was called the Imperial Russian Geographical Society, which lasted until 1917. By that time, the Society had grown to 1,000 members and 11 subdivisions. Its main office is located in Saint Petersburg, Russia. The primary objectives of the Russian Geographical Society are to conduct research in oceanography and ethnography and to promote exploration.
This organization played a critical role in establishing Russia's first polar stations. Additionally, its members helped fund exploration of several areas, including: the northern Urals mountain range, the Amur River, and large areas of Kashgaria and Mongolia. Today, its Academic Council consists of the following commissions: Standing Environmental Commission, Ethnographic Commission, Commission of Geographical and Environmental Education, Commission of Territorial Organization and Planning, and Commission of Tourism Development.
6. Royal Geographical Society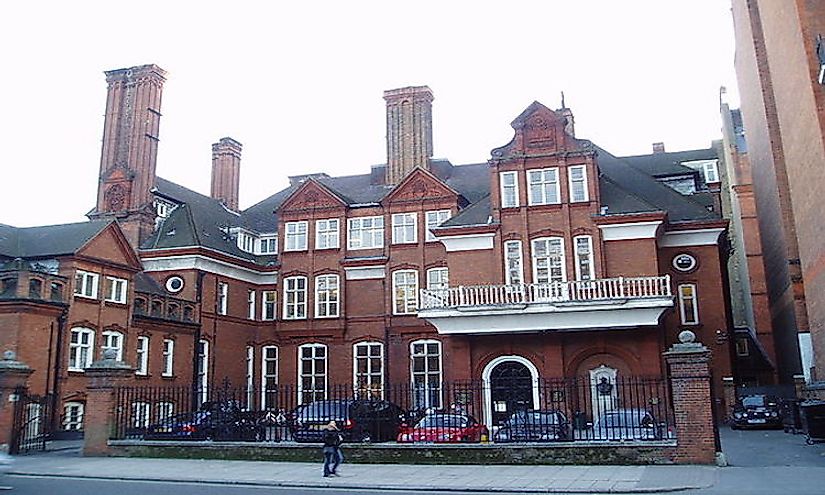 The Royal Geographical Society was founded in 1830 as the Geographical Society of London. Its founding members were: Sir John Barrow, Sir John Franklin, and Sir Francis Beaufort. This Society was later supported by King William IV and was granted Royal Charter in 1859 by Queen Victoria. Over time, this organization merged with Raleigh Club, the Palestine Association, and the African Association. Its objective is to promote geography as a science.
Today, this organization has over 16,000 members, who comprise research groups, publish academic articles, and hold lectures on geography-related themes. Some of its many accomplishments include: supporting the exploration of Darwin and Livingstone (among others), establishing geography departments in British universities, and financing the salary of geography professors in Oxford and Cambridge Universities.
5. Royal Canadian Geographical Society
The Royal Canadian Geographical Society was established in 1929 as a non-profit, education organization. Its goal is to promote a greater understanding of Canada and its history, people, culture, environment, and economy. This organization is responsible for publishing the Canadian Geographic magazine and the Canadian Geographic Travel, a quarterly publication. Today, its headquarters are located in Ottawa.
In addition to its publications, the Royal Canadian Geographical Society works to finance research projects, educational programs, academic lectures, and exploration endeavors. In 2014, this Society partnered with other organizations on the Victoria Strait Expedition, which successfully uncovered the HMS Erebus. This vessel had been lost during Sir John Franklin's British Arctic Expedition.
Each year, this organization awards a number of recognitions including: the Gold Medal, for achievement in the area of geography; the Sir Christopher Ondaatje Medal for Exploration, established in 2013; the 3M Environmental Innovation Award, to recognize individuals or businesses that are working toward beneficial environmental change; the Camsell Medal, to show appreciation for service to the Society; the Martin Bergmann Medal for Excellence in Arctic Leadership in Science, in recognition of achievements in this area; Lawrence J. Burpee Medal, awarded for significant contributions to the field of geography; the Massey Medal, for notable personal achievement in exploration of Canada; and the Innovation in Geography Teaching Award.
4. National Geographic Society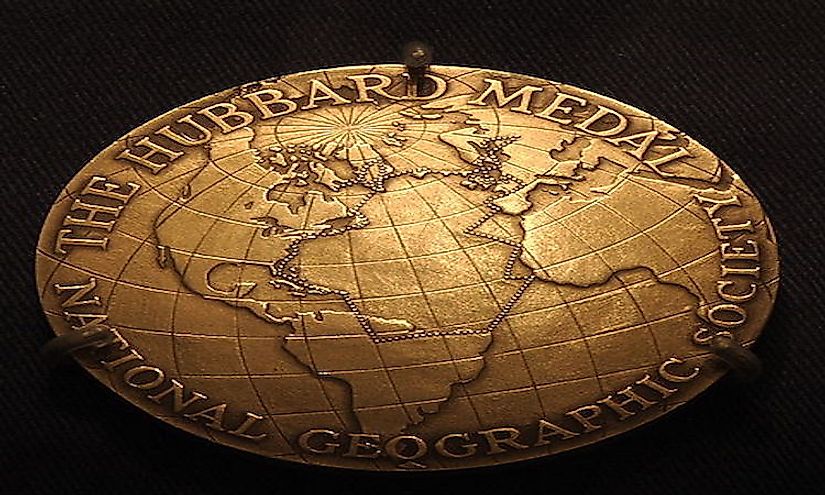 The National Geographic Society was founded in 1888 to promote knowledge and understanding of the field of geography. Its main office is located in Washington, D.C. in the US. This organization is recognized as one of the largest scientific and educational nonprofits in the world. National Geographic publishes a monthly magazine and broadcasts on its own television channel, focusing on topics such as: natural science, environmental conservation, world culture, geography, and archaeology.
Additionally, this organization provides funds for exploration and scientific research. It has contributed to a number of important projects ranging from underwater archaeology expeditions to Jane Goodall's research on chimpanzees. National Geographic also awards both the Hubbard and the Alexander Graham Bell Medals in recognition of significant contributions to research, exploration, and discovery.
3. Association of American Geographers
The American Association of Geographers, previously known as the Association of American Geographers, was established on December 29, 1904 in the city of Philadelphia in the US state Pennsylvania. Today, its headquarters are located in Washington, D.C. This organization has more than 10,000 members located across the world, who work together to advance spread geographical knowledge.
Additionally, this organization publishes two academic journals: The Annals of the Association of American Geographers and The Professional Geographer. This Association is also recognized for holding an annual gathering that draws over 7,000 people and presents thousands of research papers and academic presentations on a wide variety of geographic issues.
2. Anton Melik Geographical Institute
The Slovenian Academy of Sciences and Arts established the Anton Melik Geographical Institute in 1946. As an education institute, this organization has been a member of the Scientific Research Center since 1981 and has changed its research focus throughout the years. Its geographers have researched glaciers, natural disasters, flooded areas, mountain farms, and landscape studies of Slovenia.
This Institute consists of 9 departments, including the: Department of Social Geography, Department of Physical Geography, Department of Environmental Protection, Department of Natural Disasters, Department of Regional Geography, Department of Thematic Cartography, Geographical Museum, Geographical Library, and Department of the Geographical Information System.
1. American Geographical Society
In 1851, a group of 31 wealthy philanthropists, publishers, editors, and historians founded the American Geographical Society in New York City. It was originally established in order to search for the lost Polar Franklin Expedition. Today, this organization works to promote geographic activities that may be beneficial or influential in the creation of public policy.
The majority of its research has been focused on the Latin America, Antarctica, and the Arctic. It requires that its expeditions produce real scientific results. This organization also sends teams of academics around the world to educate the US on global cultures and societies. This is in an attempt to improve international communication and to provide effective humanitarian outreach where needed. The American Geographical Society plans to create a Geographic Information System for each region of the world and to share this information freely with the general public.