Travel
Ninety Mile Beach, Australia - Unique Places around the World
Ninety Mile Beach beach is dotted with charming coastal towns and is one of the most picturesque beaches in the world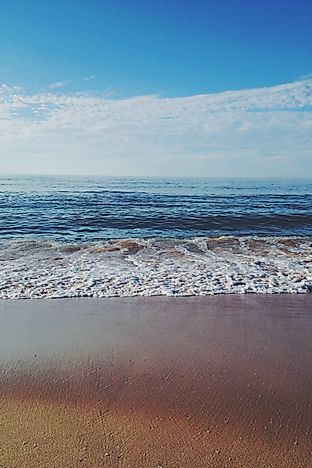 Description
Australia's untamed and spectacularly beautiful Ninety Mile Beach is located on the East Gippsland shoreline of Victoria. Its actual length is 90 miles, and it is bordered by the Bass Strait in the front and Gippsland Lake to its back making it the second longest beach in the world. Its distance from Melbourne is 160 miles traveling by way of the South Gippsland Highway, a route which passes through such quaint towns as Golden Beach, Woodside, Seaspray, and McLoughlins Beach along the way. Like most beaches, the weather over at Ninety Mile Beach in East Gippsland is quite damp and warm, with an average annual rainfall of about 24 inches. The place is a popular tourist destination, especially for those looking to spend their days relaxing and basking under the hot Australian sun.
Tourism
The Ninety Mile Beach receives thousands of visitors every year, due in large to its pristine golden sands, magnificent landscapes, and fun water-based recreational activities. Tourists have several options to choose from in order to get to the beach and its nearby attractions, either by car, bus or train. Those traveling by car can arrive via the South Gippsland Highway, passing through Korumburra, Leongatha, and Foster, and then connecting with Sale's Princes Highway. An alternative route is through the Monash Freeway, which passes through Warragul, Traralgon, and Cann River. Optionally, others can take advantage of Victoria's daily "V/Line" train service from Melbourne, or take more scenic routes, including tours of the lesser known surrounding towns and parks before heading to the world renowned beach itself.
Uniqueness
The Ninety Mile Beach offers a large selection of entertaining activities that are sure to appeal to guests of all ages and interest. The fun activities at the beach include, but are certainly not limited to, whale watching, snorkeling, camping, beach combing, jet skiing, and picnicking. The beach's crashing waves are ideal for those who enjoy a bit of surfing, especially during the hot summer months. Those interested in birdwatching may do so at Lakes National Park, located at Rotamah Island, while children will have a grand time visiting the protected Ninety Mile Beach National Park, a sprawling 2,750 hectare (10.6 square mile) coastline park with a bevy of marine organisms to observe and learn from.
Habitat
The Ninety Mile Beach, and its vast, sandy inland and coastal regions, is filled with all sorts of aquatic organisms, about 860 species to be exact. Of these, 90% are considered unique only to this area. This variety of life includes small crustaceans, fishes, and burrowing worms. Several reefs are also found within a depth of 16 to 65 feet under the sea, which are vital feeding areas for great white sharks and snappers. The Pseudogorgia godeffroyi is a soft and unique coral found only in the western parts of the Ninety Mile Beach, and its coral reef is home to a large community of blacklip abalone, seastars, and predatory whelk. Other organisms found in great abundance in the waters of this beach are periwinkles, long spined black sea urchins, banded morwongs, the Maori wrasse, the white ear damselfish, eastern blue groupers, and common kelp.
Threats
Like most beaches around the world today, Ninety Mile Beach is faced with a significant amount of environmental threats, brought about largely by careless human activity. Tourism, for example, significantly increases the amount of garbage generated within the area. Excessive urbanization is also a main concern, as well as a host of other management issues that continue to greatly affect the habitats of the very organisms that the local government there is working so hard to preserve.
This page was last updated on April 25, 2017.
Citations
Your MLA Citation
Your APA Citation
Your Chicago Citation
Your Harvard Citation
Remember to italicize the title of this article in your Harvard citation.