Environment
South African Plants – What Kind of Plants Live in South Africa?
South Africa's flora exhibits a high level of endemism, and many of these regionally unique species are threatened.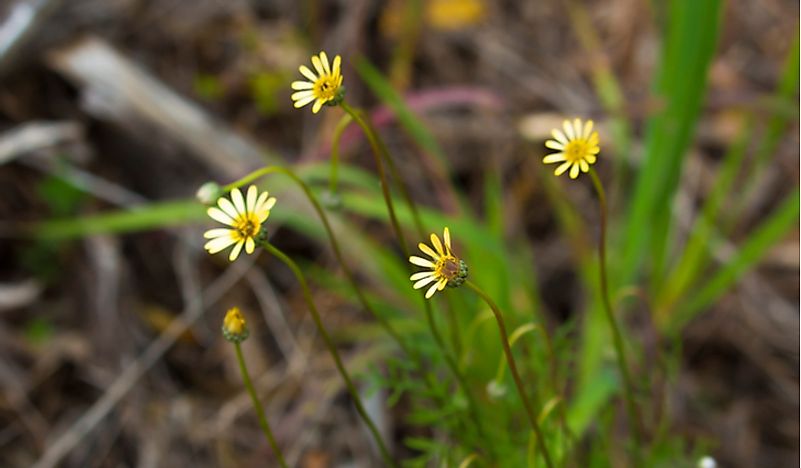 South Africa's flora exhibits a high level of endemism, and many of these regionally unique species are threatened. The vulnerability results from the strict locality expressed by these plants. Also, due to the country's fast-growing economy, clearing of forests to create land for agriculture and human settlements poses a threat to the habitat of these native plants. Here are an example of some South African plants.
Some Notable Native Plants Of South Africa
Kleinaalwyn Short-Leaved Aloe
Kleinaalwyn Short-Leaved Aloe is a tiny, blue-green aloe endemic to the Western Cape of South Africa. This Kleinaalwyn aloe sprouts suckers from the sides which grown to become new rosettes. It can also form large clumps. It has short and fat leaves with soft, harmless, white teeth along the edges. The whole plant has a distinctive gray-blue color, and in November bright red inflorescence flowers appear. These flowers are tubular in shape and slightly curved with stamens emerging from the tube's mouth. IUCN describes this species as vulnerable from habitat loss caused by degradation of its natural environment by invasive species, clearing of forests vegetation for agriculture purposes and overexploitation by plant collectors. Aloe Brevifolia is limited to the Western Cape of South Africa. It grows naturally in Caledon and Bredasdorp districts and then stretches eastwards to Riverside, Cape Agulhas, and Swellendam. The Kleinaalwyn grows in areas that receive about 400 mm of rain per year. It usually grows on rocky places that have clay soils in altitudinal ranges of 150 meters above sea level. These aloes cannot survive extended Highveld winter conditions and are also sensitive to frosts.
Red Root
The Red root is an evergreen geophyte belonging to the cormous genus and is endemic to the Cape Province of South Africa. Red root has long and narrow pleated leaves. It has large golden flower spikes in spring and summer. The leaves are broadly sword-shaped, firm, and harmless, with distinctively fluted blades. The Wachendorfia thyrsiflora Inflorescence panicle is dense and cylindrical with golden yellow flowers standing from a tall, sturdy stalk. The plant has a branched rootstock, a bright red fleshy rhizome, with thin adventitious roots. The Red root grows in Eastern Cape and Western Cape of South Africa. It occurs in the Cape Peninsula, Franschhoek Mountains, Eastwards towards Humansdorp, and the Olifants Valley between Citrusdal and Clanwilliam. Wachendorfia thyrsiflora prefers to grown in wet and swampy conditions in semi-shade or full sun with an elevation range of 5-1,200 meters.
The Solar Fire
The solar fire is an annual and herbaceous plant belonging to the Ursinia genus, endemic to South Africa. The Solar Fire species usually grows to a height of about 0.05 to 0.5 m high and has finely divided leaves. It produces individual flower heads with a long stalk. The fruits have a sharp, slightly curved, and ribbed appearance with a centrally placed brown streak. It flowers from July to November producing bright yellow flowers. In springs this solar fire makes a mass display in Niewwoudtville. It also grows in Karoo and Port Elizabeth. The species also spans across several biomes be it grasslands or semi-desert as long as the altitudes range from 15 to 1 065 meters. It grows on quartz, plateau, dwyka tillite, well-drained loamy soils, and on seepage areas along the road. Bees, butterflies, wasps, and yellow spiders pollinate these species. The fruits have pappus and hairs, and wind is the mode of dispersal.
Natal Plum
The Natal plum is a shrub endemic to South Africa. This ornamental shrub is fast-growing, resistant to winds and often conspicuous in the coastal areas. It can either grow into a 4 m high small tree or form a dense thorn shrub. The Natal plum has Y-shaped thorns, and the branches are green when young. A broken twig exudes milky, white, and non-toxic latex. The leaves are dark green on the upper sides and pale below, leathery, egg-shaped, and almost round or oval in shape. The species bears pure white flowers with an orange scent, and the flower tubes are hairy within. It produces an enormous and oval edible red fruit rich in Vitamin C, phosphorous, and magnesium tasting like cranberries. Flowering occurs from spring to midsummer. Carissa macrocarpa usually grows in coastal forests, bushes, and on sand dunes. It grows naturally in Kwazulu-Natal southwards to Humansdorp.
Cultivation Of The Native Plants Of South Africa
South Africa has a broad range of biomes and ecosystems that give these native plants a habitat. Even though most of these plants are endemic and consequently threatened and vulnerable to extinction, the country encourages mass cultivations of plant species by individuals. Almost all these plants are grown in farms and home gardens, but the natural population faces severe population decline. Habitat loss resulting from human encroachment and over-exploitation by plant collectors also threaten these native plants of South Africa.
What Are Some Of The Plants That Grow In South Africa?
South African is home to a wide array of fascinating species of flora. These range from fine grasses to scrubby bushes and dense forest trees. Over 22,000 indigenous seed plants grow in the country. 10% of the world's flowering species are also found here. Many species of endemic flora also grow in South Africa. Some examples of native and endemic flora of South Africa are Klein Aalwyn Short-Leaved Aloe, Red Root, Solar Fire, Natal Plum, Society Garlic, Cape Thatching Reed, etc.
Native Plants Of South Africa
| Native Plants of South Africa | Scientific Name |
| --- | --- |
| Kleinaalwyn Short-Leaved Aloe | Aloe brevifolia |
| Red Root | Wachendorfia thyrsiflora |
| Sandflat Baboon Root | Babiana nana |
| Solar Fire | Ursinia anthemoides |
| Natal Plum | Carissa macrocarpa |
| Society Garlic | Tulbaghia violacea |
| Cape Thatching Reed | Elegia tectorum |
| Beach Salvia | Salvia africana-lutea |
| Starfish Lily | Ferraria crispa |
| Blue Kuni Rhus | Rhus glauca |
About the Author
Benjamin Elisha Sawe holds a Bachelor of Arts in Economics and Statistics and an MBA in Strategic Management. He is a frequent World Atlas contributor. 
This page was last updated on November 6, 2018.
Citations
Your MLA Citation
Your APA Citation
Your Chicago Citation
Your Harvard Citation
Remember to italicize the title of this article in your Harvard citation.