Society
The Most Expensive Paintings Ever Sold
Record smashing sale prices of the world's most expensive paintings.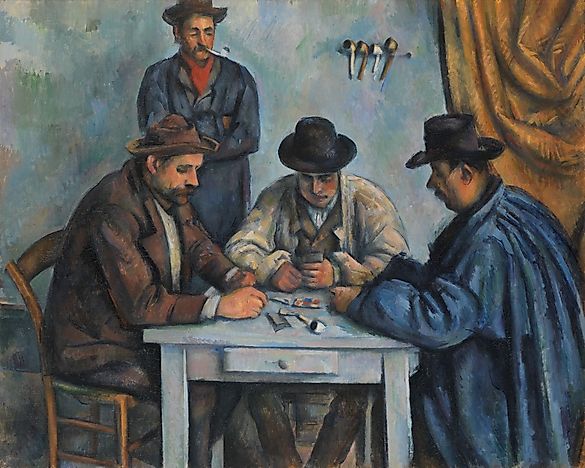 There are countless paintings around the world that have gained fame for their beauty and appeal. However, there are those too that became popular for their record smashing prices. This article takes a look into some of the most expensive paintings to have ever been sold.
The Top 5 Most Expensive Paintings Ever Sold
Number 17A by Jackson Pollock - $200 Million Dollars

Created by the renowned painter Jackson Pollock in 1948, this painting is considered to be one of the finest works of abstract expressionism, a movement which Pollock championed. It was auctioned for a sum of $200 million (€169.8 million) in 2015.
Nafea Faa Ipoipo by Paul Gauguin - $210 Million Dollars

The painting is often referred to by a translation of its title in English, "will you marry me?" It was painted in 1892 by Paul Gauguin, the renowned Post-Impressionist from France. The painting is said to have been influenced by his travels to Tahiti. The work was auctioned for $210m (€178.3m) in 2014.
The Card Players by Paul Cézanne - $250 Million Dollars
This is not one painting, but rather a series of painting created by the Post-Impressionist Paul Cézanne. They were painted by Cézanne in what is termed as his "final period" in 1890s. The five pieces were sold together for a sum of $250 million (€212 million) in 2011.
Interchange by Willem de Kooning - $300 Million Dollars

This is one of the first abstract paintings by the Dutch-American Willem de Kooning. Although the style adopted by Kooning is now considered to be abstract, this painting was created when his style was considered unique and started to deviate from his previous work. He sold the panting soon after the work was complete. In 2015, the painting was bought for a record breaking $300 million (€254 million).
Salvator Mundi by Leonardo da Vinci - $450.3 Million Dollars
This is one of the most famous paintings by Leonardo da Vinci. Painted between 1490 and 1519, it shows Christ, giving the traditional Christian benediction with His right hand, while His left holds a transparent orb signifying the role of Christ as the Savior of mankind and the master of cosmos. It was sold in 2017 for the record sum of $450.3million (€382 million).
Who Is Buying These Expensive Paintings?
Da Vinci's Salvator Mundi, the most expensive painting ever to be sold, was purchased by a member of the royal family of Saudi Arabia. It was reported that the destination for the painting was to be a museum in the United Arab Emirates. Although paintings are often sold through an auction house, with the most famous one perhaps being Christie's out of New York, many of these expensive paintings were also sold through private sales. Sometimes the buyers may be a country (such as Qatar, who purchased many of the paintings on the list below), or wealthy individuals. While paintings are sometimes loaned to museums, sometimes they are also owned by individuals.
The Most Expensive Paintings Ever Sold
| Rank | Painting | Painter | Selling Price (Millions of US Dollars) | Year of Painting Creation | Year Sold |
| --- | --- | --- | --- | --- | --- |
| 1 | Salvator Mundi (1490-1519) | Leonardo da Vinci | $450.40 | 1490-1519 | 2017 |
| 2 | Interchange (1955) | Willem de Kooning | 300 | 1955 | 2015 |
| 3 | The Card Players (1892/93) | Paul Cézanne | 250 | 1892 | 2011 |
| 4 | Nafea Faa Ipoipo (1892) | Paul Gauguin | 210 | 1892 | 2014 |
| 5 | Number 17A (1948) | Jackson Pollock | 200 | 1948 | 2015 |
| 6 | No. 6 (Violet, Green and Red) (1951) | Mark Rothko | 186 | 1951 | 2014 |
| 7 | Portraits of Maerten Soolmans/Oopjen Coppit (1634) | Rembrandt | 180 | 1634 | 2015 |
| 8 | Les Femmes d'Alger ("Version O") (1955) | Pablo Picasso | 179.4 | 1955 | 2015 |
| 9 | Nu Couché (1917/18) | Amedeo Modigliani | 170.4 | 1917 | 2015 |
| 10 | No. 5, 1948 (1948) | Jackson Pollock | 140 | 1948 | 2006 |
| 11 | Masterpiece | Roy Lichtenstein | 165 | 1962 | 2006 |
| 12 | Woman III | Willem de Konning | 163.4 | 1907 | 2006 |
| 13 | Portrait of Adele Bloch-Bauer I | Gustav Klimt | 160.4 | 1907 | 2006 |
| 14 | Le Reve | Pablo Picasso | 159.4 | 1932 | 2013 |
| 15 | Portrait of Dr. Gauchet | Vincent van Gogh | 151.2 | 1890 | 1990 |