Politics
Mike Pence - Indiana Governor And 2016 U.S. Vice Presidential Nominee
Raised among Democrats in an Irish Catholic household, today Mike Pence stands at the forefront of U.S. conservative politics as the Republican Vice Presidential candidate.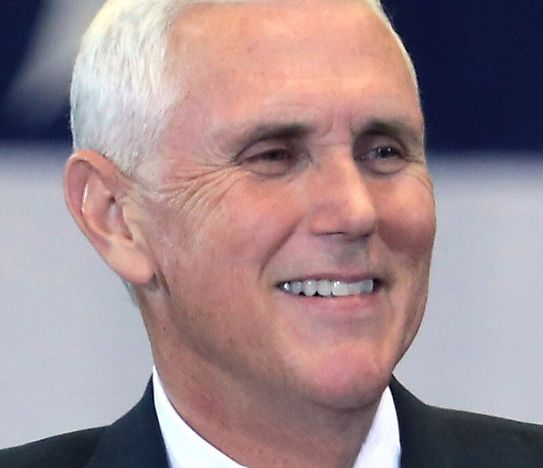 This is an account of Indiana's conservative Republican Governor, Mike Pence, and his rise to become the 2016 Republican U.S. Vice Presidential running mate alongside Presidential nominee Donald John Trump.

5. Early Life
Born Michael Richard Pence, Mike Pence, who has served as the 50th Governor of Indiana since 2013, and 2016 Republican Vice Presidential running mate for Donald Trump, was born on June 7th, 1959. Pence is of Irish Catholic descent as his grandfather a bus driver, came to the U.S from Ireland. Pence grew up in middle class family in Columbus, Indiana as one of six children. His parents Edward and Nancy Pence operated several gas stations according to ABC News. After graduating from Columbus North High School in 1977 he enrolled at Hanover College for a Bachelor of Arts degree in history, and graduated in 1981. He then proceeded to McKinney School of Law in Indiana University to study law, where he graduated in 1986.
4. Rise to Prominence
After graduating, Mike Pence went into private law practice. In 1985 he married Karen Batten a school teacher, and they have three children. Pence first entered politics in 1988 when he ran for congress, against Philip Sharp, a democrat incumbent, but lost. He also lost again to Sharp in 1990. From 1991 to 1993, he served as President of the Indiana Policy Review Foundation, a conservative think tank. In year 2000, Pence was elected to the U.S House of Representatives for the 2nd district of Indiana. Then in year 2002 he was elected to the U.S House of Representatives for the 6th District of Indiana, and reelected in 2004, 2006, 2008, and 2010. From 2009 to 2011, Pence served as the Republican Conference Chair and in 2012, was elected Indiana's Governor after a grassroots trek across the State in a big red truck. In 2016 was when Mike Pence rose to national prominence after Donald Trump, the Republican nominee for President tapped him to be his Vice Presidential running mate in July 15th 2016.
3. Career Achievements
As governor, Pence has achieved the largest state tax cut in Indiana's history. He has lowered business personal property tax, and corporate income tax in a bid to attract new investment, and well paying jobs for Indiana residents (Hoosiers). Pence has also expanded school choice, through funding of charter schools, and signed to law state funding of pre-kindergarten education in Indiana. To counter the state's skills gap, Pence has ensured career and technical education, are mandatory, in Indiana's high schools. Under his leadership the state has invested over $800 million to build roads and bridges. In collaboration with Indiana's General Assembly, Pence has crafted a balanced budget that keeps strong reserves for State and generates surplus, according to Indiana Government data.This monetary discipline has ensured Indiana maintains its AAA credit rating as an environment ideal to do business.
2. Challenges
In 1990, as Pence ran for Congress against Philip Sharp, he became embroiled in a scandal. It emerged that he had used political donations to pay his house mortgage, personal credit card bill, groceries, golf tournament fees, and his wife's car payments.Though not illegal then, voters were stunned and it diminished Pence's credibility to criticize Sharp, as smeared by donations from special interest groups, according to a Washington Post account. On March 2015, Pence got criticized by the LGBT community for signing the Religious Freedom Restoration Act bill to law that banned local governments from interfering when businesses turn away customers for religious reasons. When the law was passed, boycotts and petitions intensified with companies such as Apple threatening to reconsider future business opportunities in Indiana according to CNN. Mike Pence has also taken heat from liberal outfits for his stance against any form of abortion procurement.
1. 2016 U.S. Presidential Elections, Ongoing Work, and Legacy
Since July 15th, 2016, when Donald Trump named him as his Vice Presidential running mate, Pence has been busy campaigning for their White House bid. As a congressman, Pence served on the House Foreign Affairs Committee which equipped him with foreign policy and national security experience. Political experts opine his presiding over an economic recovery as governor in Indiana as a vital to tout, during Donald Trump's current Presidential run. In the at times unpredictable Trump Presidential run, Mike Pence has been viewed as a stabilizing force. Political experts view Pence as a bridge to those skeptical Republicans disgruntled by Trump's confrontational way of campaigning. He also portrays Trump as a good man who speaks his mind, but not arrogant according to a NBC report. Various news outlets, tout Pence as a traditional conservative firebrand, due to his stance on abortion, gay marriage and strong links to the Tea Party Movement. That is vital as some conservatives view Trump as a liberal.