Travel
Maurizio Giuliano: A Modern Day Marco Polo
Like so many legendary Italians before him, Maurizio Giuliano has went down in the annals of exploration history.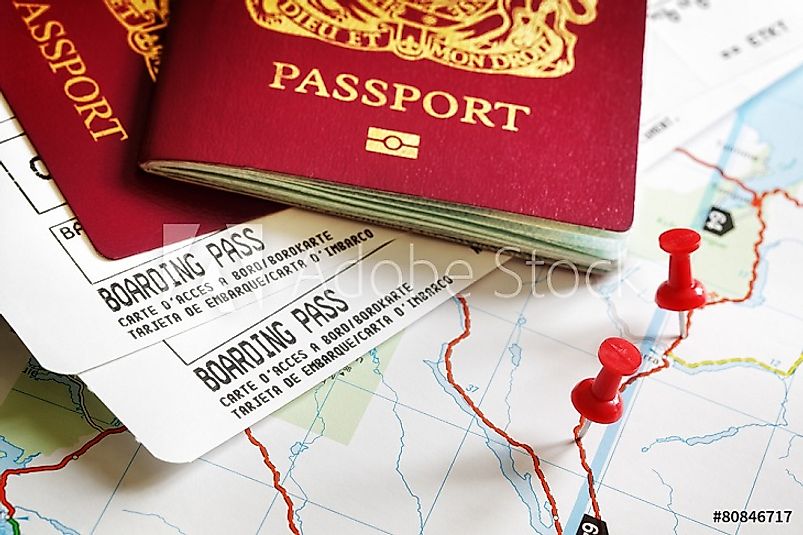 Early Life and Education
A British-Italian traveler, journalist and author, Maurizio Giuliano was born on February the 24th, 1975 in Milan, Italy, to a lawyer father and housewife mother. Part of his schooling was completed in Milan, Italy, and the remaining part in Manchester, England. After receiving his lower levels of schooling, Giuliano entered the prestigious University of Oxford, from where he completed his Bachelor's Degree in 1996. His earned his Master's Degree in 1997 from another legendary educational institution, the University of Cambridge. Philosophy, politics, and economics were the main areas of his studies, with a special emphasis given to such fields as they related to Latin America and Eastern Europe.
Travel Accomplishments and Records
Maurizio Giuliano has a stunning travel history, having traveled to 238 territories around the world, including all 193 sovereign countries, a feat recognized by Guinness World Records as the youngest to do so. His international journeys started at the young age of 14, and by the age of 16 he had traveled to the African country of Sierra Leone and the southeastern European country of Albania. A year later, in the midsummer of 1992, he visited Mongolia to participate in the Naadam athletic festivities in the country. Within the next 12 years, Giuliano left no country in the world untouched, and on February 20th, 2004, at the age of 28 years and 361 days, he became, as per the Guinness Book of World Records, the youngest person to have visited each and all of the 193 sovereign states of our world. His visit to the sovereign state of Suriname on the northeastern Atlantic coast of South America on that same date completed this record achievement. On February 24th of 2004, Giuliano spoke at a press conference in Suriname, declaring that the rich cultural heritage of Suriname was his primary reason for selecting that country as the final destination in his record-breaking international travel spree. When he finally went to London to visit the headquarters of Guinness in the city to secure his recognition for achieving the landmark feat, 42 passports, with immigration stamps from all of the countries of the world, accompanied him.
Political Work, Academics, and Journalism
Giuliano's travel exploits are not merely based on leisure traveling, but he also actively engaged himself in the social, political, and economic matters of the countries that he visited, and produced journalistic reports that reveal the stories of the diverse peoples of such nations. Some of his important published works involved his academic publications and books on Cuban politics. In his book on Cuba, "La Transición Cubana y el "Bloqueo" Norteamericano" and his publication in "Democratization", a British academic journal, he explained how the U.S.A.'s embargo on Cuba encouraged empathy towards the latter by other nations. Giuliano's book published in 1998, "El Caso CEA", is also focused on the island nation of Cuba. In this book, he describes the connection and conflicts between the Cuban political apparatus and the country's intelligentsia. His approach to the subject was interesting and unique, making his writings in the book a matter of intense academic review. Giuliano's writings were also used as an inspiration by other Cuban scholars to write books on similar lines. Besides Cuba, Giuliano also wrote journalistic reports on Myanmar and East Timor (Timor-Leste) and published a noteworthy essay on North Korea. He also served in the important role as a consultant for the Committee on Human Rights of the Italian Senate in the year 2000.
Giuliano the Humanitarian
Giuliano is highly regarded for his humanitarian work in a number of countries across the world, not only for his travels, but also for the consideration that he has worked for some major international organizations and programs. For example, in 2004, he worked for the International Organization for Migration in Pakistan, and in 2005 he worked for the United Nations Development Program in Afghanistan, in both cases playing the crucial role of media communicator. He continued to work for the United Nations in a number of African countries as well between 2006 and 2008. During that time, he played an important role in exposing the dilapidated situations of African refugees in such countries as the Democratic Republic of Congo and Angola. He spoke and wrote about the use of rape by warring factions to punish the civilians of the region, and his accounts revealed the massive exploitation of illegal African immigrants who were forced to leave their homelands for neighboring countries, only to be treated with brutality. Maurizio Giuliano also attracted world attention to the 2010 Pakistan floods, acting as a spokesperson for the United Nations. He explained how, in the aftermath of these floods, the Pakistani population would further suffer from food scarcity and diseases if sufficient aid was not delivered to the flood victims.
Hardships Along The Way
Though Maurizio Giuliano's travel expeditions have earned him tremendous praise and accolades on an international level, things have not always went completely smooth for him. He has often been subject to challenges, and has faced negative situations in many of the countries he has visited. For example, in 1998, he was denied entry to Myanmar after he made contact with the National League for Democracy, capturing photographs of Aung San Suu Kyi, the leader of the party. Later, while crossing the Allenby Bridge over the West Bank from Jordan in 2002, he was detained and manhandled by Israeli authorities. He was designated as a "rape spokesperson" by the Democratic Republic of Congo's government while speaking out against the indiscriminate rapes of African women in the country, and was also accused of exaggerating the state of Pakistan's flood emergency situation. However, none of these challenges and criticisms deterred Giuliano, being the true achiever and humanitarian that he is.
A Role Model for the Citizens of the World
As a humanitarian globe-trotter and Guinness World Record holder in the realm of travel, Maurizio Giuliano is a role model of many aspiring young travelers worldwide. He has exhibited the fact that sometimes feats which appear impossible, like travelling to all of the countries of the world at the age of only 28 years old, is quite possible. Not only is he an inspiration to travelers, but the way he uses his travel experiences to gather knowledge about a given country, its people, politics, culture, and economy, and communicates this new-found understanding of the said country's domestic situation to the rest of the world, sets him completely apart from most of the other travelers of our planet. By acting as a spokesperson for the helpless people of the nations of the world, he brings global attention to critical local and international issues alike, including those that violate human rights and discourage the well-being of the people of such nations. His role as a communicator allows these exploited people to voice out their complaints via him as an international mouthpiece, and thus become more likely to receive much needed empathy and aid.
About the Author
Oishimaya is an Indian native, currently residing in Kolkata. She has earned her Ph.D. degree and is presently engaged in full-time freelance writing and editing. She is an avid reader and travel enthusiast and is sensitively aware of her surroundings, both locally and globally. She loves mingling with people of eclectic cultures and also participates in activities concerning wildlife conservation.
This page was last updated on April 25, 2017.
Citations
Your MLA Citation
Your APA Citation
Your Chicago Citation
Your Harvard Citation
Remember to italicize the title of this article in your Harvard citation.