Society
Mahmadou Issoufou, President of Niger - World Leaders in History
Incumbent President of Niger, and leading figure in the Parti Nigerien pour la Democratie et le Socialisme-Tarayya (PNDST).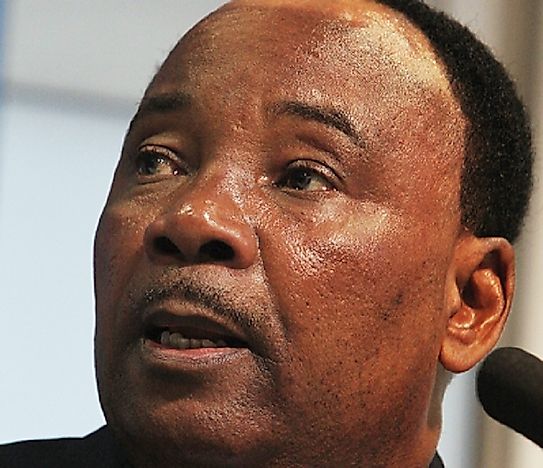 Early Life
Mahamadou Issoufou, the current President of Niger, was born on January 1st, 1952, in Dandaji, a town in the Illela district of the Tahoua region of Niger. His early childhood years were spent in Illela, where he received his primary school education. In October of 1968, Issoufou began to attend Niamey High School, and specialized in mathematics and physics before he graduated in June of 1971. From 1971 to 1974, he earned a diploma in Scientific Studies at the Niamey Centre for Higher Education, specializing in mathematics and physics there as well. In 1974, Issoufou enrolled at the University of Niamey, where he remained until 1975, receiving a Bachelor's of Science Degree in Mathematics. In 1975, he went abroad to study at the University of Paris VI (Université Pierre-et-Marie-Curie) near the Jussieux area of Paris. There he earned a Masters of Science in Mathematics and Basic Applications in 1976. From 1977 to 1979, Issoufou worked to earn a Civil Engineering Degree in Mining at the National School of Mines in Saint-Etienne, France, according to the Embassy of Niger.
Rise to Power
In 1990, according to African Geopolitics, Issoufou founded the Nigerien Party for Democracy and Socialism, and was first its Secretary General, then its President. During the 1993 Niger National Elections, he garnered 15 percent of votes cast, giving the party the third largest showing in Niger that cycle. On April 17, 1993, Issoufou was appointed to be Prime Minister,and head of government, by then-President Mahamane Ousmane. In 1994, however, he resigned from the post due to disagreements with President Ousmane, after he passed a decree weakening the Prime Minister's power in Niger. Ousmane was later overthrown by the army in 1996. Thereafter, Issoufou tried, and failed, 3 times to win the Presidency from 1996 to 2004. Regardless of the outcomes, the political parties he ran for continued to gaining more popularity in Niger. In April of 2011, he was finally elected as Niger's President, and thereby consequently retuning the country to civilian rule.
Contributions
In his tenure as President of Niger, Issoufou has been proactive in fighting radical Islamist groups such as Boko Haram, which have wreaked havoc in nearby Nigeria. Between 2011 and 2013, Transparency International reported Niger had improved by thirty places in the corruption index rankings, regardless of the instability in the West African region. Issoufou has also rolled out a program to ensure state institutions are democratic, and there has been an improved sense of security throughout the country, which he views as key to fostering development. The infrastructural development projects in the pipeline are involve improvements in Niger's roads, healthcare system, railways, energy utilization, and agricultural systems. By 2015, Issoufou's government had managed to reduce by half the number of people affected by hunger in Niger.
Challenges
Prior to the 2015 Niger elections, an attempted coup to overthrow Issoufou's government by certain factions within the country's military was thwarted. This was after the opposition had accused the ruling party of planning to interfere with the elections, according to the BBC. In 2011, there were also reports after Issoufou's election that an assassination attempt was in the making. This was after he had dismissed several corrupt officials in less than 100 days when he came into power. Consequent to these events, 5 military officials were arrested for suspicion of their involvment.
The Present Day and Legacy
In a bid to hold Niger together and avoid ethnic unrests in 2011, Issoufou appointed Brigi Rafini, a Tuareg, as Niger's Prime Minister. This was a follow up to the promise he had made to the Tuareg people, who account for 11 percent of Niger's population. In 2013, the World Bank reported that 72 percent of children in Niger were enrolled in a primary school, which indicated an increase of 1 percent from the previous year. According to the Africa Report, delivery of social services, such as schools, has improved during the course of Issoufou's tenure.