Society
Krystyna Chojnowska-Liskiewicz: Famous Explorers Of The World
The first woman ever to sail solo around the world.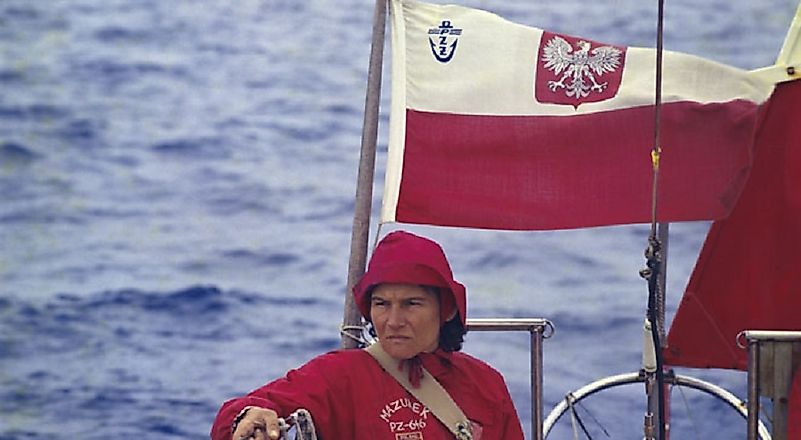 Early Life
Before she became a Polish naval architect and the first woman ever to sail solo around the world, Krystyna Chojnowska-Liskiewicz was born on July 15, 1936, in Warsaw, Poland. Krystyna was educated in her early years in a regular school in Warsaw. Her high school education was in Ostroda, where her family moved after the Second World War. In college, she pursued a shipbuilding engineering course at the Gdansk University of Technology. At the same university, she met her husband, and the couple shared a mutual affection for the ocean. Later, they bought a yacht and named it Mechatek.
Career
Krystyna always loved the ocean. After she earned her naval architecture degree, she worked in the Gdansk Shipyard as a ship designer. In her line of work, she obviously was always just one step from getting on a yacht and sailing off into the sunset. In her high school days, she first learned sailing on Lake Drwecki. She also sailed on the yacht that she and her husband bought in college. All the while, she was gaining vital sailing experiences, one after the other. On her single-handed solo trip sailing around the world, she had a competitor named, Naomi James who almost gave her a run for her money, completing her own journey not long thereafter.
Discoveries
On February 28th, 1976, Krystyna set out in the sailing yacht Mazurek, built by her husband, for a world record solo circumnavigation of the world from west to east. The starting point was in the Canary islands, and she returned to successfully complete the trip at Las Palmas de Gran Canaria on April 21st, 1978. From the Canary Islands, Krystyna had crossed the Atlantic Ocean to reach the Barbados. She then crossed to the Caribbean Sea and passed on through the Panama Canal. Coming out on the other side into the Pacific Ocean, she sailed past Tahiti, the Fiji Islands, and Australia, and then crossed the Indian Ocean after passing Mauritius. Next came the Cape of Good Hope, then on back north to Las Palmas de Gran Canaria, completing her solo journey. In so doing, Krystyna became the first woman to single-handedly sail around the world in 1978.
Challenges
Krystyna faced many challenges in her attempt to complete a west-to-east crossing of the world's waters. One factor was her being a woman, as no woman before her ever tried to do what she was then attempting to do. The weather was also a big challenge, and another was the question as to whether her yacht was really seaworthy. Nonetheless, Krystyna remained confident. Her first voyage was to Spitsbergen in Northern Norway in June of 1967. Her next voyage was in 1971, with four other female sailors on the yacht Emerald. They sailed from Szczecin, Poland to Germany.
Death and Legacy
Today, Krystyna Chojnowska-Liskiewicz is looked upon as a national hero in Poland, and she still lives in Warsaw with her husband to this very day. The honor that she has brought to her country is a great achievement in sailing for women, considering that before she successfully, single-handedly, sailed to circumnavigate the world, no woman had even approached such a feat. She sailed a total of 31,166 nautical miles to accomplish her feat in 401 days. Since her voyage, there have been other women sailors who have duplicated the arduous task following in her footsteps. Namely, these have been her aforementioned rival and contemporary, Naomi James of New Zealand, doing so later in 1978, and Kay Cottee of Australia, who sailed solo around the world as well in 1988, doing so uninterrupted. Krystyna will always be remembered as a Polish national hero, and a remarkable woman who has blazed trails for others to follow.