Environment
Kakadu National Park, Australia - Unique Places Around the World
Say hello to the Northern Territory's rocky ridges, lowlands, and billabongs, and the flora and fauna resideing therein.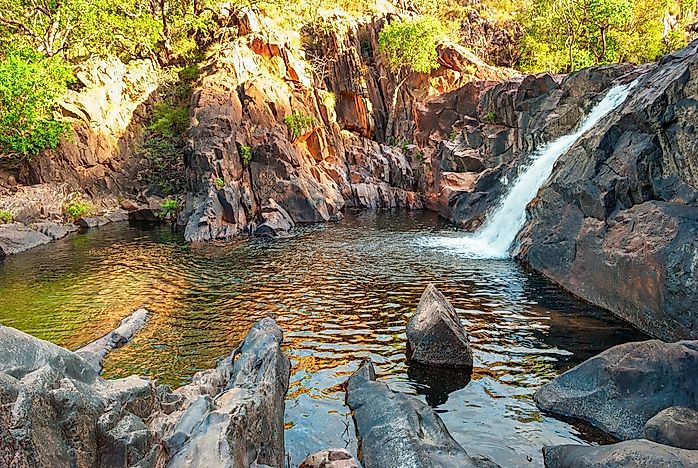 Description
The Northern Territory of Australia is world famous for its rugged desert attractions. Of all of these, it is the Kakadu National Park which is the most popular along with being the largest. Spanning a total land area of 7,646 square miles, the park is roughly the size of a small European country, though infinitely more wild and ecologically diverse. Kakadu National Park is located 171 miles east of Darwin, and its rocky ridges, lowlands, and billabongs are open to visitors the whole year round. It is almost always hot in the area, with the driest months running from May to October. If you plan to visit the park from November to April, prepare for the chance of a lot of rain, sporadic afternoon storms, and even occasional flooding. The park is most visited during the summer, so it is best to book everything in advance if you plan to be there during that time.
Tourism
Roughly 250,000 people visit Kakadu National Park every year, most of them coming from southern parts of Australia, as well as from neighboring countries. It was declared a national park in 1979, half of which is owned by Australian Aboriginal peoples. Most of the tourists who visit the park do so using rental cars, while the rest tend to opt to go on 4-Wheel-Drive or bus tours, with Darwin as their starting points. Public transportation is not available in the are,a and guests are advised to use a 4-Wheel-Drive vehicle in order to fully enjoy the park's uniquely rugged landscapes.
Uniqueness
Kakadu National Park is listed as a World Heritage not only because of the rather diverse wildlife that it supports, but also because of its cultural significance, particularly to the Aboriginal people who consider many of its grounds sacred. Kakadu National Park offers many fun, and often extreme, outdoor activities, such as swimming, birdwatching, boating, hiking, crocodile watching, and camping. Impressive rock art will delight guests young and old alike, while Park Ranger talks are conducted the whole year round. These provide interesting information about the park's history, inhabitants, and cultural significance.
Habitat
Kakadu Natural Park has over 1700 species of plants thriving in its regions, along with numerous fauna, many of which are either rare, endangered, endemic, or vulnerable animals. Examples of the latter are the bare-rumped sheathtail bat, the speartooth shark, yellow chats, olive ridley turtles, yellow snouted geckos, red goshawks, water mice, brush-tailed rabbit rats, freshwater sawfish, and many others. One of the most interesting plant species found flourishing in Kakadu National Park's harsh conditions is the resurrection grass, along with freshwater mangroves, red flowered kurragongs, turkey bushes, cooktown ironwoods, and Darwin woollybutts. Mammals like the black wallaroo, northern quolls, short-eared rock wallabies, and agile wallabies are often sighted there, along with such birds as the barking owl, chestnut quilled rock pigeons, green pygmy geese, and burdekin ducks. An interesting collection of reptiles, including crocodiles, dragon lizards and water python,s can also be found there, as well as a host of fishes, amphibians, and insects.
Threats
Kakadu National Park is the largest terrestrial park in Australia, and as such many of its areas have remained unexplored to this day, and may pose significant danger to any guest driving about without expert guidance. Additionally, crocodiles, snakes, and feral animals have free range within its waters and grounds, so tourists are advised to always keep their wits about them. Tourists should stay well hydrated, and not swim or wander anywhere without permission from the park's management. Several issues have given rise to major concerns for the management of Kakadu National Park, including bush fires, weed infestation, mismanagement of its feral animals and crocodiles, conservation of their wildlife, excessive uranium and gold mining, and, of course, the everyday administration of the entire property and all of its inhabitants.

This page was last updated on April 25, 2017.
Citations
Your MLA Citation
Your APA Citation
Your Chicago Citation
Your Harvard Citation
Remember to italicize the title of this article in your Harvard citation.