Politics
Who Is Jill Stein? 2016 U.S. Presidential Candidate
Jill Stein is the Green Party's 2016 U.S. Presidential nominee.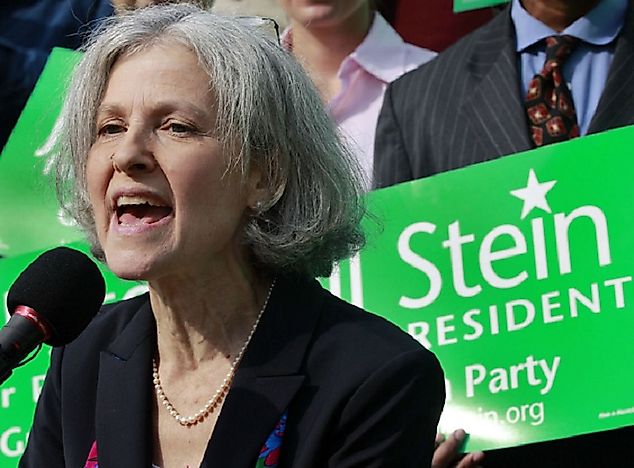 Until Hillary Clinton came along, Jill Stein, an American Physician and activist, held the record for the most votes in 2012 received by a woman running to be president of the United States. More recently, Jill Stein has continued her underdog bid for the US presidency in 2016 on the Green Party ticket.

5. Early Life
Jill Ellen Stein is a Jewish American physician, and the 2016 U.S presidential candidate for the U.S. Green Party. Jill was born on May 14th, 1950, to Gladys and Joseph Stein, and grew up in Highland Park, Illinois. Her parents were of the Holocaust generation. Jill Stein was raised in a reform Jewish household, and attended North Shore Congregation Israel, a reform synagogue in Glencoe, Illinois. She graduated from Harvard University in 1973, where she studied psychology, sociology and anthropology. Jill then joined the Harvard Medical School, and graduated in 1979. After graduating, she practiced internal medicine at Beth Israel Deaconess Medical Center, Simmons College Health Center, and Harvard Pilgrim Health Care, for 25 years. At Harvard Medical School she also served as an instructor of medicine.She is married to Richard Rohrer, who is also a physician, and they have two adult sons.
4. Rise to Prominence
Jill Stein's rise to political prominence began in 2002 when she ran to be the Governor of the U.S. state of Massachusetts on the Green Rainbow Party ticket. In a field of five she came in third and received rave reviews for her debate performances to an extent that supporters of the democratic nominee bought the rights of jillstein.org domain name. In 2004, Jill ran for a seat in the Massachusetts House of Representatives, but lost to Thomas M Stanley the incumbent. In 2006 at the Green Rainbow Party state convention Jill was nominated for Massachusetts commonwealth secretary, and lost to Bill Galvin. In 2005 she was elected to the Town Meeting seat, and reelected in 2008. In 2010, she had another stab at the gubernatorial race but lost and finished last.Her stab at the US presidency began in 2012 with the Green Party and received 0.4 percent of the votes. On February 6th, 2015, she announced the formation of a committee to prepare her to campaign for the Green Party ticket nomination to run for the US presidency in 2016.
3. Achievements
Combining activism and her medical health background, Jill Stein has supported various environmental causes.In Massachusetts. She has fought for clean energy, campaign finance reform, and environmental protection since the 1990s. In 2003 she started the Massachusetts Coalition for Healthy Communities, a nonprofit for public health and environmental protection. Working with nonprofits Jill has also fought for a healthy environment as human right, and assisted Native Americans fight environmental injustice. In Massachusetts, she fought the "filthy five" coal plants to adopt cleaner measures. Jill's advocacy also led to closure of a toxic medical waste incinerator at a poor community in Lawrence, Massachusetts. She was also pivotal in rewriting the Massachusetts fish advisories to protect women, children, Native Americans and immigrants, from mercury poisoning according to her website. Jill's activism also helped preserve the freeze on new toxic trash incinerators in Massachusetts.
2. Challenges
As a minor party candidate running to be the President of the United States, Jill Stein has faced a myriad of challenges in the race. Along with Libertarian candidate Gary Johnson, he failed to qualify for the first presidential debate. Jill failed to meet the 15 percent polling threshold needed and had 3.2 percent, according to CNN. She was also barred from entering the Hofstra University campus during the Clinton-Trump debate on September 26th, 2016, due to a lack of credentials, and arrested. Her intention was to get on the stage and participate in the debate but was thwarted by the police. Jill Stein was also barred from the 2012 presidential debate due to low polling percentages.
1. 2016 U.S. Presidential Campaign
By June 15th, 2016, Jill Stein had received enough delegates to win the nomination to run as a U.S. Presidential candidate for the Green Party. On July 22, 2016, she announced her candidacy for the presidency of the United States on the Green Party ticket. She chose human rights activist Ajamu Baraka as her running mate. On August 6, 2016, at the Green Party's convention in Houston, Texas, she officially received the party's official nomination. Since then Jill Stein has been campaigning as an independent candidate for the U.S. Presidency with Ajamu. She has also raised close to US $1.9 million in campaign funding from diverse donors from all around the United States.