World Facts
Human Trafficking Remains a Serious Problem
Investigators are researching the strong link between human trafficking and what is known as the dark web.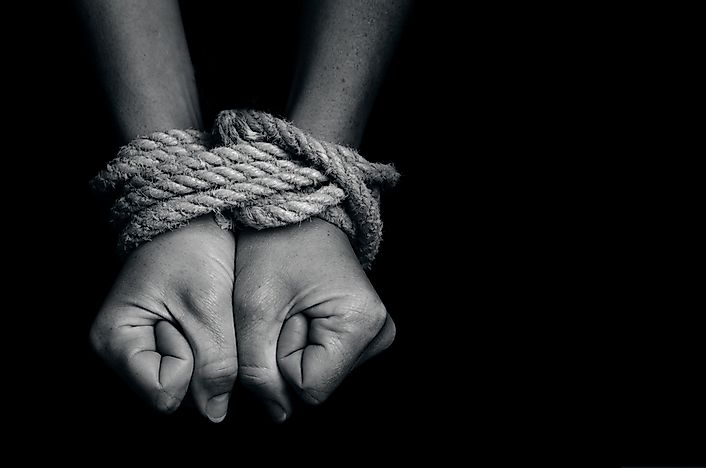 A 30-year old Polish man has taken the black market human trafficking business online. The man, identified as Lukasz Pawel Herba, kidnapped a young female woman in the UK before holding her hostage for close to a week. Herba worked with his unidentified accomplice in kidnapping the woman. The agent of the young woman, who works as a model, reported her disappearance after she failed to return, and he received a demand for ransom.
British Woman Sedated, Kidnapped
The unidentified 20-year old woman had traveled to Milan for a photo shoot supposedly for an ad campaign on July 10. A day following her arrival, she visited the apartment where the photo shoot was to take place. In the apartment, Herba and his accomplice kidnapped the woman and injected her with a horse sedative, ketamine. The two men then stripped her and took photos. The woman was packed in an awaiting suitcase after her head was covered with a pillow case and her mouth taped.
Herba and his accomplice transported the model to an isolated village about 120 miles outside Milan. The two acquired the room through false registration as reported by the Italian investigators. They cuffed their victim to a chest of drawers and proceeded to take photographs of the naked and drugged woman. The photos were posted on a secret website online with the starting price for the woman at $353,000. The sum would be paid in Bitcoin. Besides posting her photographs for an online auction, Herba asked her modeling agency for a $300,000 ransom to stop the auction. The woman remained in her cuffed position throughout the period.
Charges Laid
The victim was later released when the captors realized she had a child, which according to Herba, is against their policy. However, they supposedly threatened her with death should she tell anyone about the incident. Herba and his accomplice made her sign a contract declaring that she would pay $50,000 in Bitcoin within the month. The woman, however, reported the matter leading to the arrest of Herba who is said to have confessed. Herba was arraigned in an Italian court on charges of kidnapping and illegally holding the woman captive.
Link to the Dark Web
Herba is said to have confessed with further investigations, revealing his membership in a dark web organization known as the Black Death Group. The group deals in human trafficking on the web through auctions organized by Herba. A search in Herba's computer revealed photos of other women who were allegedly auctioned for sexual slavery. The investigators have also linked Herba with other individuals known to have kidnapped women. This case, however, is the only one with the evidence required to convict Herba.