How Many Waterfalls Does the Mississippi River Have?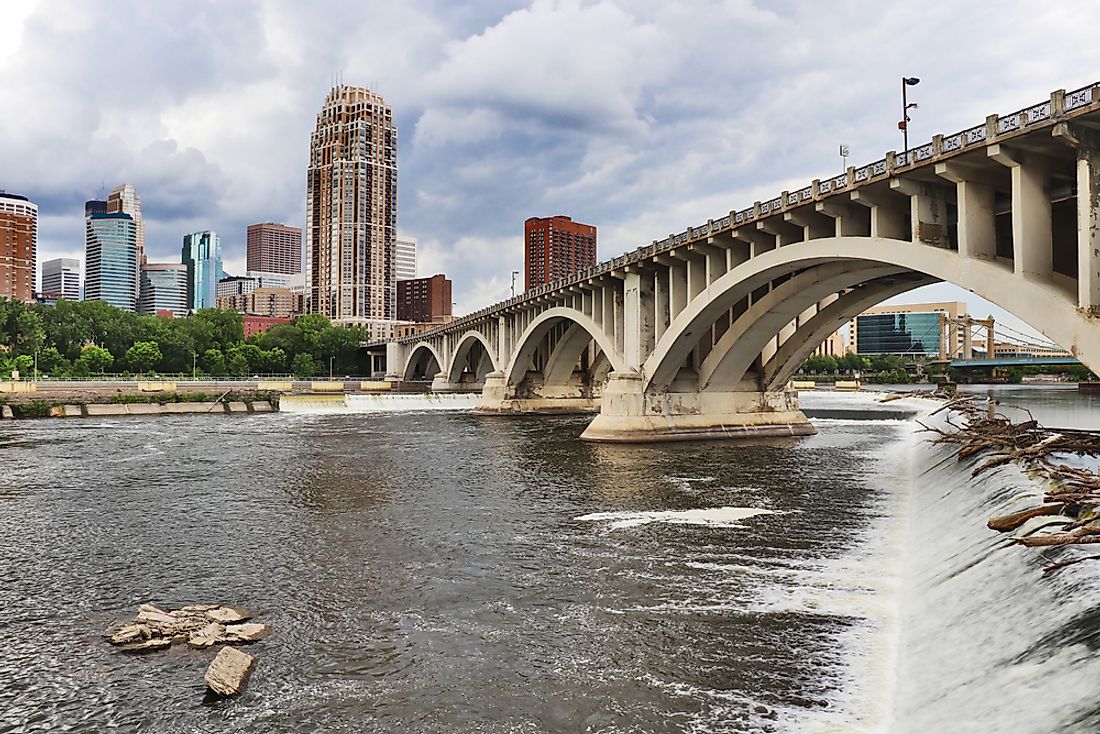 The Mississippi River has only one natural waterfall, Saint Anthony Falls.
Saint Anthony Falls is located in Minneapolis, Minnesota,USA. Specifically, it is located in downtown Minneapolis. Saint Anthony Falls has been an integral part of the growth of Minneapolis. This has been the case from its founding and before.
History of Saint Anthony Falls
This waterfall marks a point where canoes could not easily travel up river. It had to be portaged. This meant canoes had to be carried over land. The area around Saint Anthony Falls made a fitting place to rest and to trade for the Dakota and Anishinaabe peoples.
The water fall was recorded by Belgian Catholic friar Fr. Louis Hennepin. It was given the name Saint Anthony in honor of Saint Anthony of Padua. It existed as the only natural waterfall along the Mississippi River.
In 1869, this waterfall suffered a collapse. A concrete overflow would serve as a replacement for the natural falls that existed before its collapse. Locks and dams were added to the waterfall in the 1960s.
The Sawmills of Saint Anthony Falls
Sawmills were established around Saint Anthony Falls starting in 1848. The mills were established here to take advantage of the water power generated by the falls. However, there were problems. In 1869, the waterfall collapsed. This was due to a collapse in a tunnel within the falls. The falls would be stabilized after a concrete overflow spillway was built. Flour mills for processing grain would also be established around Saint Anthony Falls, drawing water power from the waterfall. From 1880-1930, Minneapolis would have the nickname "Milling Capital Of The World". It would also be known as "the greatest direct-drive waterpower center the world has ever seen." General Mills, a major food manufacturer, was founded in Minneapolis because of Saint Anthony Falls. The company still maintains its headquarters in Minneapolis today. Saint Anthony Falls today have two hydroelectric dams, furthering its role as a source of hydropower.