If you have not watched Steven Spielberg's "Jaws" (1975), we strongly suggest you do it outside of the summer season. Otherwise, you are definitely risking a swim-less vacation.
Because sharks have teeth, a lot of them, and one look at those scary spiky structures, should send shivers down your spine.
Fifty Or A Few Hundred, Ready To Eat!
How many teeth are inside a shark's mouth depends from species to species. Whale sharks can have a couple of hundred, while the notorious great white has "only" 50. Why sharks have so many teeth should not surprise you. They are the apex predator of the seas, meaning they have no natural enemies. The high tooth count, plus their fantastic ability to sense things from miles away, coupled with impressive body movement, makes sharks unique in many ways. 
Shark Teeth Features
One thing about a shark's tooth that is vastly different from teeth of other species is that it has no root. Other than the fact that they will not suffer the pains of root canal cleaning, this also means that sharks lose their teeth—a lot. Sharks are messy eaters, and they ferociously attack their prey, ripping it apart, losing a few teeth along the way. 
Dentist? No, Thanks!
It is estimated how a shark can change up to 30,000 teeth during their lifetime, and it is all because of their ability to grow them back insanely fast. Having no root, they often fall out during eating, but a new tooth can grow back in just 24 hours, ready for another meal.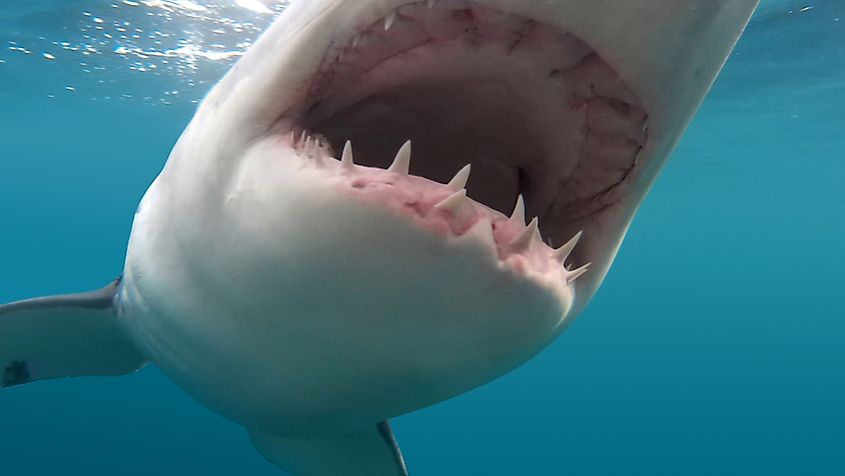 Multi-Row Placement
When we eat, we do so by using only one row of teeth. Sharks, on the other hand, enjoy the benefits of multi-row food chewing. They can have up to fifteen rows, ready to distribute food among them, which makes digestion a whole lot easier. These rows are somewhat mobile, as there are no roots in the teeth, so they are attached to the skin, which is flexible, especially around the mouth area. Also, the biggest teeth are up high in the front rows, and they get smaller with each other row. 
There are four different types of teeth we can find in sharks. Sharks have non-functional teeth, believe it or not, and the other three types are needle-like, densely flattened, and pointed lower with a triangular upper.  Needle-like are rather long and slim, while the dense flattened are more short and stubby, better suited for eating hard-shelled food. We sincerely hope you never meet with the great white shark, because those teeth are exceptionally sharp, with saw-like edges.
What type of teeth will a shark have depends on what it feeds on, but all of them are known to have very resistant calcium phosphate structure. This fact proved crucial in determining how old are some shark tooth fossils that were found in recent history. Some of the older species of sharks from the are 450 million years old and date back to the Late Ordovician period.