World Facts
Fast Food Chains From Countries Around the World
A selection of fast food restaurants that are popular in their country of origin.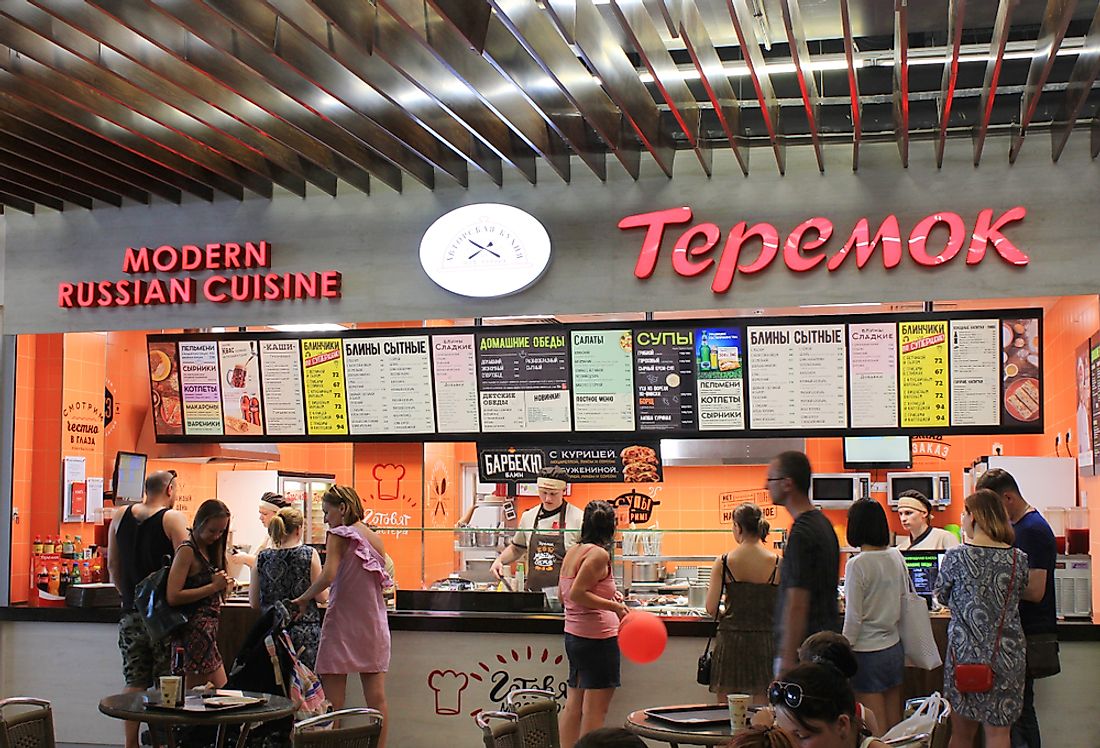 A fast food restaurant refers to a particular type of restaurants that serve fast foods and have limited table service. Within the industry, the outlets are also known as a quick-service restaurant (QSR). Typical fast foods served in these outlets are part of meat-sweet-diet, which are served from a limited menu, and they are prepared in advance, especially in bulk and kept hot. The items are packaged for order and available for takeaway. Sometimes seating could be provided in the fast food restaurants. They are part of a franchise or a restaurant chain, and their operations provide standardized ingredients through their controlled supply channels to the branches.
9. South Africa: Steers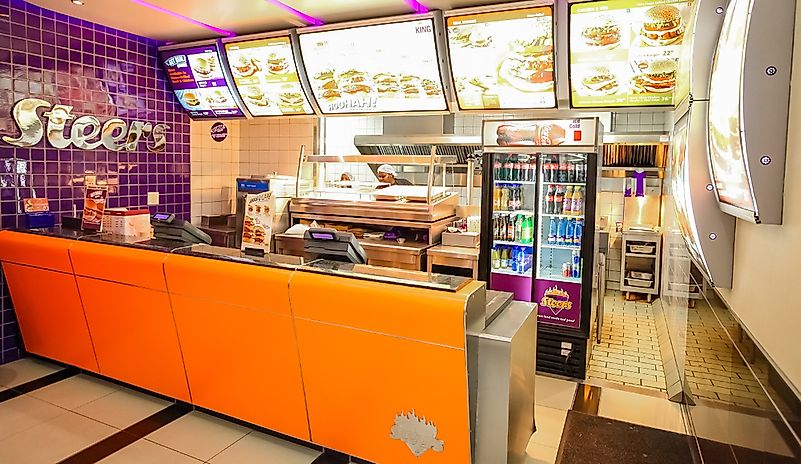 Steers is among the leading quick-service restaurants in South Africa. Steers is popular for its chips and grilled burgers made from pure beef. Other popular items on the menu include milkshakes, ice cream, ribs, and chicken burgers, among others. It was founded by George Halamandaris who founded the first steakhouse in South Africa after his long stay in the US. The name steers have evolved over time from a wide range of names such as golden steer, seven steer, branded steer, and longhorn steers. The first Steers outlet was opened in 1970 in Johannesburg. In the 1980s, the fourth outlet was opened in Sandton City. Steers has become the most prominent South Africa's fast food restaurant.

8. Canada: Tim Horton's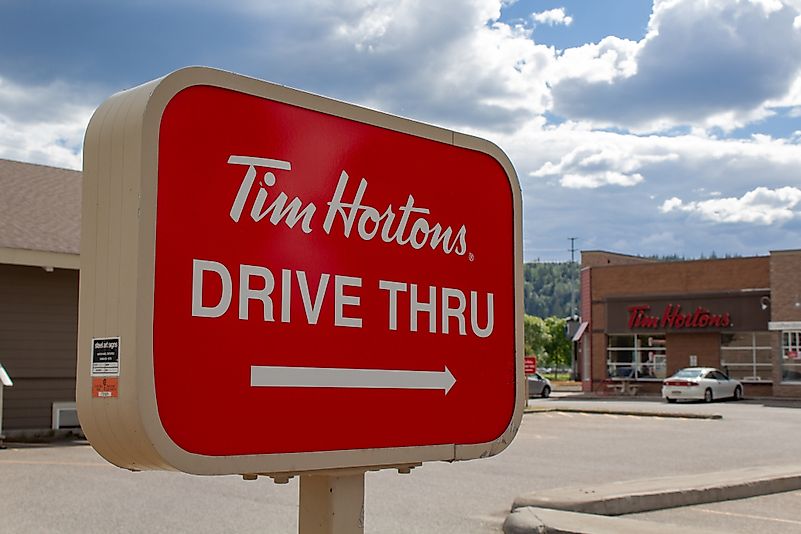 Tim Horton's is the largest fast food restaurant in Canada that specializes in doughnut and coffee. The headquarters of the company is in Toronto, Ontario and as of 2018, the company had 4,846 restaurants in 14 countries around the world. It was founded in 1964 by Tim Horton and Jim Charade in Hamilton, Ontario. In 1967, Ron Joyce came into the company as an investor. Horton died in 1974 and Joyce expanded the operations of the company into a multi-billion dollar operation through a franchise.As of 2010, the outlets in the northernmost part of the country were opened in Iqaluit and Nunavut expanding Tim Horton's presence to all the provinces and territories of Canada.

7. Malaysia: Marrybrown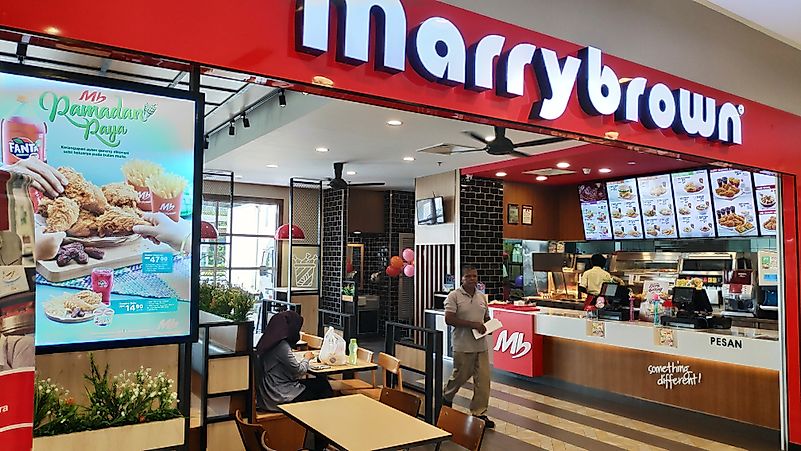 Marrybrown is a fast food restaurant of Malaysian that was established in 1981. It was the first food restaurant to franchise its operations in Malaysia and has more than 138 outlets in the country. In other countries, the company has more than 350 outlets that serve beverages, desserts, finger foods, burgers, and fried chicken besides other Malaysian dishes such as noodles, seafood, porridge, and rice-based items. Nasi lemak is the national dish in Malaysia, and it is one of the leading items in the menu going by the name Nasi Marrybrown. It started at Wong Ah Fook Street as a small shop lot in 1983, which was founded by a couple of Chinese origins. During this time, fast food markets in Malaysia were dominated by American based companies. Marrybrown ended up being a hit among the locals.
6. Brazil: Habib's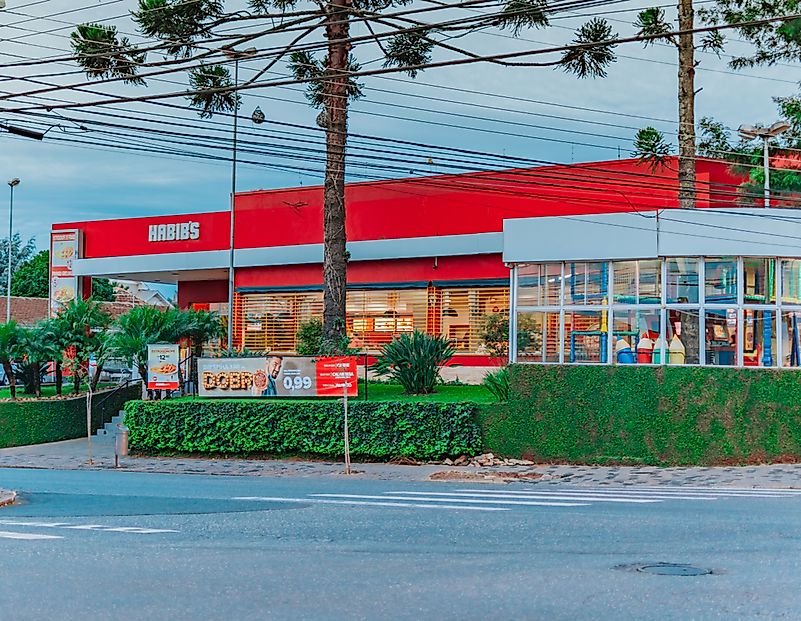 Habib's is a popular Brazilian fast food restaurant that specializes in Brazilian sandwiches and Middle East cuisine. In Brazil, the company has more than 475 outlets in different parts of the country and has recently entered into foreign markets. They are popular for exotic dishes and low prices. The founder of Habib's was a Portuguese born baker known as Alberto Saraiva. Although Saraiva never had any ties with the Middle East, he got most of his ideas from a man of Arab descent who got a job in his bakery. Currently, Habib's is the largest fast food specializing in Arabic dish in the world and the third-largest fast food in Brazil.
5. China: Dico's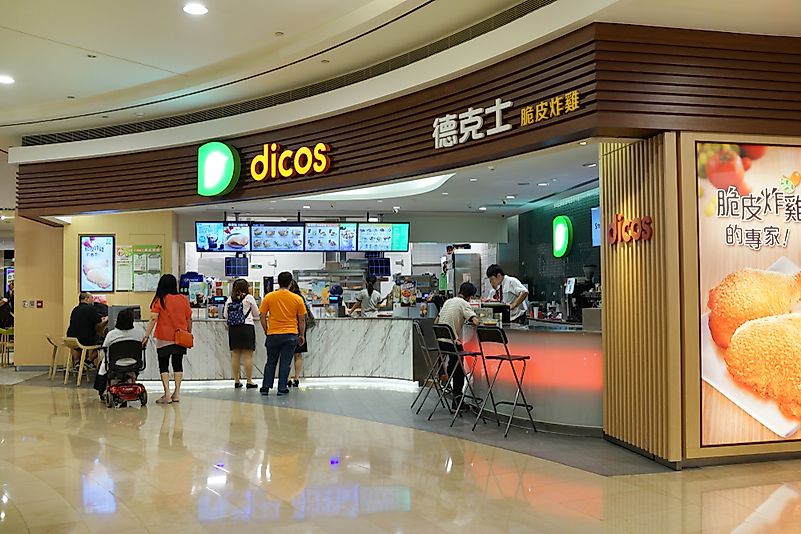 Dico's is one of the more popular Chinese fast food restaurants. The restaurant was founded in 1994 in Chengdu. The headquarters of the company is in Jiangji district in Chengdu and has other local offices in Changsha, Wuhan, and Chongqing. In 2010 the company had total sales of US$1.3 billion. The company has an ambitious plan of expanding its outlets to 25,000 by the year 2040.
4. Australia: Hungry Jack's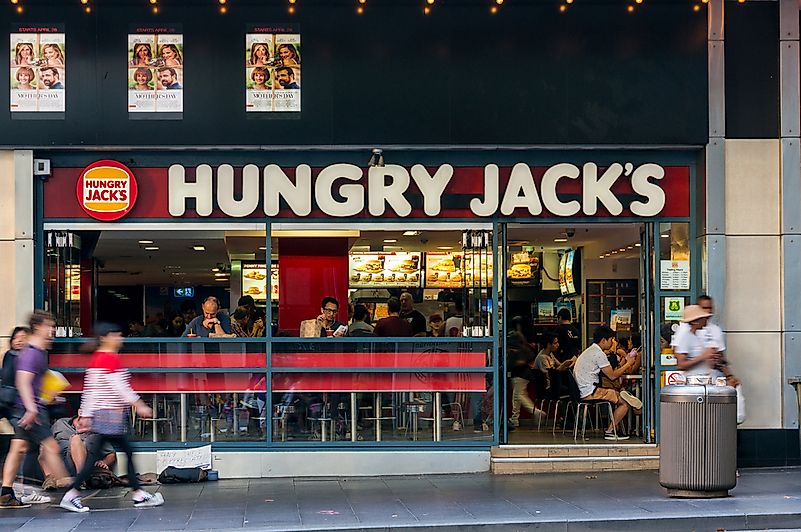 Hungry Jack's is a subsidiary of Competitive Foods Australia, which is a private company owned by Jack Cowin. Hungry Jack's operates and owns sub-licenses all the Burger King and Hungry Jack's restaurants in the country. The company licenses new operators, opening new outlets, and carrying out standards oversight of the franchise to locations in the whole of Australia as a master franchise. Hungry Jack's has more than 400 outlets in Australia and is the world's second largest franchiser of Burger King after Carrols Corporation.
3. Mexico: Pollo Feliz
Pollo Feliz is a fast food restaurant popular in Mexico which was founded in 1975 in Sinaloa. It started as a small restaurant preparing grilled chicken with a special recipe. As of the 1990s, it had become the most recognized brand in the country. Because of its enormous growth, by 2000 the company had more than 500 stores in 167 cities in Mexico. In 2001, the company expanded outside Mexico and opened its first branch in Tucson, Arizona in the US.
2. Russia: Tepemok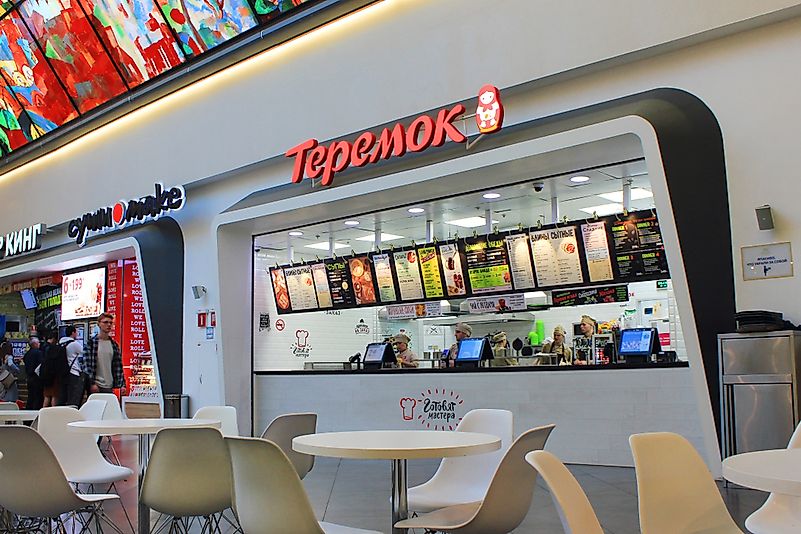 Tepemok or Teremok is a famous Russian fast food chain that was established in 1998 by Mkhail Goncharov. The restaurant specializes in traditional dishes like pelmeni, Blini, borscht, and Kvass. Tepemok has outlets in Moscow, Siberia, Southern Russia, Ural, and Saint Petersburg. By 2017, Tepemok restaurant had 300 restaurants. It was the first restaurant offering fast food in Russia and attempting to compete against McDonald's. In 2017, two branches of Tepemok were opened in Chelsea and Union Square in New York. These were the first outlets of Tepekmok branches outside of Russia. However, in 2018, the two outlets were closed.
1. Egypt: Mo'men
Mo'men refers to a chain of fast food outlets in Cairo, Egypt. The name Mo'men is an Arabic word which translates to Believer. The restaurant specializes in sandwiches, and it is a subsidiary owned by Mo' men group.It was established in 1988 in Heliopolis, and this was the time when the country was opening up for international markets, and outlets such as KFC and McDonald's were preparing to open outlets in the country. Currently, it is the leading fast food outlet in the country in terms of sales. There are 62 outlets in different parts of Cairo as well as the city of Alexandria, among other locations in the country. Mo' men have ventured out of the country, and it has opened outlets in Malaysia, Saudi Arabia, Bahrain, Kuwait, Dubai, Sudan, and Libya.
This page was last updated on October 18, 2019.
Citations
Your MLA Citation
Your APA Citation
Your Chicago Citation
Your Harvard Citation
Remember to italicize the title of this article in your Harvard citation.