Politics
Who Is Evan McMullin? 2016 U.S. Presidential Candidate
The Utah born and raised candidate gives voters a conservative alternative to Republican Donald Trump.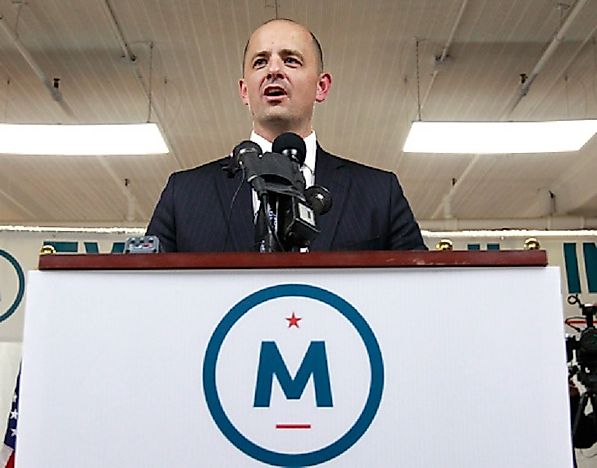 5. Early Life and Education
David Evan McMullin was born on April 2nd, 1976 in the U.S. state of Utah. He grew up near Seattle, Washington. After high school, he attended Brigham Young University, the largest religious university in the country, and obtained a bachelor's degree in International Law and Diplomacy. He later pursued his master's degree in Business Administration from the University of Pennsylvania.
4. Rise to Prominence
McMullin has an interesting and varied professional background, first volunteering for the United Nations High Commissioner for Refugees (UNHCR) as a Refugee Resettlement Officer in Jordan. He went on to work for the Central Intelligence Agency (CIA) of the United States for 10 years, from 2001 to 2011. During this time, he worked on counter-terrorism operations throughout the Middle East, North Africa, and South Asia. After a brief stint in the Investment Banking department of Goldman Sachs, he began his career in politics.
In 2013, he worked for the House Committee on Foreign Affairs as a national security adviser and, 2 years later, became the Chief Policy Director for the House Republican Conference. He first came onto the public platform in March of 2016 when he spoke at a Technology, Entertainment, Design (TED) conference on the inaction of Western governments to take on genocide and human rights violations in the developing world.
3. Achievements
His greatest achievements are linked to his time working with the CIA, though many of these experiences are cloaked in secrecy. He strove to recruit allies of individuals working inside terrorist groups and foreign governments in a post-9/11 world. He has a significant amount of inside information in regard to screening refugees for entry as well as information relevant to identifying just who are the biggest security threats to the country. His past professional experience could very well make him an ideal candidate for leading the nation.
2. Challenges
His biggest challenge as a presidential candidate is three-fold. First, he has not played a prominent public role until very recently. This fact will work against him because the majority of the public simply does not recognize him. Second, his affiliation with the Mormon Church may work against him, this same issue lost some votes for prior presidential candidate, Mitt Romney. Although the US is a secular government, the president has always been a Protestant. That is, of course, with the exception of one person, John F. Kennedy, a Catholic. Another challenge he will face is that he announced his campaign with only 2.5 months until election day. He and his staffers now have to fight with several states in order to even get his name on the ballot.
1. 2016 U.S. Presidential Campaign
McMullin joined the presidential campaign a little late in the game, first announcing his intention to run on August 8th, 2016, and that he would do so as a third-party candidate. He has criticized both major parties, the Democrats and the Republicans, as divisive and unethical. His campaign staffers once worked for a non-profit called Better for America. Non-profits are not permitted to endorse or support political candidates. He is expected to win votes from Republicans who do not want Trump as the next president. His campaign is also focused on throwing the election for Clinton and Trump so that neither of them can win the required 270 electoral votes, a result that would hand the election over to the House.