Do sharks have tongues has been an eyebrow-raising question at every party, we know. The most infamous apex predator of them all, lurking in the deep seas and inspiring movie franchises for decades, old as a dinosaur, but does it have a tongue?
Let us put you at ease; all sharks do, in fact, have tongues. But, the truth about the shark's tongue is not the one you expect.
Tongue, What Is It Good For? Absolutely Nothing!
We can all agree on how we all appreciate our tongues, from talking, eating, drinking, breathing, and many other tongue-twisting activities; it is there to help. There are several thousand taste buds on an average human tongue, which makes all the difference when you are tasting your favorite slice of pizza. But what about sharks?
First of all, these majestic creatures do not have just a tongue; they have a basihyal. A basihyal is an immovable object, very short and thick, and it is possible that the only real use of it is to support some of the bones that connect with the shark's gills. Technically, a basihyal should not be called tongue at all, as it is only the top part of a structure called basibranchial. The basibranchial goes all the way down to the middle of the shark, and it is there where it helps with breathing or moving the gills.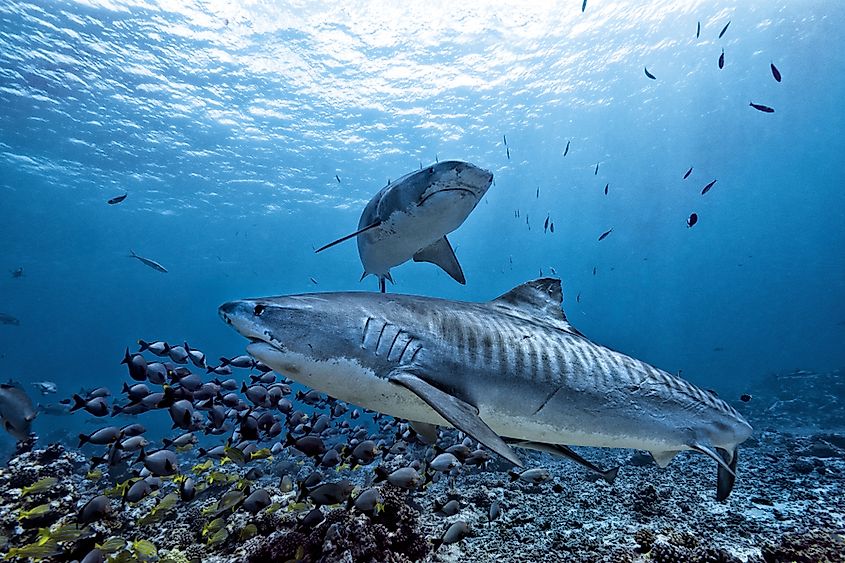 The location of this particular tongue does not surprise, it is located, as you might guess - at the bottom of the shark's mouth. However, despite the very cool name the shark's tongue got, it serves little to no purpose. Imagine that, eating all of that delicious fish and an occasional surfer, not being able to taste a thing. That is right. Unfortunately, sharks do not use their tongues to taste the food they eat. 
Just A Matter Of Taste
However, a different type of taste buds can be found in shark's mouth, and these are located all over the shark's skin of the mouth from the inside. These buds serve the sharks as a wide-range receptor of information and determine if the prey is good or bad to eat before the sharks swallow it. 
Notable Exceptions
There are only three shark species that use their tongue in a more meaningful way: Carpet sharks, Cookiecutter sharks, and Bullhead sharks. Carpet and Bullhead sharks use some additional muscles to move their tongues more. They have the ability to create a vacuum inside their mouth, which then quickly sucks up the fish.
On the other hand, the Cookiecutter is a cutter indeed, as it puts its wide tongue to good use, being able to rip the flesh from the prey it catches.