Travel
Cox's Bazar, Bangladesh - Unique Places around the World
This unknown Bangladeshi locale is Asia's longest continuous sand beach, boasting a variety of beautiful scenery and sea life.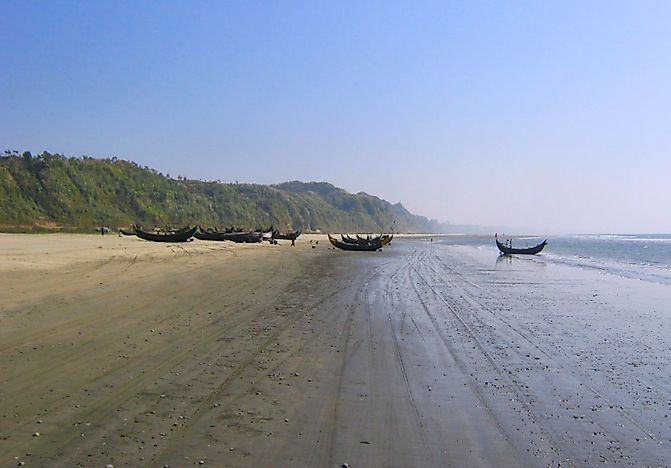 Description
Asia's longest natural continuous sand beach, the beach at Cox's Bazar is located in the fishing and tourist town which shares its name in Bangladesh. It spans a length of roughly 77 miles, and is situated about 93 miles south of the metropolitan city of Chittagong. From there, it is easily accessible by road and air through Dhaka and Chittagong. The place is also known as Panowa and Palongkee among the locals, which means "yellow flower" in their native Bengali. Like many of the most popular coastal attractions in the world, Cox's Bazar Beach is known for its hot weather and substantial rainfall, which may be experienced the whole year round. Despite being popular in Bangladesh, Cox's Bazar Beach is still relatively unknown to people across many parts of the world, something that the government is aiming to change in the next couple of years.
Tourism
Many travelers from all over the world have yet to discover the beauty that Cox's Beach offers, although it is already established as a widely popular destination among its people and those from neighboring countries. Chittagong and Dhaka are the cities nearest to it, which are serviced everyday by United Airlines and Regent Airways. It only takes 60 minutes to fly from these cities. The journey may take up to roughly 12 hours from Dhaka and 5 hours from Chittagong, however, if taken in a car or bus. Tourists can then hire one of the many cycle rickshaws, which are found parked at several key spots around Cox's Bazar, to help get them around the beach.
Uniqueness
Cox's Bazar Beach is teeming with tourists during the months between October and March, so anyone looking to spend a quiet vacation far away from the crowd is better off visiting the place from April to September. There isn't any shortage of nice places to stay around this beach, as several resorts designed primarily to cater to the Bangladeshi elite as well as foreign guests have already been established in the area. Souvenir shops selling native handicrafts, shell markets, and restaurants serving authentic Bangladeshi cuisine are also abundant in the area. All of these can be accessed with the help of tour operators, who are always willing to help guests get around and enjoy their vacations to the fullest.
Habitat
The majority of the flora and fauna that thrives along the shark-free Cox's Bazar Beach have sought refuge in its quieter waters, such as those found along Laboni Beach, Sughandha Beach, Himchari Beach, Inani Beach, and Teknaf Beach. The entire stretch is easily toured using a motorbike, and guests will soon find that the farther they go along the seashore, the bluer the water gets and the more gorgeous the scenery becomes. At present, over 8,000 marine animals live in the area, with roughly 20 species that are in danger of going extinct globally. Those interested in birdwatching will be delighted with the large numbers of migratory birds found in the area, along with two species of sea turtles whose populations are also rapidly dwindling worldwide.
Threats
It is no secret that the Bangladeshi government has been making great efforts in developing the towns and the areas surrounding Cox's Bazar Beach. They have stated their goal of doubling the number of tourists visiting it annually by 2021. Unfortunately, many of the establishments already built along its shorelines may have been constructed without first receiving appropriate permits and without careful planning. This has caused the area to become overcrowded and lacking proper zoning. Additionally, environmentalists are putting pressure on local authorities to implement stricter guidelines to ensure that the shores and waters remain unpolluted, despite the expected influxes of more and more additional guests in the near future.
This page was last updated on April 25, 2017.
Citations
Your MLA Citation
Your APA Citation
Your Chicago Citation
Your Harvard Citation
Remember to italicize the title of this article in your Harvard citation.