World Facts
Countries With The Fewest Secure Internet Servers
Some entire countries only have one encrypted Internet server to their name nationwide.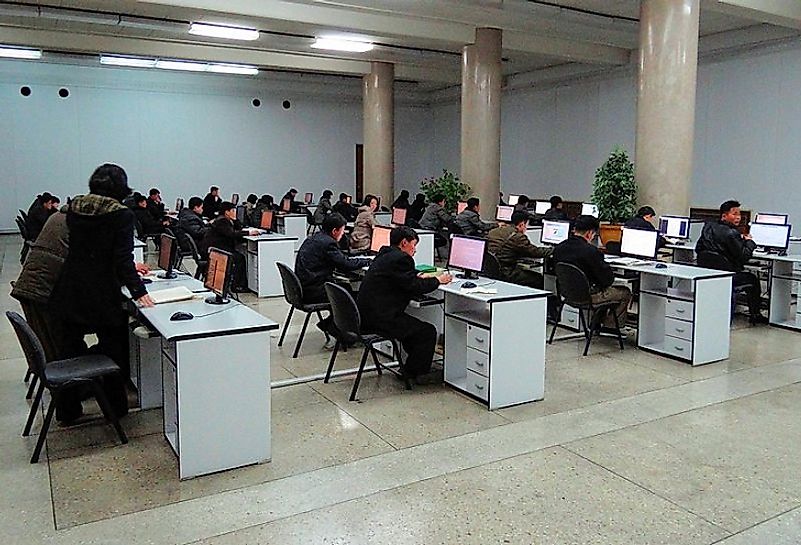 Cyber security, identity theft, virus attacks, and computer breakdowns are only some of the risks associated with using unsecured internet servers. To ensure safety while transacting online, it is necessary to log into a secure internet server. A secure internet server would use security protocols, such as Transport layer Security, so that anyone using credit card information and any other sensitive information sent out and from the server is always encrypted. Some countries, especially in the developing world, have been affected by the lack of secured internet servers. In fact, in some countries, there is only one encrypted secured internet server serving the whole country. Some of the countries with the fewest secure internet servers include those listed and briefly discussed below.
North Korea
Internet access is available in North Korea, though its access is highly restricted. Only government officials have the privilege to access the internet in the country. Online services are provided only by Kwangmyong, a free domestic network. Star Joint Venture Co. is the only Internet Service Provider (ISP) that provides network connections in North Korea. Even with the growing IT industries in North Korea, access to the internet is still tightly restricted. The government isolation of the internet services has discouraged companies depending on the internet from making a base in North Korea. Companies such as Apple, Microsoft, and Sony have been blocked from selling their products in the country. The country has also blocked social media sites and South Korean website for fear of spreading information.
Somalia
Only 0.5% of the Somali population uses the Internet according to the Global Internet, the primary internet provider in Somalia. Until 2012, Somalia did not have a systematic internet filtering. The country was the last to get connected to the internet establishing its first ISP in 1999. However, internet and telephony are quickly growing in Somalia. The first fiber optic cable was connected in 2013 making broadband internet available for use by the locals.Access to secured internet server is still a challenge even with the installation of fiber optic cables with only one secured internet server in the whole country. Many Somalian residents are flocking to hotels and cyber cafés in order to access their internet services, though these are also very slow.
Tonga
Secured internet servers in Tonga numbered only 1 in 2015, representing a 66% drop from 2014 when 3 secured internet servers were seen in the country. Only 9.4 per one million people were connected to the secured internet server in 2015, recording the lowest value ever in the history of Tonga's internet connectivity era. However, the introduction of broadband has improved access to the secured internet in the country. Household prices for the internet have reduced by close to 60% while the country has been able to open its first call center.
Low Access to Internet Options
Access to secure internet servers has been hindered by a lack of infrastructural development in such countries as Kiribati, Sudan, South Sudan, and Chad. The cost of installing these secured servers is also high thus the country relies mainly on satellite internet connections, which are often very expensive, slow, and unreliable. Lack of access to secured server has caused these countries to lose vital information while their online space has been accessed by unauthorized elements such as viruses and cyber thieves.
Which Country Has the Fewest Secure Internet Servers?
In countries such as North Korea, Somalia, Tonga, Kiribati, and St. Martin, there is only 1 secure internet server.
Countries With The Fewest Secure Internet Servers
| Rank | Country | Number of Secure Internet Servers in 2015 |
| --- | --- | --- |
| 1 | North Korea | 1 |
| 2 | Somalia | 1 |
| 3 | Tonga | 1 |
| 4 | Kiribati | 1 |
| 5 | St. Martin | 1 |
| 6 | Sao Tome and Principe | 2 |
| 7 | Guinea-Bissau | 3 |
| 8 | Equatorial Guinea | 3 |
| 9 | Palau | 3 |
| 10 | Northern Mariana Islands | 3 |
| 11 | South Sudan | 3 |
| 12 | Sudan | 3 |
| 13 | Chad | 3 |
About the Author
Benjamin Elisha Sawe holds a Bachelor of Arts in Economics and Statistics and an MBA in Strategic Management. He is a frequent World Atlas contributor. 
This page was last updated on April 25, 2017.
Citations
Your MLA Citation
Your APA Citation
Your Chicago Citation
Your Harvard Citation
Remember to italicize the title of this article in your Harvard citation.