Society
Countries Where Working Men Are Most Likely To Employ Others
More than 8% of working men in Italy, Switzerland, and Greece have employees working under them.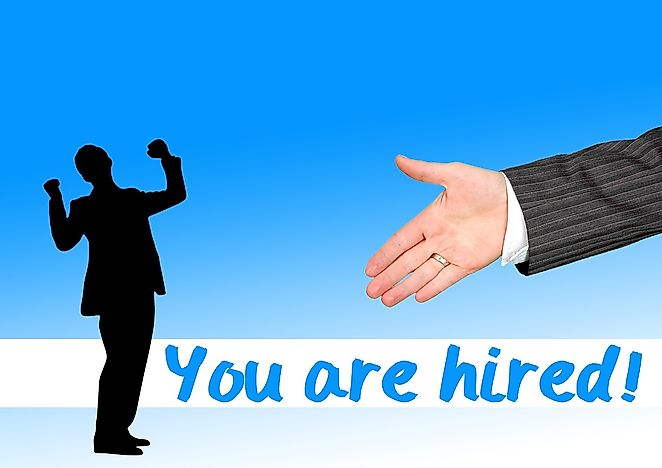 Employment is the most sought after activity in all countries around the world. With the increase in population, the job market is quickly shrinking. The demand for white collar job increases every year at the rate of 7% with the majority of the youths graduating from school. Unemployment has become a major global challenge with developing countries being most affected. 55 million people are unemployed in Africa and South Asia according to ILO report 2015. With the high rate of unemployment, a section of the employed workforce has devised ways of creating additional employment for others. The employees are working under them either work in their homes, farms or businesses. Those working for others handle activities like administrative and logistic work among others.

Italy
One in every ten employed men in Italy is also self-employed with other employees working under them. Italy's labor market allows an employer to own a business or other side jobs as long as it does not interfere with his output and performance in the organization or company he is employed. These employed workers do not have adequate time to work on their businesses, and so they contract others to work or manage their businesses, farms or other properties. 8.7% of working men in Italy are actively employing others or have others working for them. With unemployment of over 26 million people, the employed that employ others will likely reduce the rate of unemployment in Italy.
Switzerland
Swiss job market is dogged with discrimination especially for foreigners, females, or those above the age of 50 years. Most of the employment positions are occupied by men. However, the majority of the employed men have opened up employment for others. Of the employed men, 8.7% have offered employment to others directly under their supervision either as messengers, clerks or accountants. Those working in the informal sector have also employed others to work for them. The employed men have provided sufficient skills to those working under them especially in the area of their specialization and work areas.
Greece
Greece is one of the countries in Europe with the highest number of employed men compared to women. Besides, the majority of the self-employed are men working either as artisans, entrepreneurs or farmers. Of the employed men, or the self-employed who take home wages and salaries from their businesses 8.0% have employed others to work under them. The employed employers in Greece have significantly filled the unemployment gap and have made a significant contribution to the growth of labor market.
Conclusion
Countries such as Paraguay, South Africa, Portugal, and Croatia also have high rates of employment but an increasing rate of self-employment, in particular through entrepreneurship. Both formal and informal sectors are dominated by men in these countries. Over 7% of the men employed in these two areas have also offered employment to others with an average of 3 employees working under them. Self-employed men, especially in business, are the leading employers in this type of employment. The advantage of more men hiring others to work for them is the creation of extra jobs and improvement of the living standard.
Countries Where Working Men Are Most Likely To Employ Others
| Rank | Country | % of Working Men Employing Others |
| --- | --- | --- |
| 1 | Italy | 8.7% |
| 2 | Switzerland | 8.3% |
| 3 | Greece | 8.0% |
| 4 | Paraguay | 7.7% |
| 5 | South Africa | 7.5% |
| 6 | Portugal | 7.2% |
| 7 | Croatia | 7.0% |
| 8 | Hungary | 6.9% |
| 9 | Austria | 6.7% |
| 10 | Ireland | 6.7% |