World Facts
Countries Where Teachers Receive The Largest Shares Of Primary School Budgets
In some countries, virtually all of the primary school expenditures are used to pay teachers and other school staff.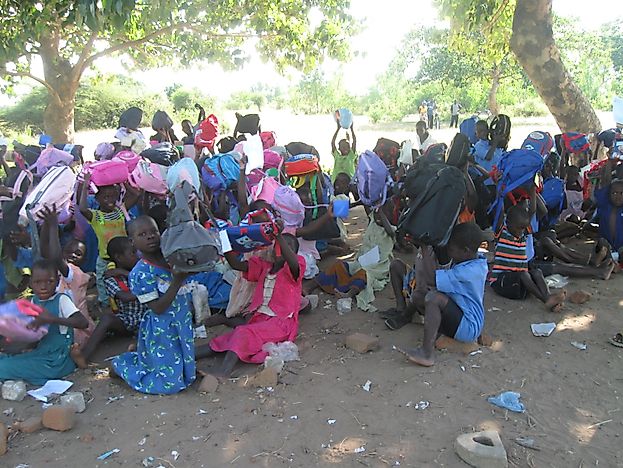 Globally, there is now a conscious effort to ensure that primary education is universal so that children can have a solid foundation for a better and brighter future. However, some countries face a constant series of challenges in attempts to run their existing education system. Some of these countries spend a large share of the primary school budgets in paying the salary of teachers and other staff members of schools. Here, it will be interesting to explore the importance and need of such spending and its effect on the education system.
Why Spend More?
There is not a single factor, but many, which compel some countries to spend more of the primary school budget in paying teacher salaries. Togo, a West African nation offers free school education and has a formal education structure. However, it has also faced a major social-political crisis for over 15 years that has severely affected its education system. With an acute shortage of trained teachers within the country, Togo has no other alternative than spending a whopping 94.8% of its primary school budget on school staff to discourage them from quitting their jobs. Also, more than 80% schools in Togo lack any access to electricity, which aggravates the situation and widens the demand and supply gap of primary school teachers. Malawi, Sao Tome and Principe, Ivory Coast, and Mali are the other African countries experiencing the same fate with no electricity in the majority of their primary schools making it difficult for their respective governments to ensure quality primary education. The majority of the schools in these African countries also have an inadequate number of classrooms. Drinking water, toilets, and other basic facilities are also lacking. This situation makes things miserable for both teachers and students. While in some nations school staff get hefty payments to ensure they do not quit, teachers are considered public workers in some other countries and thus entitled to high wages. Some of these are American countries like Bolivia, Guatemala, and Colombia. The wage of private sector job holders is low in comparison to the public workers in these countries. However, located on the Mediterranean coastline of France, Monaco spends a hefty share of its primary school budget in paying salaries because their teachers are extremely well qualified and experienced. Moreover, being a premium tourist destination, Monaco is also highly prosperous. The things are different in Ecuador, a small country located in South America. There is a high demand for experienced English teachers in Ecuador that along with a thriving economy allows higher payment to the school staff.
The Urgent Need for Improvement
Thus, it is evident that lack of electricity, access to basic school facilities, high demand for English teachers, and treating primary school teachers as public workers are some major reasons favoring huge spending on the primary school teacher salaries. For the African countries, bringing electricity to schools and improving the school infrastructure to save their primary school budget for other education development initiatives is the need of the day.
Countries Where Teachers Receive The Largest Share Of Primary School Budgets
| Rank | Country | % of Primary Education Expenditures Used to Pay Staff |
| --- | --- | --- |
| 1 | Togo | 94.8% |
| 2 | Malawi | 94.6% |
| 3 | Monaco | 93.1% |
| 4 | Guatemala | 87.7% |
| 5 | Colombia | 87.0% |
| 6 | Sao Tome and Principe | 86.4% |
| 7 | Mali | 84.0% |
| 8 | Ecuador | 83.2% |
| 9 | Bolivia | 81.9% |
| 10 | Ivory Coast | 81.0% |