Society
Countries Where Men Are Most Likely To Work In Industry
Around half of all working men in Slovakia and the Czech Republic are engaged in industrial trades.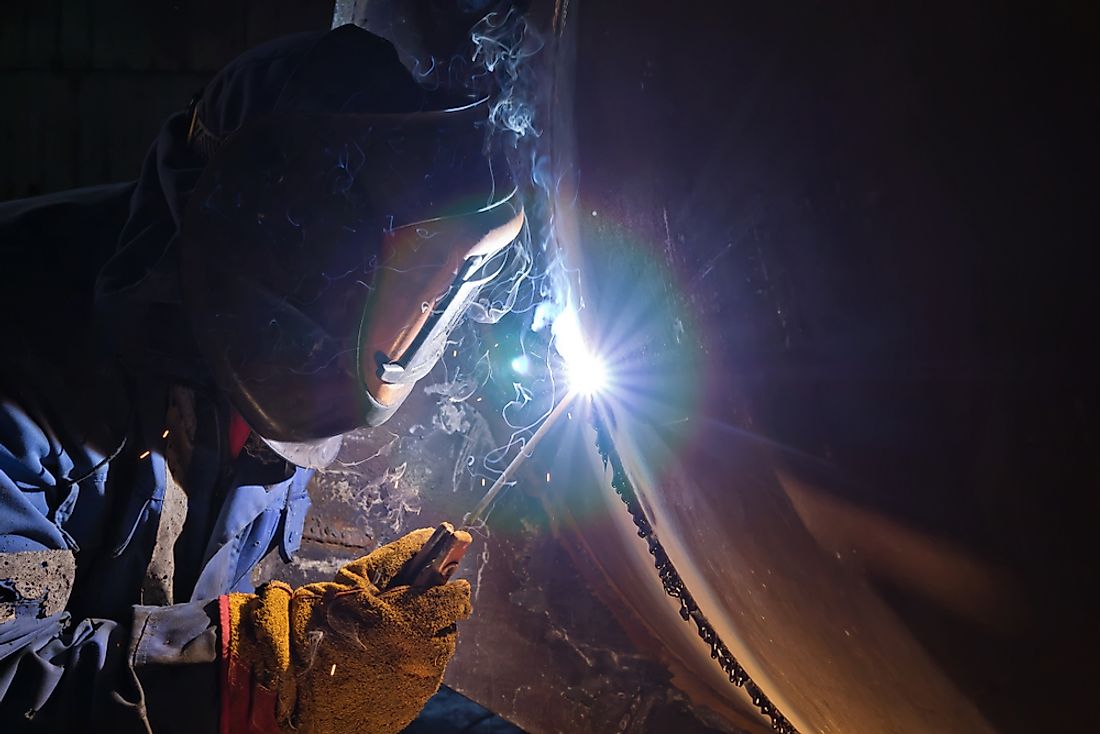 Working in an industry is considered a middle-class type of employment because of the better pay and other incentives that come with it. The demand for more workers in the industry is particularly high in countries experiencing industrial growth and expansion. More schools have focused on offering technical training to meet the ever growing demands of the industries. More men have benefited in most of the employments in industries with some countries having up to 50% of working men employed in industries. Some of the countries where men are most likely to work in industry include;

Czech Republic
The Czech Republic has both skilled and unskilled labor force that contributes to its economy. The unemployment rate has significantly reduced since the introduction of the labor laws which guard against discrimination and inequality at the place of work. Industrial development and improvement of the working conditions in the industry have contributed to more men seeking employment in the industry. In the Czech Republic, more than 50% of working men work in industries. Better remuneration and labor unions that fight for the rights of employees are also some of the contributing factors to more men working in the industries. It is projected that more than 70% of men will be employed in the industries by 2025.
Slovakia
The Slovakian labor market has experienced a significant revival since 2004 with investment projects and opportunities opening up. Automotive and machine industries are expanding by day making more employment opportunities available. Demand for specialists in the IT and technical sectors have increased. More schools have shifted focus from humanities to technical training with the aim of producing more engineers and production officers to take up the jobs in the industry. More men are currently sought after to fill these technical positions in the industries. Presently, 48% of the Slovakian working men are employed in the ever expanding industrial sector while more are being trained to fill the high demand for workers in the industry.
Slovenia
The recession has affected the labor market in Slovenia with men being the most affected. Most men have lost their jobs compared to women. More jobs were lost in manufacturing and construction industries compared to hospitality and agriculture. However, employment rates have started to improve gradually especially in the urban areas of Slovenia. Migration to urban areas has led to more men seeking jobs in industries and constructions. 43% of men working in Slovenia work in industries, especially in major towns. The increase of men workers in industries is mainly due to migration to towns to look for better sources of income to improve their standards of living.
Factors Favoring The Trend
Industries provide better pay and favorable working conditions for its workers. The incentives given by industries have led to more men seeking employment this sector. Besides, as the world becomes more industrialized, more opportunities are opening up for employment in the various industries. Migration to urban areas by men seeking for employment has led to an increase in the number of men working in industrie. This rural-urban migration has had negative effects on other sectors such as agriculture. Other countries with a high proportion of men working in industries include Estonia 42%, Poland 42%, Germany 41%, Hungary 40%, Austria 38%, Russia 38%, and Croatia 37%.
Which Country Has the Most Men Working in Industry?
Around half of all working men in Slovakia and the Czech Republic are engaged in industrial trades.
Countries Where Men Are Most Likely To Work In Industry
| Rank | Country | % of Working Men Employed In Industry |
| --- | --- | --- |
| 1 | Czech Republic | 50% |
| 2 | Slovakia | 48% |
| 3 | Slovenia | 43% |
| 4 | Estonia | 42% |
| 5 | Poland | 42% |
| 6 | Germany | 41% |
| 7 | Hungary | 40% |
| 8 | Austria | 38% |
| 9 | Russia | 38% |
| 10 | Croatia | 37% |
About the Author
Benjamin Elisha Sawe holds a Bachelor of Arts in Economics and Statistics and an MBA in Strategic Management. He is a frequent World Atlas contributor. 
This page was last updated on August 16, 2018.
Citations
Your MLA Citation
Your APA Citation
Your Chicago Citation
Your Harvard Citation
Remember to italicize the title of this article in your Harvard citation.