Economics
The Countries Who Spoil Their Children the Most
People from the UK spent the most on toys per child, averaging 438 USD in 2013.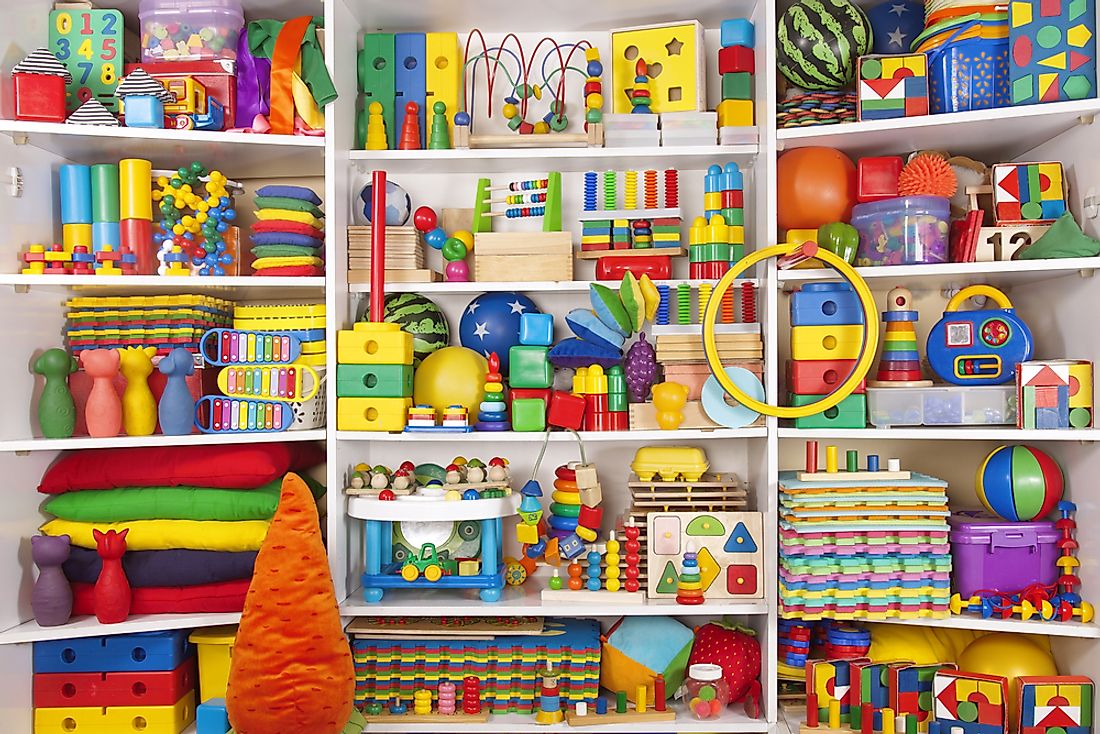 Globally, the toy industry is worth billions of dollars and is dominated by five key companies which are Mattel, Lego, Jakks Pacific, Namco Bandai, and Hasbro. Mattel, which is an American toy manufacturing company, leads the global toy industry with the highest revenue in 2016. Lego the Danish toy company commonly known for its interlocking bricks closely follow Mattel in second place. Namco Bandai a toy company based in Tokyo was the third highest in revenue followed by Hasbro and Jakks Pacific. However, the global toy industry would not be complete without consumers for their products.
The Global Toy Market
On an annual basis, the toy market is estimated to cash in revenue of over $80 billion worldwide. The North American toy market accounts for about a quarter of the total estimated revenue. The total revenue obtained from the sale of toys and games was almost $23 billion in the US alone by the end of 2014. A majority of the toys and games being sold within the US toy market are imported from other countries across the world. In 2011, the estimated amount of imported toys and games for children accounted for $19 billion indicating that approximately 85% of toys and games imported into North America were manufactured in China.
The Seven Countries That Spend The Most On Toys
The average amount of money spent buying toys varied in different countries worldwide. People from the UK spent the most on toys per child, averaging $438 in 2013. The average amount spent buying toys was second highest in the US with per child expenditures amounting to approximately $371. France which was the third highest country accounted for an average of $358 per child. Germany was in the fourth place with an average of $336 spent on toys per child while Russia followed in at number five with an average of $300 per child expenditure on toys. Just below Russia was Italy spending an estimated $187 per child while Spain ranked last on the list in toy expenditures per child with an average of $176. It is important to note that some critics within the toy industry claim that France and Italy encourage their children to take part in outdoor activities for play, and thus parents in the two countries are most likely to spend less when buying means of entertainment for their children.
Future Trends
Experts within the toy industry expect that the more technology continues to advance the more toy designers will continue to tap into their creativity. Therefore, looking forward per child expenditures on toys is set to increase as the ability for parents to say no to their children decreases. Besides, more adults are gaining pleasure from games and toys themselves especially in adult video games and others such as coloring books. As inflation increases and the cost of living rises around the world, the prices of children toys will also follow suit resulting in higher per child toy expenditures.
Online Purchase Of Toys And Games
Over the recent years, consumers have turned to the Internet for the purchase of many items including toys and games. In the US alone, the number of customers who have been buying toys and games online has been on a constant rise since the year 2008. In 2016, about 44 million consumers in the country purchased toys and games on online websites.
Countries That Spend The Most In Buying Toys
| Rank | Country | Average amount spent on toys per child (2013), in US dollars |
| --- | --- | --- |
| 1 | United Kingdom | 438 |
| 2 | United States | 371 |
| 3 | France | 358 |
| 4 | Germany | 336 |
| 5 | Russia | 300 |
| 6 | Italy | 187 |
| 7 | Spain | 176 |
This page was last updated on August 1, 2017.
Citations
Your MLA Citation
Your APA Citation
Your Chicago Citation
Your Harvard Citation
Remember to italicize the title of this article in your Harvard citation.