Society
Can Americans Travel to Cuba?
The US Department of State prohibits US residents or citizens' tourist travel to Cuba.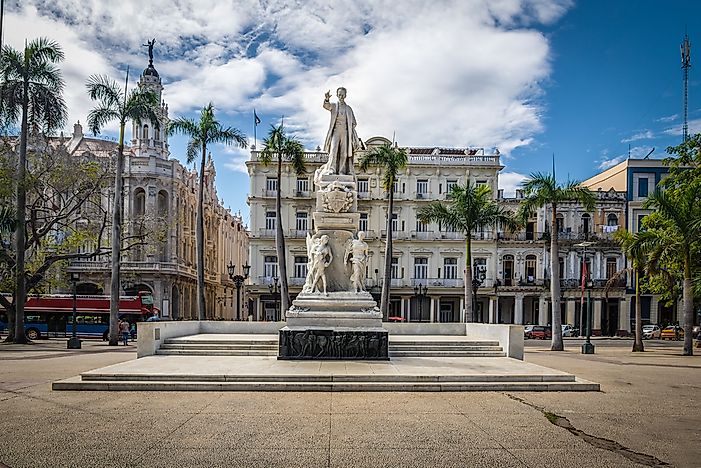 Description
Cuba is an island nation in the Caribbean that has been under communist rule since 1959. Communism was introduced to this nation by its former leader Fidel Castro, after he overthrew the US backed right wing dictator Fulgencio Batista during the Cuban revolution. The revolution began in 1953 and ended in 1959 after Batista was ousted by the left wing revolutionaries led by Fidel Castro and the Argentine medic Ernesto "Che" Guevara. After his ouster, Batista fled Cuba to Portugal and a communist government led by Fidel Castro assumed power which continues to date. Today Cuba's president is Fidel Castro's brother Raul Castro who succeeded him after his death on November 15th 2016.
US Cuba Relations
After Castro took power in 1959 and established a socialist state with relations to the Soviet Union, the U.S. government took measures to isolate Cuba diplomatically and economically. In 1962, President John F. Kennedy imposed a trade embargo between the U.S. and Cuba. To date this trade embargo makes Cuba the country with the longest held U.S. sanctions. During his tenure, the former U.S. president Barack Obama had attempted to improve bilateral relations with Cuba through Raul Castro after they met in Havana. But when Donald J. Trump became president he reversed some gains made by Obama which included restoring US-Cuba diplomatic ties and easing travel restrictions. Since he came into power, President Trump has imposed restrictions limiting U.S.–Cuba economic interactions.
U.S. Travel to Cuban Authority Bodies
The US Department of State prohibits US residents or citizens' tourist travel to Cuba. The Office of Foreign Assets Control (OFAC) in the US Treasury Department which regulates travel to Cuba allows for travel to the communist state on specific instances. OFAC provides the license and regulations which any resident and citizen in the US need to comply with in order to be allowed to travel to Cuba.
Who Can Travel to Cuba?
There are specific options that allow US citizens or residents to travel to Cuba through the use of the General License which is issued by OFAC. This license allows journalists with their technical teams to travel on assignments to Cuba; professional researchers engaged in non-commercial academic work that can be publicized on the media are also allowed to travel there on the General License and they also need to be on full work schedule.
Fulltime professionals can also travel to conferences or international meetings in Cuba convened by organizations whose headquarters are not in Cuba or the US. Under the General License, the conference must not in any way promote Cuba tourism or engage in biotechnology product research. In instances where travelers from the US are going to Cuba for conferences sponsored by Cuban organizations, OFAC issues specific licenses for such eventualities. US citizens or residents intending to travel to Cuba on General License are not required to notify OFAC of their travel arrangements.
Penalties for Unauthorized Travel
Traveling to Cuba by US citizens or residents is not illegal by law. But according to the U.S. department of State, American citizens or residents that travel to Cuba without first complying with the department's regulations are liable for penalties and criminal prosecution. The US has a consulate in Havana to advice on travel matters and offer assistance to American citizens visiting there.