Travel
Busiest Air Routes in the World
According to data compiled by travel site Amadeus, these are the most popular routes flown worldwide.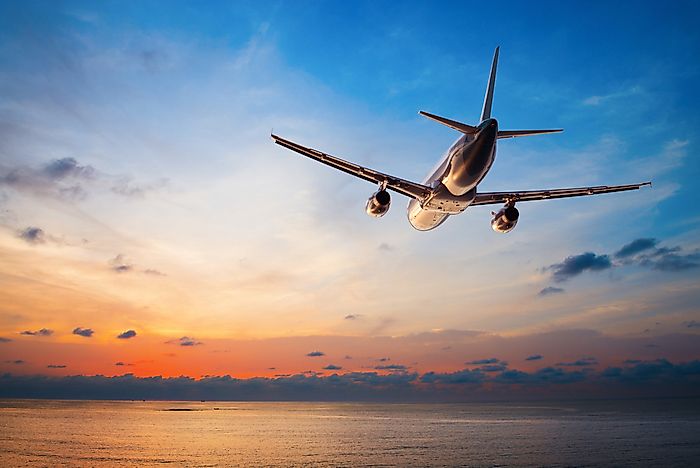 The busiest air routes in the world are categorized by the scheduled movement of airplanes in both directions, the maximum passenger seating capacity, and the number of travelers partaking. The busiest air routes in the world have about 90 flight movements a month in one direction with over forty million travelers moving between them.
Some Of The Busiest Air Routes In The World
Tokyo, Japan To Sapporo, Japan
Tokyo is the capital city of Japan, and is home to one of the busiest centers for air tranport on the planet. Sapporo, however, is the fourth largest city in Japan. It has two airports that serve flights within the region and connecting Japan to other larger international airports based in other countries. The Tokyo-Sapporo air route is commonly served by Air Do airline which was established in 1996 after the Government of Japan passed a regulation that gave powers to airlines to set travel charges for their domestic routes. Air Do began operating its flights along Tokyo-Sapporo air route towards the end of 1998. Over 8 million passengers were flown between the two cities in 2012, making it one of the busiest air routes in the world.
Sydney, Australia To Brisbane, Australia
Sydney airport in Australia is one of the oldest long-serving airports in the world. It is also considered as the busiest airport in Australia serving approximately over forty million travelers for both domestic and international destinations. Brisbane airport comes third after Sydney airport in terms of the domestic air movements. The airport has both domestic and international terminals separately. It has private facilities serving VIP passengers and private air movements. The two are connected by Tiger air Australia, Virgin Australia and Jester airway for passenger flights. The cargo flights serving these routes are DHL aviation, Toll aviation, and Toll airlines. Sydney and Brisbane are 800 km apart but experience a high traffic of domestic flights with over 4.5 million passengers using the air route in 2012.
Beijing, China To Shanghai, China
Shanghai airlines, founded in the year 1985, operates both domestic and international services. It serves more than 140 destinations using its own cabin crew and aircraft. In the past, it had been limited to serving only domestic destinations. However, this was changed in the year 1997 and could serve international flights too. Beijing is served mainly by Beijing Capital International Airport and is one the busiest air routes by the number of travelers and cargo movement in the last ten years. The two airports are connected by China Eastern airline, Hainan airlines, China Southern airline and Juneyao airline for passenger flights and Air China cargo, China postal airlines and SF airlines for cargo flights. Beijing-Shanghai air route recorded almost 7 million passengers, making it among the top five busiest air routes in the world.
Categorizing Busiest Air Routes
The busiest air routes in the world are categorized differently since some serve few destinations with high passenger traffic volumes while others serve low traffic volumes with high numbers of aircraft movements. Others have one airport with airlines serving over ten passenger destinations such as Qantas Link airline of Brisbane, Australia airport serving over ten destinations. With the airlines moving from one destination to another, both domestic and international, there are various air traffic rules controlling these movements. The rules vary from one country to another and must be adhered to.
Busiest Air Routes in the World
| Rank | City A | City B | Distance (km) | Passenger Count (2012) |
| --- | --- | --- | --- | --- |
| 1 | Seoul, South Korea | Jeju, South Korea | 450 | 10.1 |
| 2 | Tokyo, Japan | Sapporo, Japan | 819 | 8.2 |
| 3 | Sydney, Australia | Melbourne, Australia | 706 | 6.6 |
| 4 | Beijing, China | Shanghai, China | 1075 | 6.9 |
| 5 | Sao Paulo, Brazil | Rio de Janeiro, Brazil | 366 | 7.2 |
| 6 | Tokyo, Japan | Osaka, Japan | 405 | 7.7 |
| 7 | Hong Kong | Taipei, Taiwan | 780 | 6.7 |
| 8 | Tokyo, Japan | Okinawa, Japan | 1554 | 5.5 |
| 9 | Sydney, Australia | Brisbane, Australia | 800 | 4.5 |
| 10 | Johannesburg, South Africa | Cape Town, South Africa | 1271 | 4.4 |
This page was last updated on August 1, 2017.
Citations
Your MLA Citation
Your APA Citation
Your Chicago Citation
Your Harvard Citation
Remember to italicize the title of this article in your Harvard citation.