World Facts
Biggest Christian Church Buildings In The World
Two Christian church buildings, one in India and one in the U.S. state of Utah, exceed 1 million square feet in area.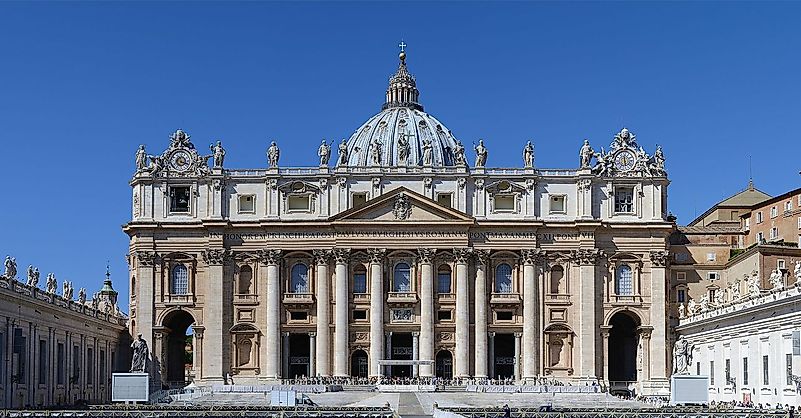 Church buildings are religious centers that allow believers to come together to participate in worship activities. The earliest Christians gathered in homes, and the first church was not built until sometime between 233 and 256 AD. The traditional architectural styles are basilicas and cathedrals although there has been a recent movement toward alternative buildings which usually involve remodeling pre-existing buildings. The following article includes all three types of architectural styles and identifies the biggest Christian Church buildings on Earth.
The Churches Of Note
The Calvary Temple
Not only is Calvary Temple, located in Hyderabad City, India, the largest church buildings in the world with 1,485,420 square feet, but it also has one of the fastest construction times, 52 days. This church can seat 17,500 people and holds four services on Sunday, which bring nearly 68,000 attendees.
Latter-Day Saints Conference Center

The second largest Christian church building in the world is the Latter-Day Saints Conference Center located in Salt Lake City, Utah, USA. This building has nearly 1.4 million square feet which offer 21,000 seats; it is the largest theater type auditorium ever constructed. Plans for this structure began in the early 90's and were publicly announced in 1996.
St. Peter's Basilica

Following the Conference Center and below the 1 million-square-feet mark is St. Peter's Basilica in Vatican City. This 227,065 square-feet building was constructed between April of 1506 and November of 1626. The Pope often gives services here to crowds 15,000 to 80,000 followers. This church was built over the remains of the Old St. Peter's Basilica, which is believed to have been built over the burial site of St. Peter.
Lakewood Church

Number four on the list is the Lakewood Church in Houston, Texas. This building is 161,459 square feet and holds services for over 43,500 non-denominational Christians every week. It has 16,800 seats and is housed in the old Compaq building. It provides services in English and Spanish and since its beginning in the 50's, the church has always maintained racial inclusivity.
Our Lady of Aparecida in Aparecida

The next largest Christian building, in fifth place, is Our Lady of Aparecida in Aparecida, Brazil. Construction began on this basilica in 1955 and was consecrated by Pope John Paul II in 1980 although it was still under construction. This church can hold up to 45,000 worshippers although during special celebrations other areas of are opened up to permit up to 70,000 people to attend.
The Other Big Churches
The previous churches represent the five largest in the world. Other churches of note include: First Family Church in Overland Park, Kansas, USA (124,861 square feet); Seville Cathedral in Seville, Spain (124,000 square feet); Cathedral of St. John the Divine in New York City, New York, USA (120,556 square feet); Milan Cathedral in Milan, Italy (109,641 square feet); and Abbey of Santa Giustina in Padua, Italy (104,593 square feet).
Significance of Church Buildings
Church buildings have for centuries been important places to practice religion. They are significant to societies and cultures because they provide safe places for people to gather and share in their beliefs. Throughout history they have also provided social programs for vulnerable groups of people. These programs have included counselling, training, and volunteer opportunities for those individuals with the greatest needs. Aside from their importance in a religious and social context, churches are rich in historical value and provide great examples of architectural accomplishments.
Biggest Christian Church Buildings In The World
| Rank | Church, Location | Floor Space Area |
| --- | --- | --- |
| 1 | Calvary Temple, Hyderabad, India | 1,485,420 square feet |
| 2 | Latter-day Saints Conference Center, Salt Lake City, Utah, U.S.A. | 1,399,308 square feet |
| 3 | St. Peter's Basilica, Vatican City | 227,065 square feet |
| 4 | Lakewood Church, Houston, Texas, U.S.A. | 161,459 square feet |
| 5 | Our Lady of Aperecida, Aperecida, Brazil | 129,167 square feet |
| 6 | First Family Church, Overland Park, Kansas, U.S.A. | 124,861 square feet |
| 7 | Seville Cathedral, Seville, Spain | 124,000 square feet |
| 8 | Cathedral of St. John the Divine, New York City, New York, U.S.A. | 120,556 square feet |
| 9 | Milan Cathedral, Milan, Italy | 109,641 square feet |
| 10 | Abbey of Santa Giustina, Padua, Italy | 104,593 square feet |