Best Places In The World To Watch Orangutans In Their Natural Environment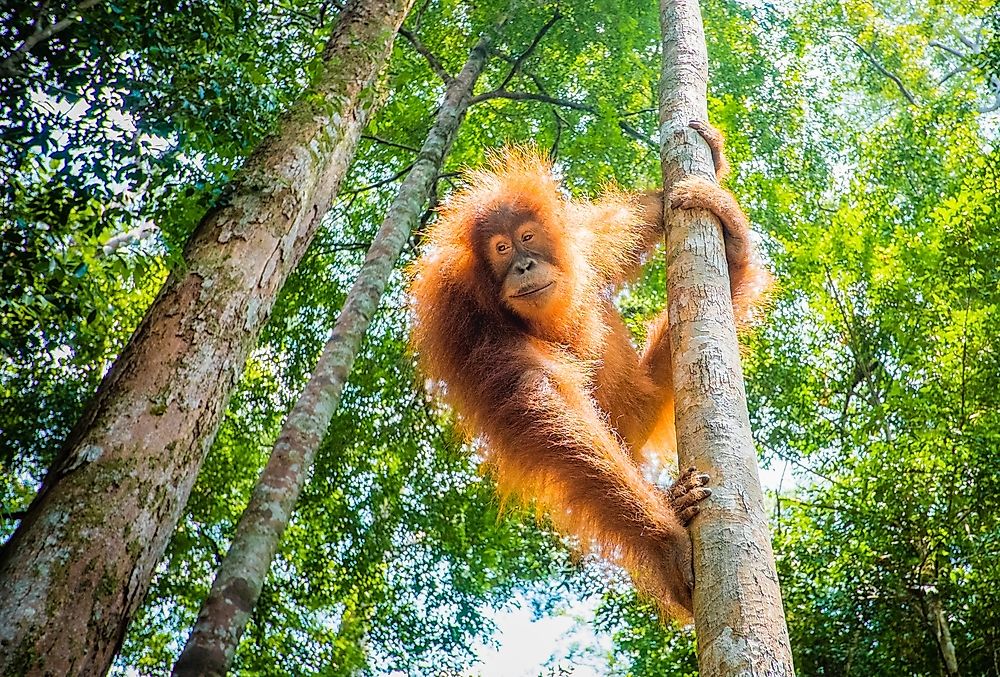 Orangutans are indigenous to Indonesia and Malaysia. Orangutans have large bodies and thick necks. Their arms are long and strong, and their legs are short and bowed. This group of apes lack tails. Orangutans' hair is reddish-brown while their skin is grey-black. Encountering orangutans in their natural environment is rare, as their current location is in Sumatra's northern parts in Indonesia and Borneo's rainforests. Rehabilitation and conservation centers, as well as national parks, offer the best chances of watching orangutans in the wild.
Danum Valley Conservation Area
Danum Valley sits in a rainforest reserve that covers an area of about 154 square miles. According to recent studies, there are about 500 orangutans in Danum Valley. The most popular place to stay is the Borneo Rainforest Lodge. One does not have to leave the lodge to see these great apes. There are resident guides in the area and trails to follow to spot a wild orangutan. The surrounding forest and wildlife needs protection from tourism effects. Therefore, there are strict guidelines for guests to follow. Another accommodation option is the Danum Valley Field Center, which is a research station. Staying at this center gives one a feeling of being at the forefront of the endangered species protection.
Gunung Leuser National Park
Gunung Leuser covers an area of 3,061 square miles in Indonesia's northern Sumatra region. A fourth of the park is in North Sumatra province while three-fourths is in Aceh province. Located within Gunung Leuser National Park is an orangutan sanctuary sitting in Bukit Lawang, which rehabilitated and discharged more than 200 orangutans before its closure in 2005. The national park is home to the Sumatran orangutan, which has a long beard and a narrow face. The trails in the park offer excellent sightings of the orangutans. The Bukit Lawang Eco-Lodge provides accommodation in the area. Locals around the national park have named most of the orangutans owing to their close relationship with the animals.
Kinabatangan River
Kinabatangan River is the longest river in Sabah and is ranked second in Malaysia. With a length of 350 miles, the river has protected reserves lining its sides. This place guarantees the spotting of Bornean orangutans. Apart from the great apes, other animals around the area include crocodiles, pygmy elephants, hornbills, and the native proboscis monkeys. Boats offer the best way to view orangutans since the region has very few foot trails. The fruit season is a great time to visit, as orangutans stay close to an oxbow lake on the river which harbors fruit trees. Lodges at Sukau and Kampung Bilit provide accommodation for tourists taking a safari on Kinabatangan River.
Tanjung Puting National Park
The national park is in Indonesia's Central Kalimantan province and covers an area of about 1174 square miles. Tanjung Puting is renowned for its orangutan sanctuary. The number of orangutans in the park is more than 5,000. Visiting the park is hard and includes hours of boat trips. Guests need a guide, and a type of houseboat called a klotok, both hired for three days. Sekonyer River has feeding stations along its banks, providing great spots for viewing orangutans, which stop to feed. Dr. Birute Mary Galdikas, who carried out long-term research at Camp Leakey, also leads trips run by the Orangutan Foundation International. Other wildlife in the park includes agile gibbons and a variety of bird species such as hornbills, storks, herons, and egrets.
Tabin Wildlife Reserve
Located in Sabah, Malaysia, Tabin Wildlife Reserve is about 30 miles east of the town of Lahad Datu, covering a total area of 473 square miles. Creation of the reserve was in 1984 to protect and conserve the disappearing wildlife in the region. Tabin Wildlife Reserve holds orangutans and other animals including leopards, proboscis monkeys, hornbills, and Bornean rhinoceros. After rehabilitation at Sepilok, orangutans get released in the park, making it a great place to view these great apes. There are plenty of guides and foot trails with accommodation on the reserve's edge. From Lahad Datu town, the reserve is 40 minutes away.
Gunung Palung National Park
Located in Indonesia's West Kalimantan province is Gunung Palung National Park. A 2001 census placed the orangutan population in the park at about 2,500, the largest in Borneo. The national park lacks real roads and paths and has few tourists visiting due to dense forests. Spotting the orangutans is hard because the ones living in the park do not see people that much. The great apes in Gunung Palung are wilder and often spotted swinging in the trees. Camp Lubuk Baji offers accommodation to visitors. The camp has wooden buildings sitting on stilts resembling a tree house. Nasalis Tour and Travel provides packages to the national park with no other company operating in the area as of August 2011.
Kutai National Park
With an area of about 767 square miles, Kutai National Park is on the Indonesian side of Borneo in East Kalimantan province. The national park has about 2,000 orangutans according to a 2010 survey. The main access points are Sangkima and Prevab. Sangkima is between Bontang and Sangatta and has a foot trail. The most preserved part of the park is Prevab, which offers views of orangutans. A boat ride on Sangatta River will take 25 minutes to reach the access point. Other animals in Kutai National Park are clouded leopards, banteng, flat-headed cats, sun bears and marbled cats. Visitors require permits, and local guides to trek through the park. Deforestation and past fires have reduced the forest to only 30%.
Facts About Orangutans
Orangutans have a height of between 3.9 and 4.9 feet. Adult males weigh 110 to 198 pounds while the females weight up to 110 pounds. These great apes feed on fruits, insects, shoots, leaves, and barks, and in the wild, their lifespan is up to 35 years. Breeding in female orangutans starts at 17 years of age, with birth intervals averaging eight years. Orangutan mothers have intense relationships with their offsprings, carrying them for five years while suckling may take six to seven years. These animals spend most of their adult life in the wild alone.