Travel
15 Strange Restaurants In The US That You'll Definitely Want To Try
If you're looking for more of an adventure the next time you nosh, there are establishments out there catering to your fancy.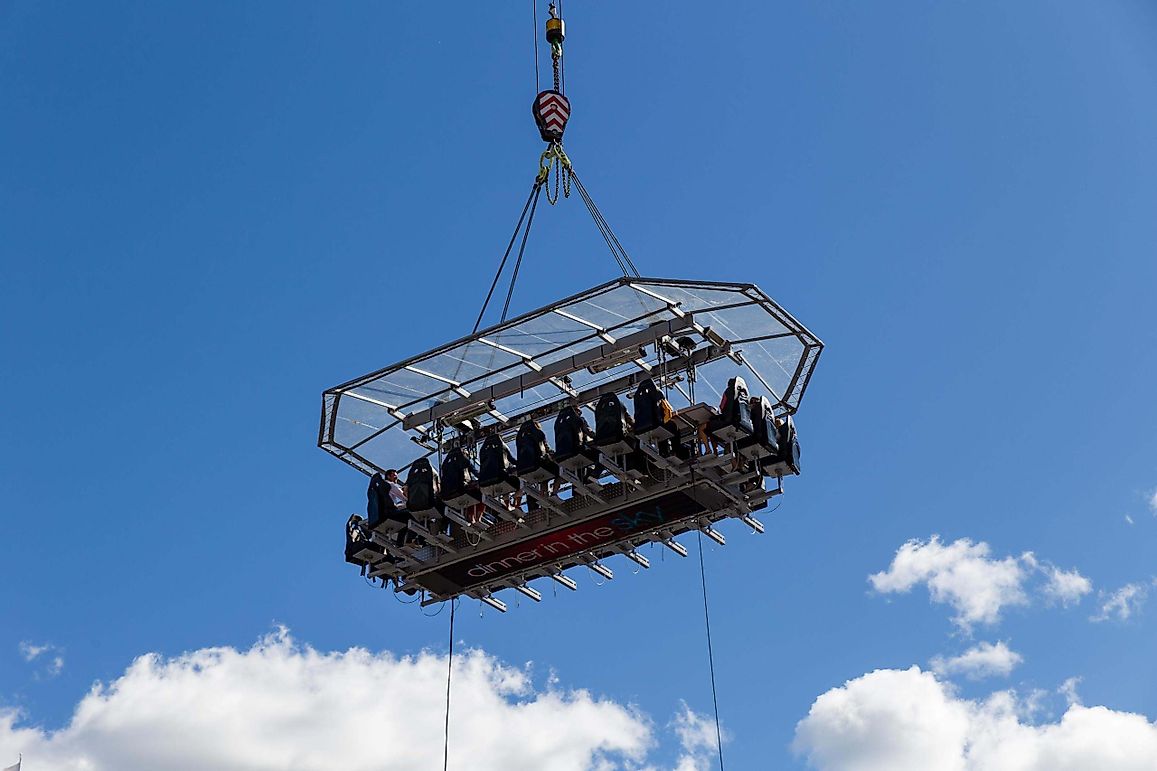 Sometimes the same old burgers-and-fries or Chinese food options for dining out can be just that - old. Besides decor and color schemes and the odd unique menu item, there isn't too much that sets most restaurants apart from one another.
If you're looking for more of an adventure the next time you nosh, there are establishments out there catering to your fancy. From the depths of caves to hovering high above the city and everywhere in between, these restaurants are serving up a dish of shock with a side of awe.
15. Dick's Last Resort - various cities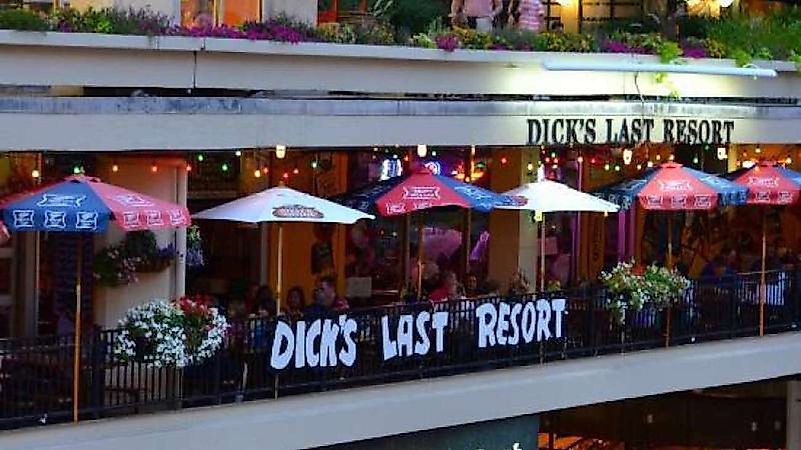 Being rude is the name of the game at Dick's Last Resort, where servers earn their living by dishing out sass and insults alongside fried gater, catfish, or "sammies." Guests are encouraged to hand the attitude right back, making for an entertaining dinner not for the faint of heart.
14. Lucky Cheng's - New York City, NY
Rupaul fans will find a new favorite place to dine when they visit Lucky Cheng's in midtown New York. Asian-American three-course meals are served by glamorous drag queens, who also provide cabaret-style entertainment for guests by the way of comedy and dance performances. The dinner-and-a-show experience is followed by open karaoke and dancing for patrons after the last drag queen act.
13. The Cave - Richland, MO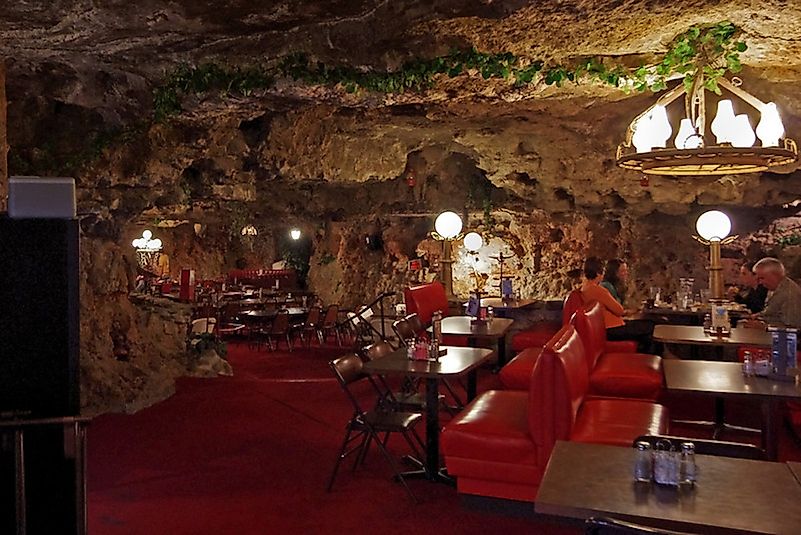 As the only American restaurant located in a natural cave, this place boasts waterfalls, fish ponds, and a view of the Glasconade River from its third-story limestone bluff. The Cave has been around since the 1920s, when it operated as a smaller dance hall, but eventually the walls were blasted and carved out to make room for up to 225 diners.
12. Chicago Sweatlodge - Chicago, IL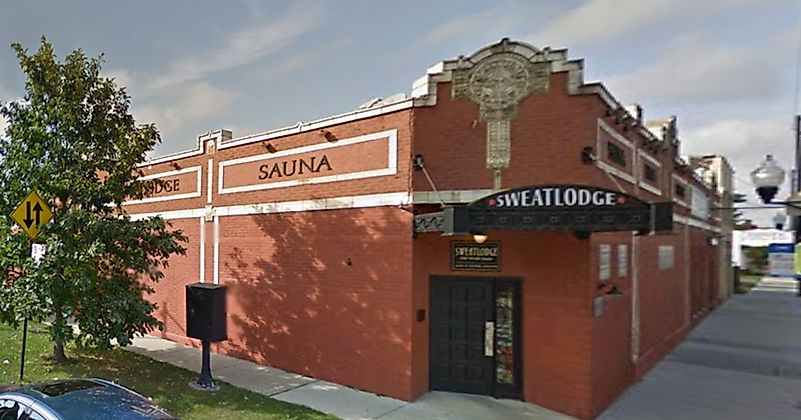 Sweating and eating are not two activities people tend to enjoy at the same time, but that's the idea at the Chicago Sweatlodge, where patrons choose between Russian or Turkish saunas before taking a dip in icy water or having a massage, and then enjoying a hearty meal. The menu consists of stick-to-your-ribs favorites like borscht, pierogis, kholbasa, and chicken soup, so it's a good thing guests have the opportunity to sweat out a few calories before digging in.
11. The Varsity - Atlanta, GA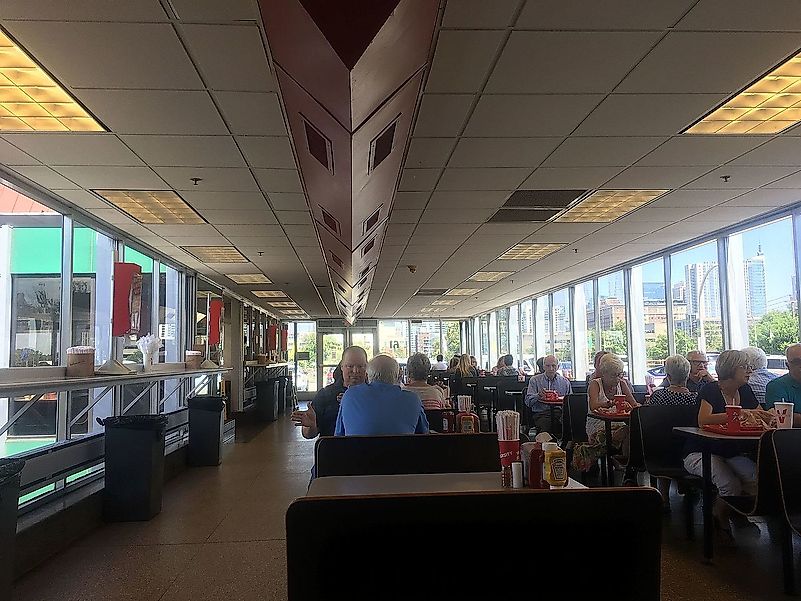 Guests at the largest drive-in in the world have been greeted at their car windows since 1928. The Varsity covers two city blocks and its parking lot can accommodate up to 600 vehicles, while 800 can dine-in, enjoying burgers, hotdogs, and shakes that are easy on the pocketbook. Though there are now five locations, the original location is downtown Atlanta and it still hums - especially on game days, when up to 30,000 Georgia Tech Yellowjacket fans pass through.
10. Dinner in the Sky - worldwide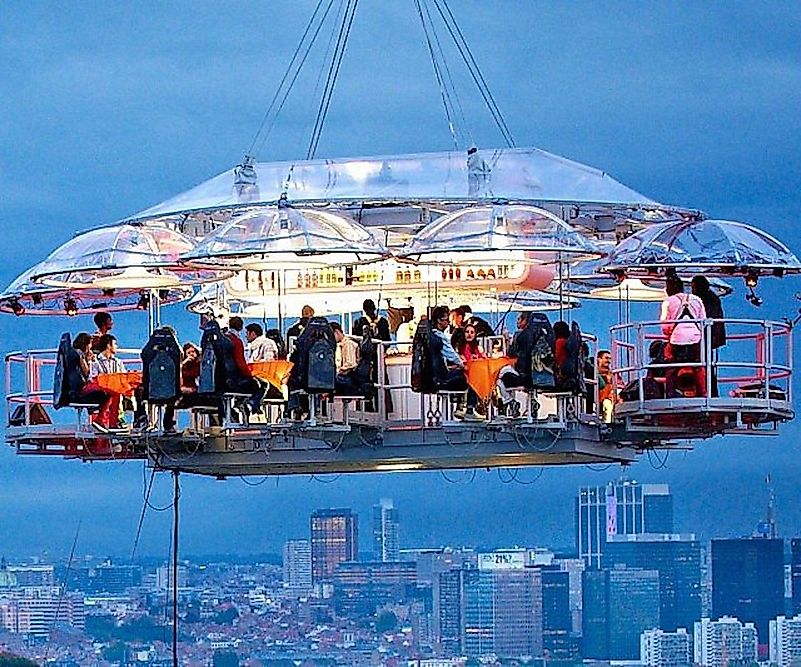 For a truly unique experience, guests and up to 21 of their friends can strap themselves into a seat and hover 160 feet high above their hometown (or city of choice). It's the priciest option for a dinner out on this list, with rental of the crane coming in around $14,000 USD and catering costs over and above, but the evening will make for a dinner party guests will talk about for decades to come.
9. Harvey Washbangers - College Station, TX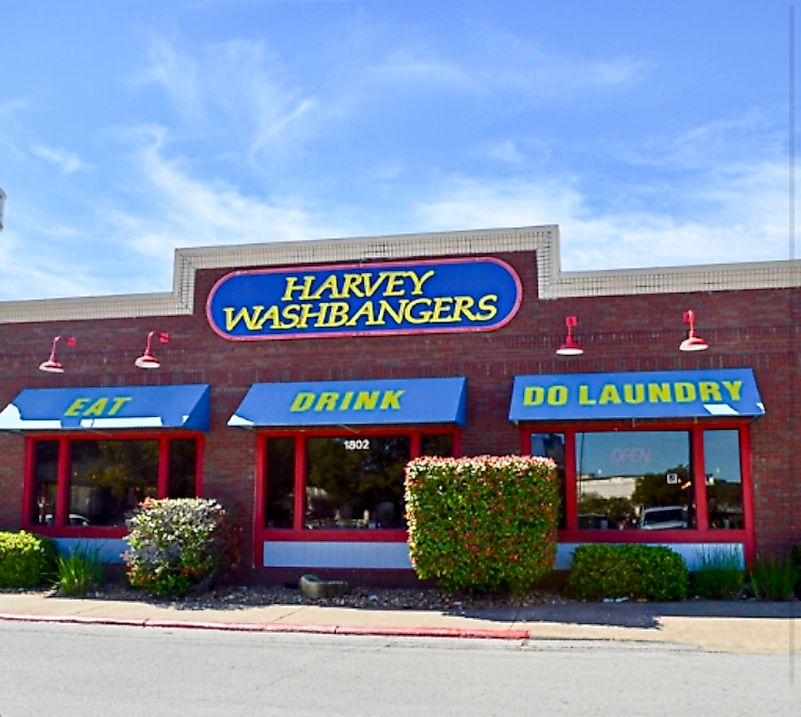 Not many people enjoy doing their laundry, but Harvey Washbangers makes the chore a little more palatable, offering a bar and grill experience next door to its laundromat. Patrons can throw their dirty clothes in the wash and head next door to munch on college-inspired foods like chicken wings, burgers, and chili while they wait for the rinse cycle. A light board in the restaurant informs diners when their loads are finished - but make sure to try out the coconut pecan pie before you head off to fold those shirts.
8. Rattlesnake Saloon - Tuscumbia, AL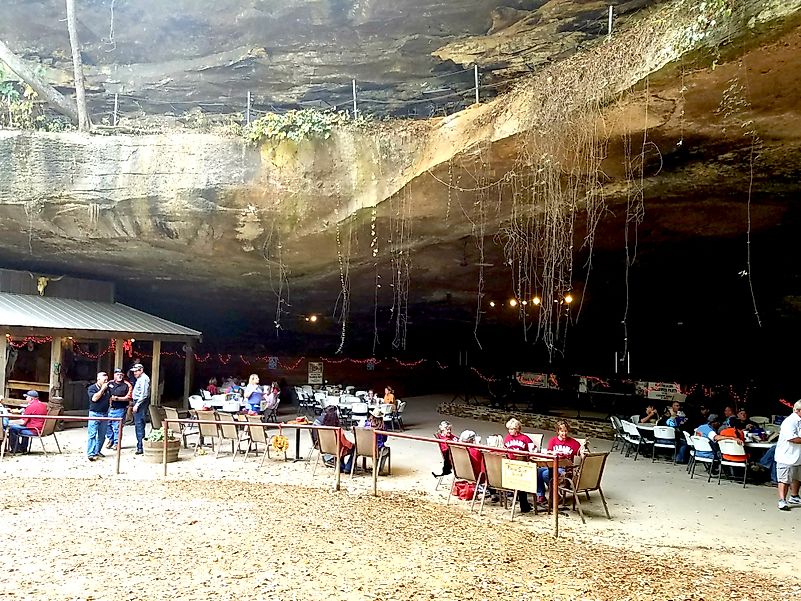 If you suffer from ophidiophobia, you may want to steer clear of the Rattlesnake Saloon, which takes its name from a nearby rattlesnake den. But the brave of heart will enjoy dinner with an Old West theme, nestled under a cliff overhang in the Southern Appalachia. Menu items include Skunk Rings (onion rings), Prairie Fingers (chicken tenders), Loaded Hay Stacks (fries with cheese and bacon), or Giddy 'up Sticks (mozza sticks). Come on the right night, and you may be treated to live outdoor music using the cliff wall's natural acoustics.
7. Tonga Room - San Francisco, CA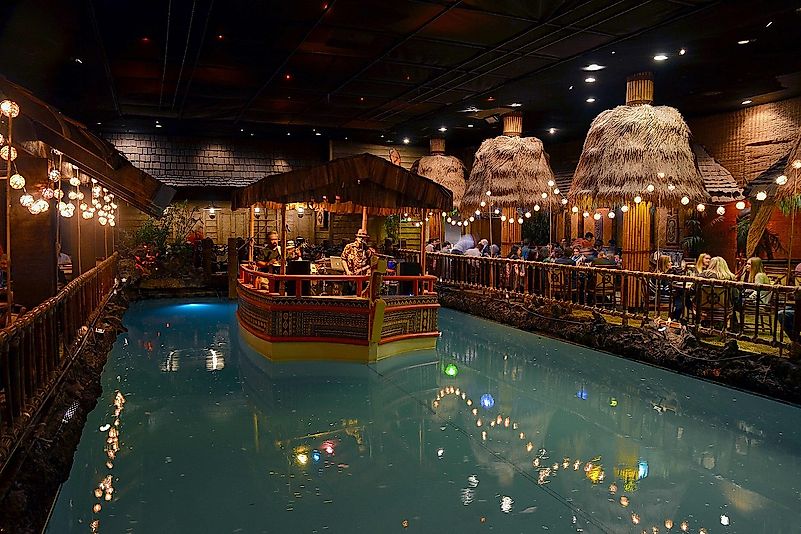 For a throwback to the 1940s, visit this tiki-inspired lounge below the Fairmont Hotel with Pacific Rim cuisine and tropical cocktails served in tiki vessels. The Island Groove Band performs live music from a raft floating on a lagoon, and indoor thundershowers rock the joint every half hour, bringing the tropical island vibe to life.
6. Cabbage Key - Cabbage Key, FL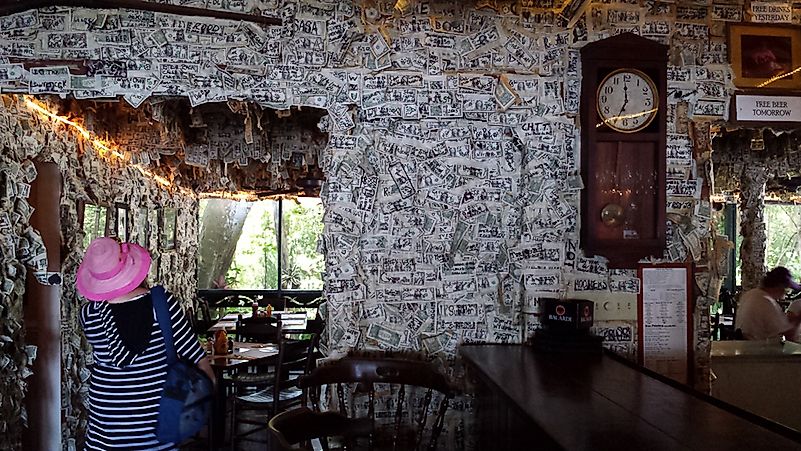 The only way to get to Cabbage Key to sample its renowned cheeseburgers and hiogfish with mango salsa is by boat. But that's not even the most unique thing about this restaurant, situated on a 100-acre island - its walls and ceiling are lined with thousands of signed dollar bills. You can see the scrawled signatures of historical greats like JFK and Ernest Hemingway in this tradition that was started by a fisherman who wanted to guarantee he would always have enough money to buy his next drink.
5. Safe House - Milwaukee, WI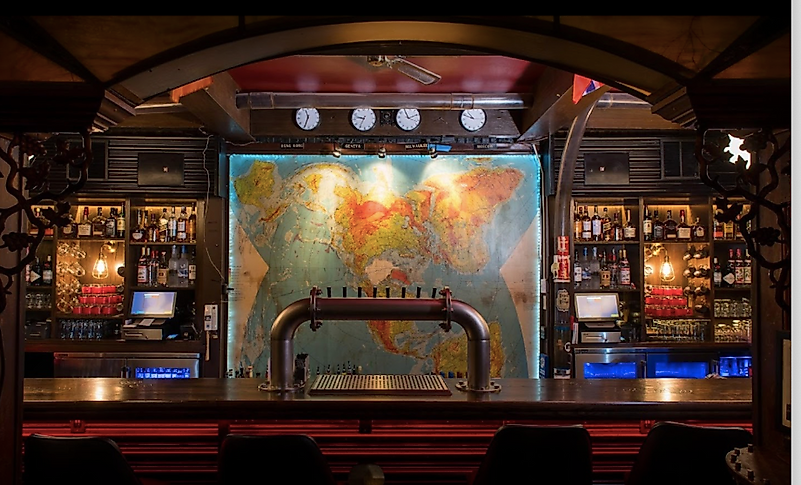 Don your best Mission Impossible or James Bond wear and head to the Safe House through its non-descript entrance in an alleyway, where guests have to provide a secret password in order to gain access. Those who don't know the password will have to complete a task to get in - some have been known to waddle like a penguin outside the establishment. Inside, the menu is riddled with spy-inspired puns like a pork sandwich called the Cuban Missile Crisis and the Agent Provacateur Steak Sandwich, or the Stasi Twists (pretzels). Of course, the "Spytini" at the Safe House is always shaken, not stirred.
4. Bors Hede Inne - Carnation, WA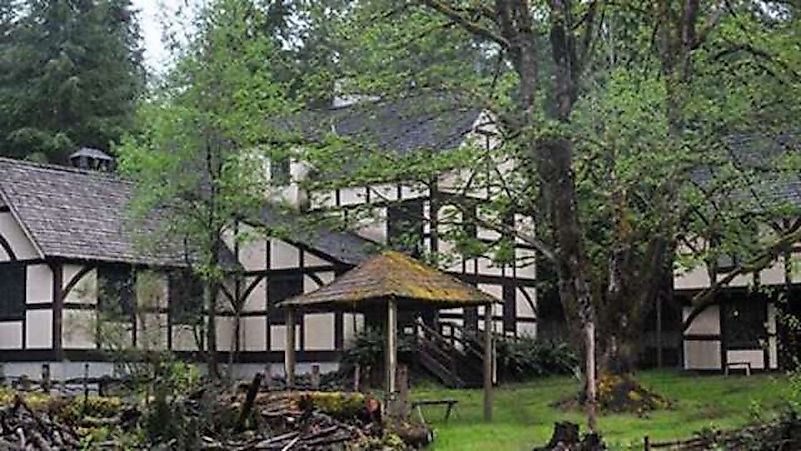 The name isn't meant to be just a cute or eye-roll-inducing misspelling. The Bors Hede Inne is a medieval-themed restaurant serving up traditional recipes from the Middle Ages while entertaining guests with a little 14th-century dinner theatre. Enjoy items like Mouton Camelyne (roasted lamb with camelyne sauce), Fenberry Pye (pork, fowls, and fennberries), English shire cheeses and ales, as well as mead. Patrons will receive not only a good meal, but an education on the Middle Ages as well - starting with a complete ban on any newfangled technology like cell phones and cameras, which are strictly forbidden.
3. Casa Bonita - Lakewood, CO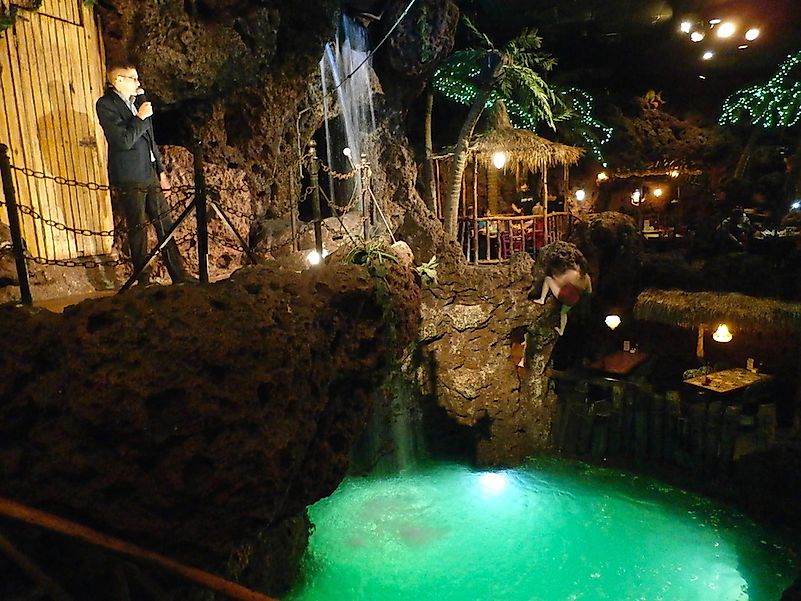 If the name of this Colorado establishment sounds familiar, you may be a fan of South Park, where it was featured in an episode entitled Casa Bonita and heralded as Cartman's favorite restaurant. The creators of the animated series didn't exaggerate its appeal - Casa Bonita has a 30-foot waterfall and pool, buskers, arcade games, a portrait studio, and cliff-divers. The Mexican fare has an all-you-can-eat option and the 1,000-seat eatery is well-known for its sopapillas with honey.
2. Opaque - various cities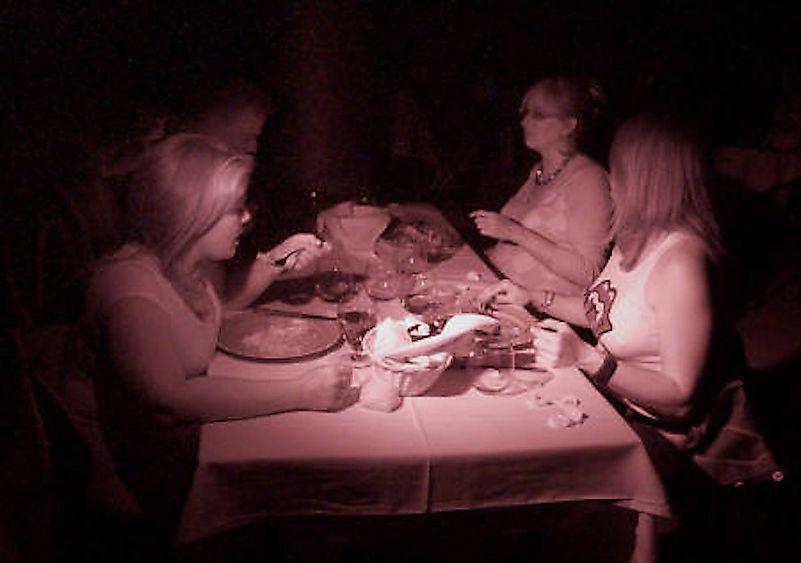 It's said when one sense is lessened or inhibited, the other four are heightened. That's the idea behind Opaque, where guests dine in complete darkness, served by visually-impaired waiters who can guide them to their tables and deliver food without light. With the sense of sight eliminated, diners will find their senses of taste, sight, and touch amplified to provide a different eating experience and a new enjoyment of food. Not to mention, with the lights out and a ban on cell phones, there's more focus on fellow dinner companions and table conversations.
1. Heart Attack Grill - Las Vegas, NV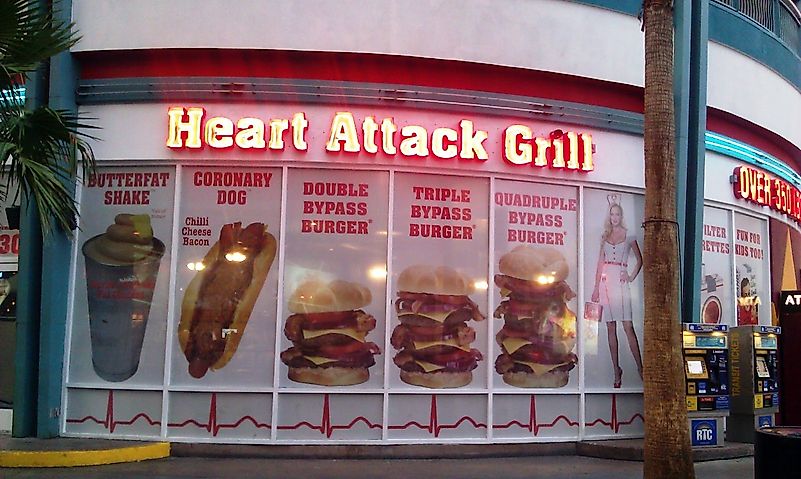 This hospital-themed restaurant lives up to its name, serving up single, double, and quadruple bypass burgers (the last of which is a 10,000-calorie, three-pound sandwich). In fact, there have been at least two instances of heart-attack-related events at the restaurant. Diners will be given their very own hospital gown to use as a bib when they enter, and anyone 350 pounds or heavier eats for free. Anyone feeling extra hungry can opt for the octuple burger with eight patties and 40 slabs of bacon. Finish that sandwich and you'll be pushed out in your own wheelchair; fail, and you'll be spanked with a large paddle. Though the nurses aren't medically-trained (they're the servers), there are ambulances on-hand to rush you to the ER if you feel a heart attack coming on.
About the Author
Krista Conrad is an award-winning Canadian journalist and creative writer with a BA in English and diploma of Journalism Arts. She loves storytelling and delving into research, particularly in areas of social, historical, environmental and human interest. A busy mom of five, she lives for family and creativity, and enjoys bringing stories and facts to life with firm belief in the power of the written word.
This page was last updated on April 3, 2020.
Citations
Your MLA Citation
Your APA Citation
Your Chicago Citation
Your Harvard Citation
Remember to italicize the title of this article in your Harvard citation.