Politics
12 Big Name Republicans Not Supporting Donald Trump In 2016
Despite apparently receiving his party's and its votership's mandates, many notable Republicans refuse to endorse Donald Trump.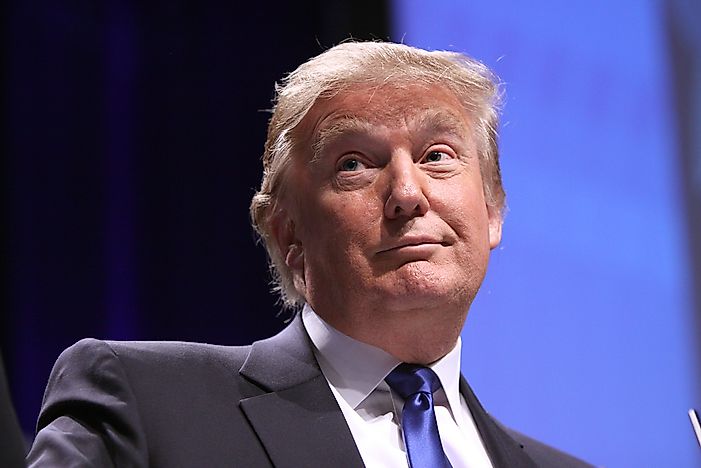 15. The Rise Of The Donald
Donald Trump announced his desire to run for the Republic (GOP) presidential nomination on June 16, 2015, an announcement that many people took as a joke. However, since that day, his campaign has filled the media, and he has been the frontrunner in the polls. Most recently, he formally accepted the Republican nomination, an accomplishment that has left many baffled.
His campaign began by immediately making enemies when he expressed his disdain for Mexican immigrants to which Univision (Spanish language channel) responded by dropping Trump's Miss Universe Pageant from the air. This action was followed by Macy's department store removing the Trump clothing line for men from their stores. One month into his campaign, he promised to not only build a wall between the US and Mexico but that the Mexican government would pay for it.
In response to a shooting in Tennessee, Trump declared the need to end gun free zones, and he went on to say that Senator John McCain, once a prisoner of war, was not a war hero because he had been captured. His antics continued to win him favor in the polls. During his very first debate, his previous comments about women were called into question and the next day he went on to criticize Megyn Kelly, the debate moderator, by making statements that some people believe were referring to her menstrual cycle. His invitation to speak at a RedState Gathering event was retracted.
Despite these controversies, his fan base continued to grow. His rallies are notorious for removing protestors and even news reporters. On September 21, he announced that he would refuse the presidential salary and the following day sent a cease-and-desist letter to an organization running anti-Trump ads. Trump went on to make several anti-Muslim statements, supported the idea of surveilling mosques across the nation, and later called for a prohibition on Muslims entering the US. He and other Republican candidates continued to throw insults back and forth during rallies, presentations, and debates.
14. Dissension in the GOP
Even with unprecedented, albeit surprising, public support, not all of his fellow Republicans agree with his campaign and certainly not with his official nomination. They have complained the Trump doesn't listen to advice, that he doesn't make an effort for fundraising events, and that his rhetoric is not always in line with Republican values. Some Republican politicians have been openly critical of Trump. They are discussed below.
13. Nebraska Senator Ben Sasse
Ben Sasse views Donald Trump as a threat to conservatism and has been a leader in the "Never Trump" movement. He has even traveled to other states to campaign against Trump. All of this is risking his future with the Republican party, but this has not deterred Sasse. He vowed not to back the presidential nomination.
12. Former President George H. W. Bush
Though not as openly critical of Trump as Senator Ben Sasse, George HW Bush has reported via a spokesperson that he will not be participating in the upcoming election. Perhaps diplomatically, he cited his age as the reason he has retired from political involvement. He did play a small role in the campaign of his son, Jeb Bush, however.
11. South Carolina Representative Trey Gowdy
Although Trey Gowdy and Donald Trump have had heated disputes in the past, Gowdy has openly endorsed Trump. This endorsement comes as more of support for the Republican nominee than of Trump personally. He did not, however, attend Trump's Republican National Convention so his support seems to be more in words than actions.
10. Arizona Senator John McCain
John McCain, Arizona Senator and former prisoner of war, has almost flip-flopped on his opinion of Trump. Trump blatantly insulted McCain by alluding that his capture during war should not make him a hero. In January of 2016, McCain openly stated that he would not endorse anybody for this election. However, 4 months later, he did say that it was necessary to listen to the will of the people (regarding Trump's lead).
9. Former Florida Governor Jeb Bush
Jeb Bush has formally declared his opposition to the Republican nominee and gone so far as to publish his opinion on his Facebook feed. In Jeb's opinion, Trump does not have the character necessary to be president. His comments came after similar dissent from his father and brother. He did, however, confirm that his support continues for other state and federal level Republicans.
8. Former Secretary of State Condoleeza Rice
Condoleezza Rice was actually a consideration for Trump's running mate, as Vice President. She openly declined that possibility by saying that she had no interest in the position. To further cement her feelings toward the current election proceedings, she did not attend the Republican National Convention.
7. Former President George W. Bush
Like his brother and father, George W Bush cannot get behind the Trump movement. After receiving heavy criticism on his policies while in office, particularly on the Iraq War, Bush will not participate in the election. He has also reported that he will not participate in the campaign, not even with commentary.
6. Kentucky Senator Rand Paul
Rand Paul, a former presidential candidate, and opponent of Trump, has called the Republican nominee both a narcissist and delusional. He has publicly aired his sentiment on Facebook, CNN, and The Nightly Show with Larry Wilmore. Despite this commentary, he has promised to endorse the nominee.
5. South Carolina Senator Lindsey Graham
Another former presidential candidate, Lindsey Graham, has expressed his concern over Trump's rise in popularity from the beginning of primaries. He has questioned his sanity and ability to perform as president. Before Trump's official nomination as Republican presidential candidate, Graham swore not to back him. After his nomination, Graham has reported that his opinion remains the same.
4. Former Massachusetts Governor Mitt Romney
Mitt Romney refuses to endorse, let alone support, Trump. He has called him a phony and a fraud and angrily chastised the Republican party for allowing Trump to rise as the presidential nominee. During the same presentation, he was visibly distraught over the turn of events. Romney has also expressed his concern that Trump as president would result in "trickle down racism."
3. Former New Jersey Governor Christine Whitman
Christine Whitman is so anti-Trump that she urged voters to mark their ballots for other Republican candidates during the primary. Whitman spoke to New Jersey voters and reminded them that they did not have to vote for Trump simply because others were suggesting that he was the nominee. More drastically, she has also compared the rise in Trump's popularity to that of Hitler before World War II.
2. Texas Senator Ted Cruz
Prior opponent for the Republican nomination, Ted Cruz is not Trump's biggest fan. Among his many criticisms, Cruz has called him a liar and incapable of telling the truth. When he lost his campaign, Cruz very diplomatically stated that the public had spoken. He did, however, say that it was important to watch and see what the candidates say and do.
1. Where Does The Republican Party Go From Here?
The Republican party has been torn apart over the Trump campaign. While many politicians have decided to support the nominee to stay with party lines, others cannot change their original opinions so easily. During the Republican National Convention, the biggest dissenters passed around a proposal that would allow members to vote based on their conscience rather than their party. Sufficient signatures were collected to pass a floor vote which did not receive enough votes. Chaos broke out and some delegates walked out. Some have talked about leaving the party and joining a third party. One thing is certain, if Republicans want to win this election or any in the future, they need to come together as a united front.