Environment
10 Of The Best/Most Used Disinfection Products
You might need to focus on disinfecting dangerous surfaces more than usual. By dangerous surfaces, we mean anything that might have come into contact with something that may have virus particles on it. This is why we created a list of the best and most used disinfection products to make your life a bit easier.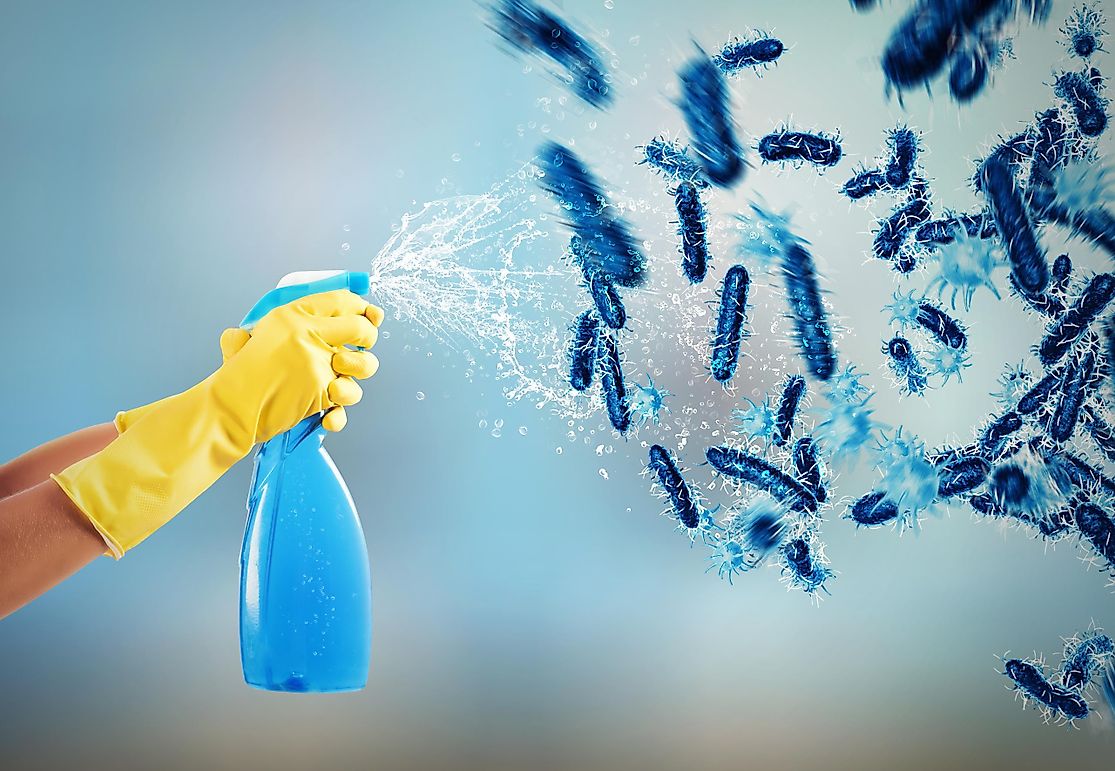 Fighting the COVID-19 coronavirus pandemic is not extremely hard for us regular citizens. We need to follow a couple of simple rules, and that is it. Do not leave the house unless you must, wash your hands regularly and do not touch your eyes, mouth, or nose with your hands before washing them.
Also, if you leave the house, try to keep your distance from other people. Once you are aware of those simple measures, you should be safe. It is actually quite amazing that we can help save the world from the COVID-19 pandemic by not leaving the house and washing our hands.
However, some of you might be worried about the situations when you are forced to leave the house. Naturally, a lot of people are still working, and going to the store to stock up on food is a necessity. It really should not be a problem, but still, you might need to focus on disinfecting dangerous surfaces more than usual.
By dangerous surfaces, we mean anything that might have come into contact with something that may have virus particles on it. This is why we created a list of the best and most used disinfection products to make your life a bit easier.
Lysol Cleaner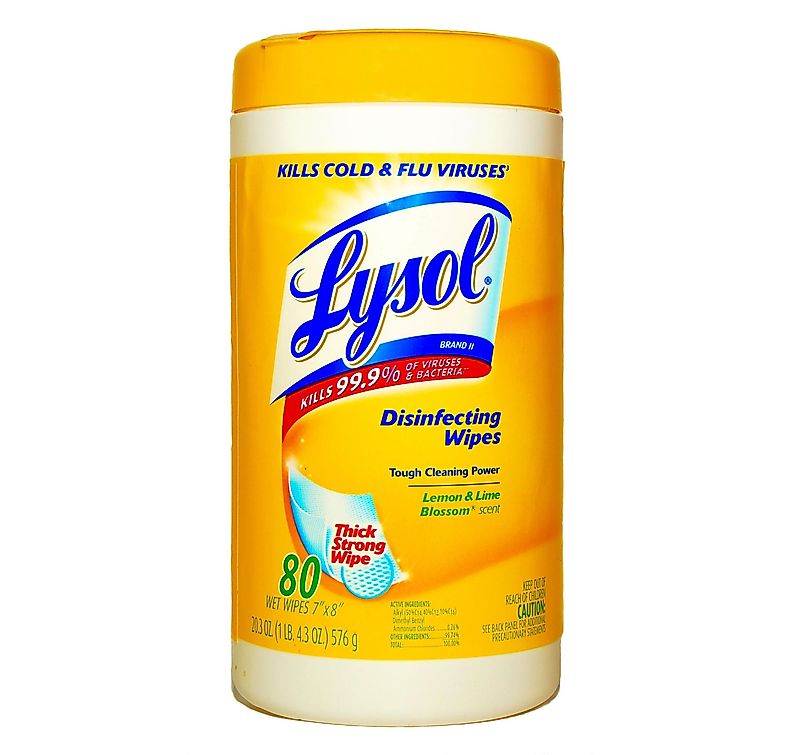 This cleaner makes life a bit easier since you can use it on a large number of different surfaces. It also takes care of grease, mold, and mildew, keeping your house nice and clean. There are many different types of Lysol cleaners, including wipes, which are very popular. During these times, we need to be mindful of every penny that we spend, so having a product that will last longer than most others with just one bottle is nice.
Clorox Pet Solutions Stain & Odor Remover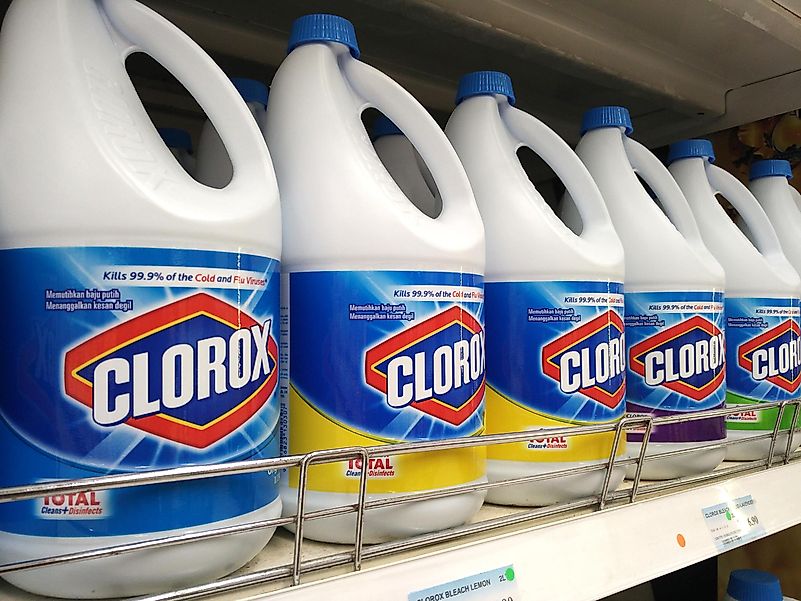 For people with pets, this product can be a life-saver. It can be used on floors, furniture, carpets, and more, and it eliminates stains, odors, and, most importantly, germs and bacteria. It is safe to use around pets, which is important to a lot of people. During these times, when pets are possibly the only friends we are allowed to hang out with regularly, it is essential to keep them safe.
Method Antibacterial Toilet Cleaner
The largest amount of germs and bacteria in your house can be found in your toilet bowl. This is why it is crucial to disinfect this area thoroughly, so you do not bring anyone living with you in danger. A lot of cleaners can remove stains and watermarks; however, the Method Antibacterial Toilet Cleaner is the best one when it comes to disinfecting, according to the majority of buyers.
It kills 99.9% of germs that can be found inside your toilet bowl. The way the bottle is designed makes it easy to clean under the rim surrounding the toilet bowl, which means that you will be able to clean it completely. The best way to use this disinfectant is to let it rest for a few minutes before flushing the water.
Microban 24 Bathroom Cleaner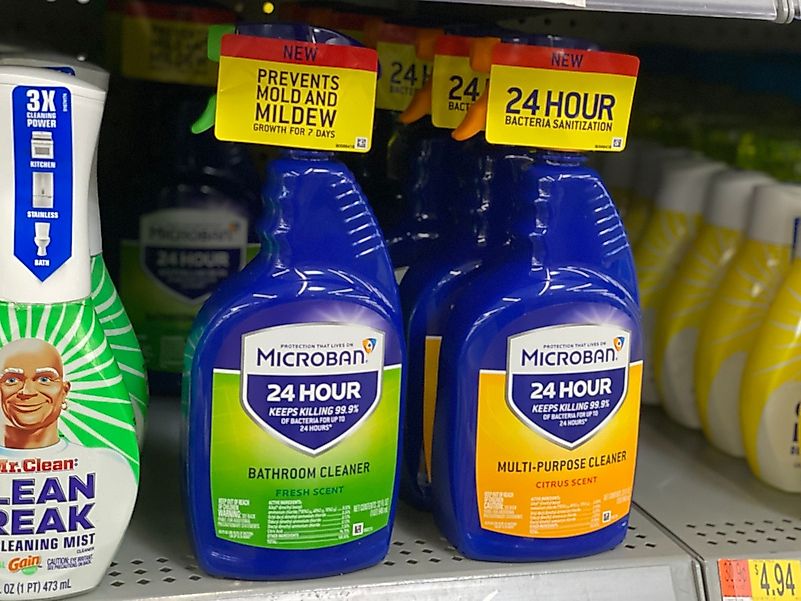 Another product from these recently released series that prevents bacteria from appearing on a surface for up to 24 hours, this one takes care of your bathroom. It is a powerful formula that can also prevent the growth of mold and mildew for an entire week. It also cleans your bathroom extremely well and reduces odors.
Clorox Disinfecting Wipes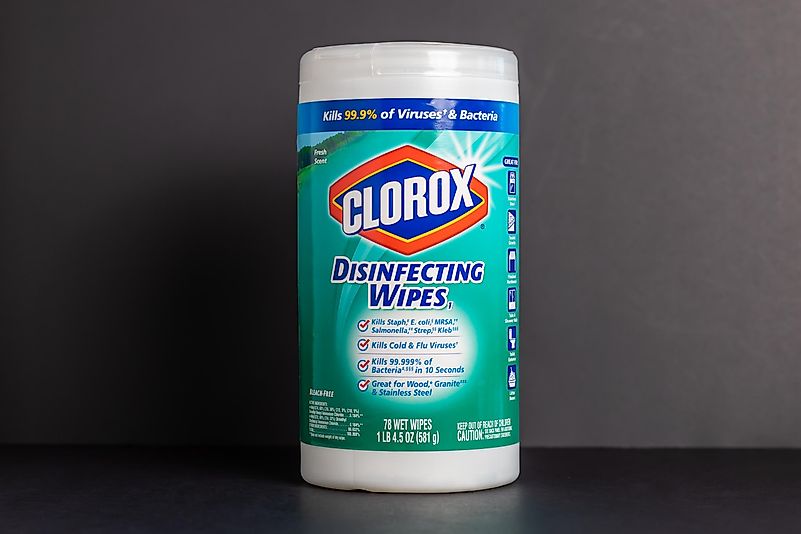 The perfect disinfecting wipes, according to many, this product will be a life-saver during these times. Using wipes to clean surfaces is possibly the easiest method to kill all germs and bacteria on them. It is less messy than other methods, and it does not require any extra tools. A good thing about the Clorox Disinfecting Wipes is that they get rid of the bacteria, but also clean the surfaces as well.
It really does make your life a bit easier. If you are using these, it is important not to use the same wipe for different areas. For instance, if you are cleaning your kitchen, use one wipe for the sink, and another one for the kitchen counter. However, areas where you prepare food should be rinsed with water afterward.
Lysol Disinfectant Spray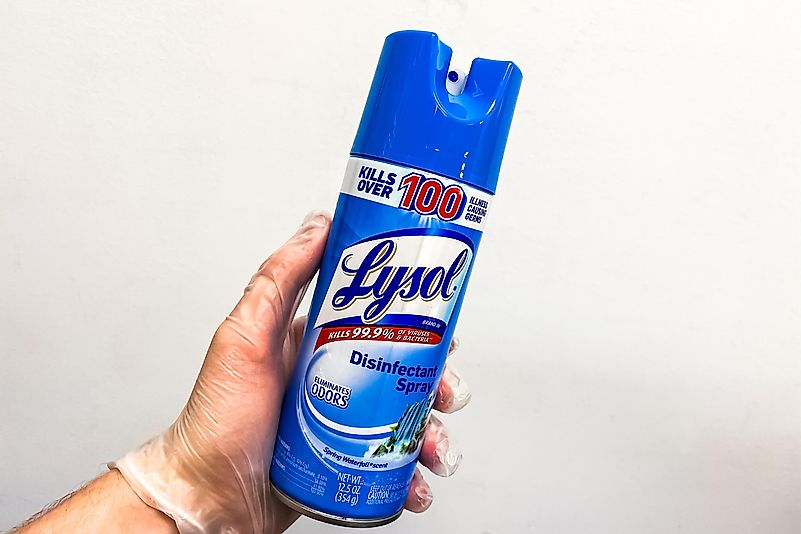 This spray can be used to clean any hard to reach surfaces in your home, or just places you would not normally clean, even if other people in your household touch them. Opening up a refrigerator might not seem dangerous, but some bacteria might be left there, so the easiest thing to do is just spray it with this useful product.
You use it by spraying the air around the area you want to disinfect, plus the surfaces, and let them remain wet for a minute or two. That will be enough time for the active ingredients in this spray to do their job. Do not use this product for surfaces that are in direct contact with food. If you do, rinse them with clean water after using Lysol Disinfectant Spray. This includes children's toys as well.
Microban 24 Multi-Purpose Cleaner
Another Microban 24 product, this one can clean all those hard to reach places. Similarly to the previously mentioned spray, it is made with a new formula that allows it to protect surfaces from bacteria for 24 hours. It is an extremely powerful formula, capable of penetrating grease and soap scum.
Lysol Laundry Sanitizer Additive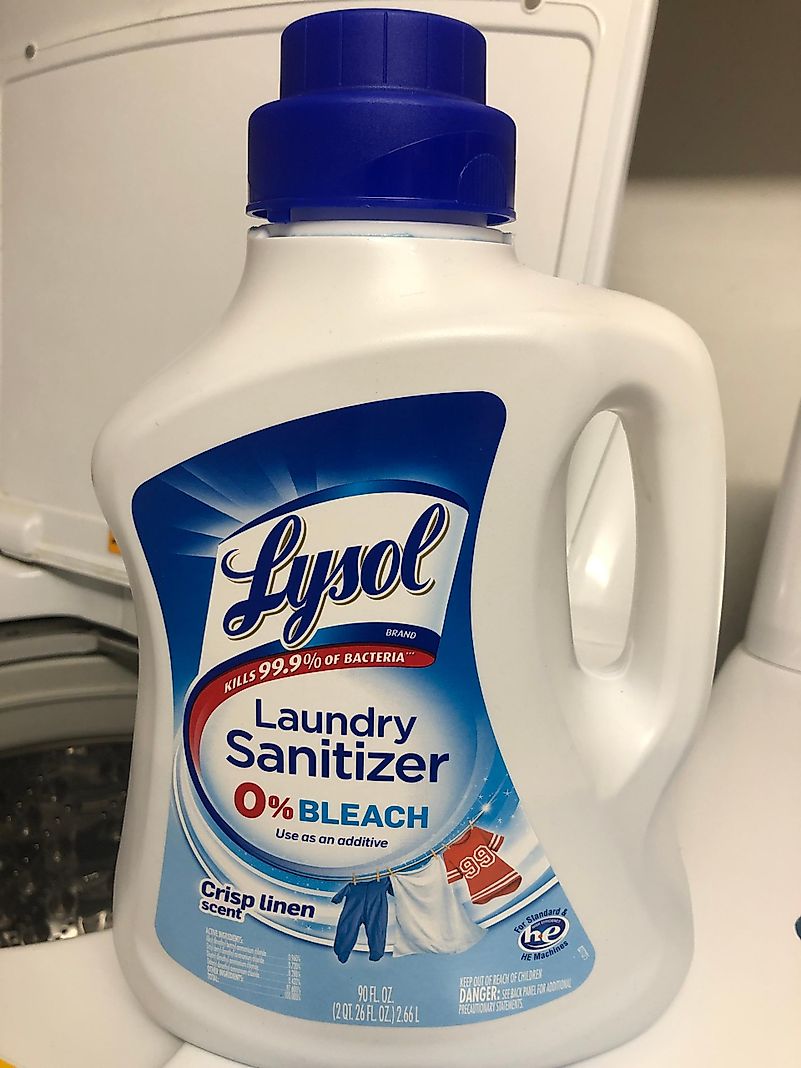 This product is considered the best for your laundry. The majority of bacteria are transmitted through human contact with each other, but the novel coronavirus is a bit different. It can remain on a surface for two to three days, meaning it could end up on your clothes.
If you accidentally touch that spot with your hands, and then carelessly touch your face, you might get infected. This is why washing your clothes with a quality product is important. It is especially true if you are a healthcare worker or are working with children. This product is safe and can be used on any fabric.
Microban 24 Sanitizing Spray
The Microban 24 Sanitizing Spray is one of the newly released products under the Microban 24 label, said to protect any surface from bacteria for 24 hours. Not only that, but it also kills the majority of the bacteria already on the surface once you apply it. It is a 3-in-1 cleaner and can be used on almost all surfaces in your home. The fact that those surfaces are safe from bacteria for 24 hours makes it perfect for these times since it will keep you safe from the novel coronavirus.
Purell Professional Surface Disinfectant Spray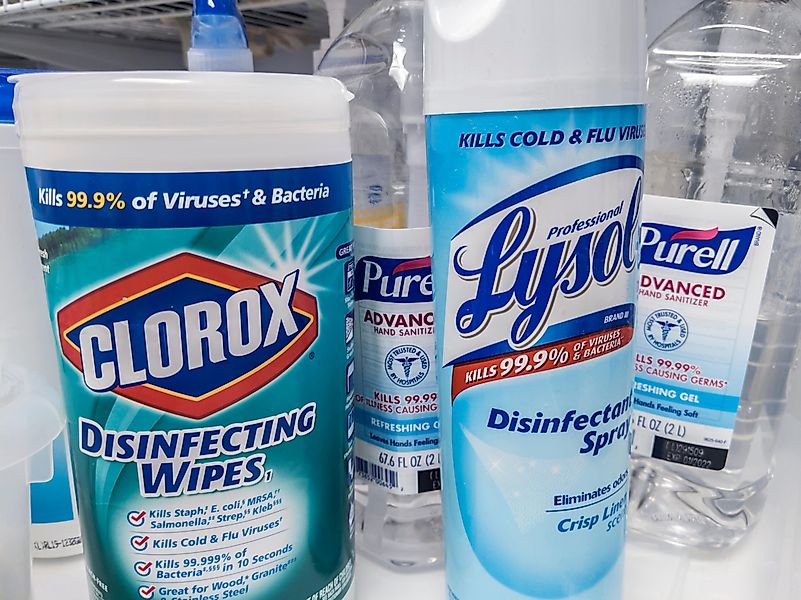 A lot of bacteria can be commonly found around food sources, along with plenty of other germs. Bringing the coronavirus close to food can be extremely dangerous, so it is important to clean food preparation areas thoroughly. Most disinfectants require you to rinse after cleaning, but Purell Professional Surface Disinfectant Spray does not, which makes it one of the best solutions for disinfecting your kitchen.
It can kill bacteria and germs in under 30 seconds and dries extremely quickly as well, so you can touch whatever you have cleaned with it almost instantly. It does not deep-clean, but it does not need to; you may use it on all plastics, metals, woods, or granites. 
About the Author
Antonia is a sociologist and an anglicist by education, but a writer and a behavior enthusiast by inclination. If she's not writing, editing or reading, you can usually find her snuggling with her huge dog or being obsessed with a new true-crime podcast. She also has a (questionably) healthy appreciation for avocados and Seinfeld.
This page was last updated on April 5, 2020.
Citations
Your MLA Citation
Your APA Citation
Your Chicago Citation
Your Harvard Citation
Remember to italicize the title of this article in your Harvard citation.