Entertainment
10 Instruments You Can Learn To Play While In Quarantine
On this list, we will focus on those instruments that are most practical to be played at home, producing the least amount of noise, that are easy to pick up and ensure fun and education during the long days of social isolation.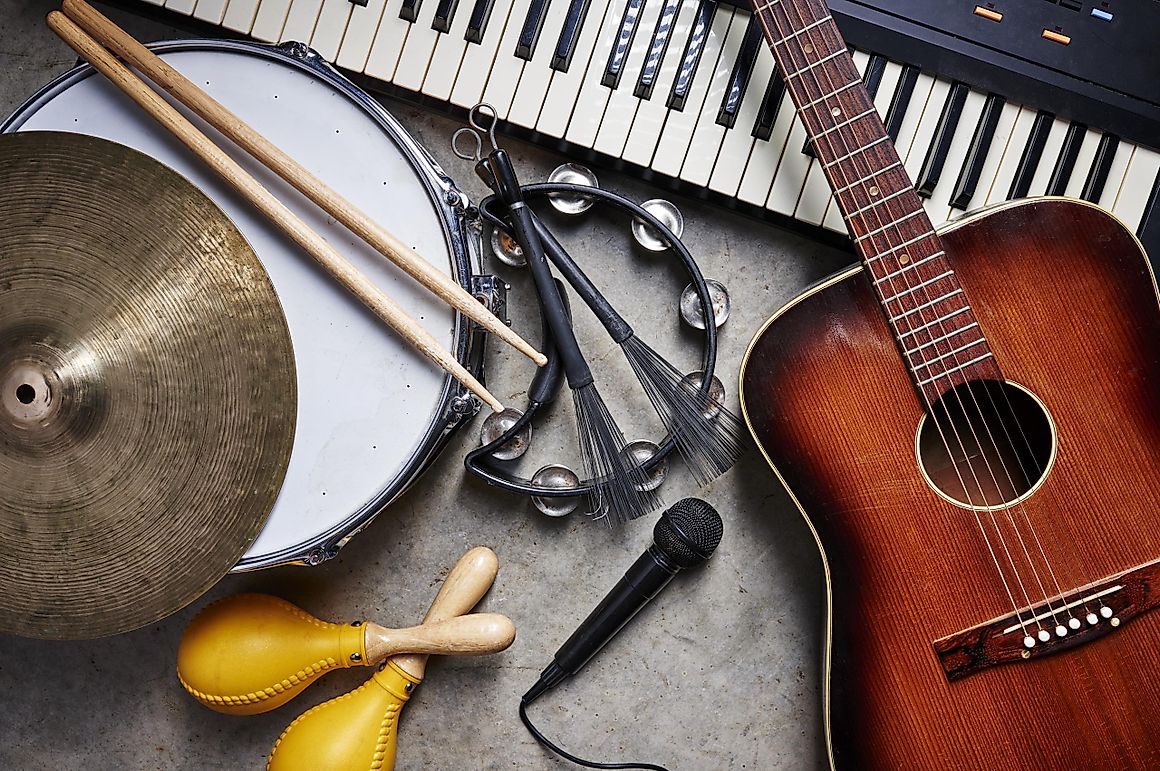 The Italians might have inspired you, or you feel bored and want to start a new hobby. Whatever it is, music can enrich your life, boost your immunity system, help you express your emotions, and develop many physical capabilities, unlike anything else. These are all invaluable in the times of the Covid-19 outbreak. On this list, we will focus on those instruments that are most practical to be played at home, producing the least amount of noise, that are easy to pick up and ensure fun and education during the long days of social isolation.
Keyboards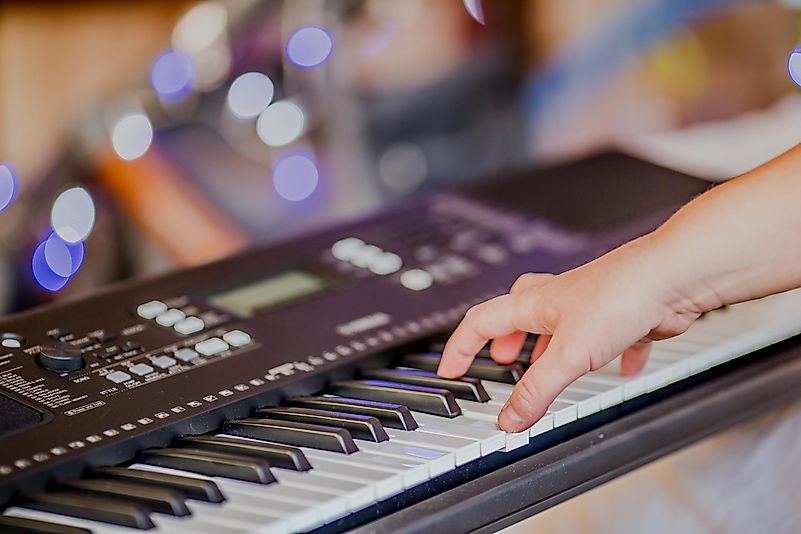 Keyboards are an extremely versatile instrument; they do not take much of your space and can be carried around easily. You also have an option to plug in your headphones so you can practice without disturbing your family or your neighbors. Learning an instrument like keyboards will teach you the basics of all music. You can practice melody, harmony, and rhythm, all in one instrument. Because of these reasons, it is a perfect choice for every music beginner and will make your quarantine days much more fun and educational.
Guitar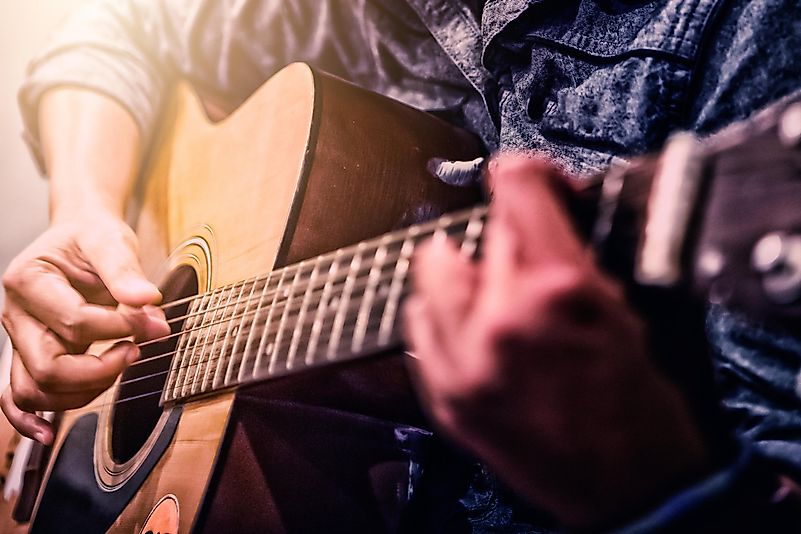 You cannot go wrong with a guitar. You can go for classical, acoustic or electric guitar. Like most instruments, the guitar is easy to start, but it takes a lifetime to master. It is a great choice for beginners just like keyboards, as you will be learning the basics of all musical genres and develop your hand/finger ability, which can be a valuable skill that transmits to other instruments. With all the available resources online, you will learn quickly and soon be able to spread joy among your neighborhood by practicing on your balcony!
Drums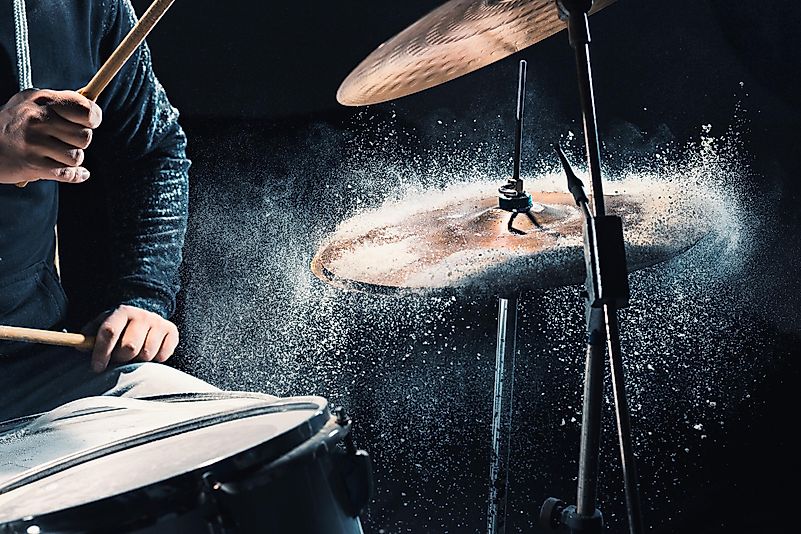 Yes, drums are a loud instrument, and as such, they might not be your primary choice for learning an instrument while in quarantine. However, there are fewer loud options, such as electronic drum sets, which are great for apartments and will not bother your household members or neighbors. Drumming is one of the oldest forms of playing music in our history, used for communication and religious rituals.
Today, the modern drum set is a crucial element of any live performance or studio recording session. Rock music played a significant role in the development of this instrument, pushing the drummer to the forefront of many musical ensembles. Drums can help you fight anxiety and stress, making you feel present in the moment, which is especially beneficial in today's situation.
Cajon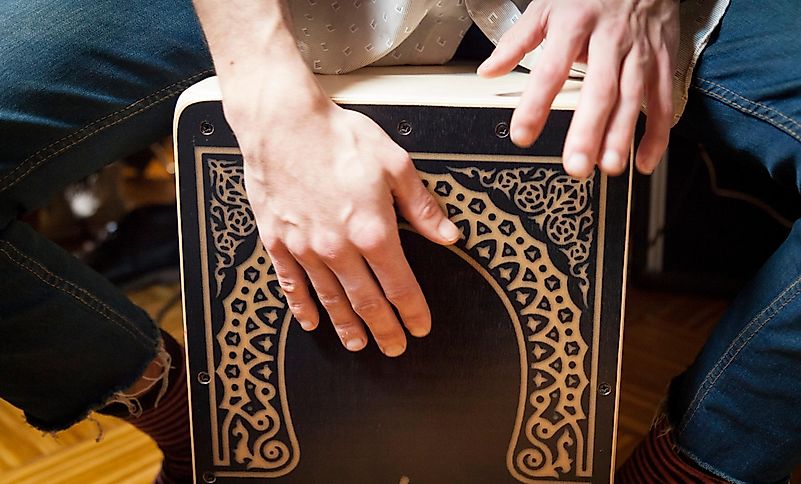 Cajon is a less noisy alternative for the modern drumset. The cajon is a Peruvian instrument that increased in presence during the last years, appearing in many bands of all sizes, but especially in acoustic settings as an alternative to a much louder drum set.
It provides an excellent accompaniment for acoustic guitar, so if you have a family member that knows to play the guitar, you can try and jam together! Cajon offers a variety of sound sources, but its main ones are low pitched tone that comes from hitting its center and the high ends available on the edges of the box.
Harmonica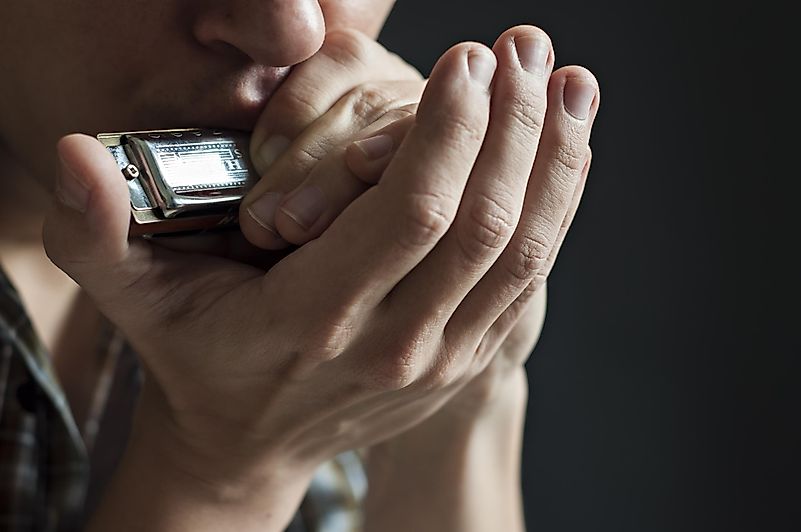 Harmonica is a versatile woodwind instrument. Small and simple, it is used in many different genres of music, but is mostly associated with the blues, thus the name "Blues Harp." It is great for both solo performances, as well as a part of a group. Even though it looks like a toy, it is far from it. Harmonica can produce wonderful sounds, numerous intervals, and also helps with your breathing (a valuable skill we are losing today) by exercising your diaphragm. It is something you should consider in these stressful times.
Harmonica is a versatile woodwind instrument.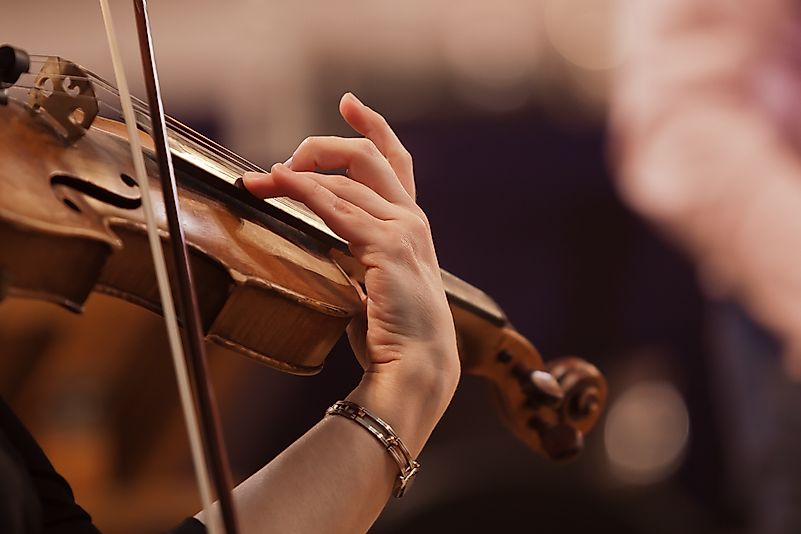 The violin is a small, high-pitched, four-string (usually) instrument commonly found in classical music, jazz, country, and even metal! If you decide to go for a violin, you will find that your posture, concentration, and coordination will improve greatly.
Spending weeks in quarantine might make your spine and posture worse, so practicing the violin might just be what you need. You might even build some muscle since the violin requires strength in your upper body muscles. Also, the violin is a great source of discipline for young children.
Bass Guitar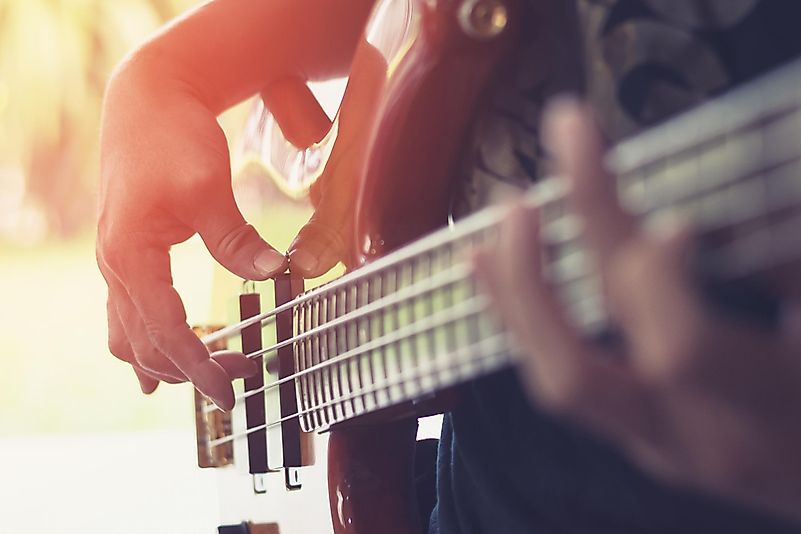 It seems like the bass guitar does not get the praise it deserves. After all, they bring the funk! A bass guitar is an invaluable part of any band, across all musical genres. The instrument gives the song its depth and establishes the groove of the song together with the drums.
This instrument is not about showmanship (although it can be); it is more about the underlining foundation that makes people want to move and dance. Unlike the electric guitar, the bass is usually using four strings but has incredible musical freedom. You do not need to play a lot of notes; you can focus on playing just a one-note bar and still sound good.
Saxophone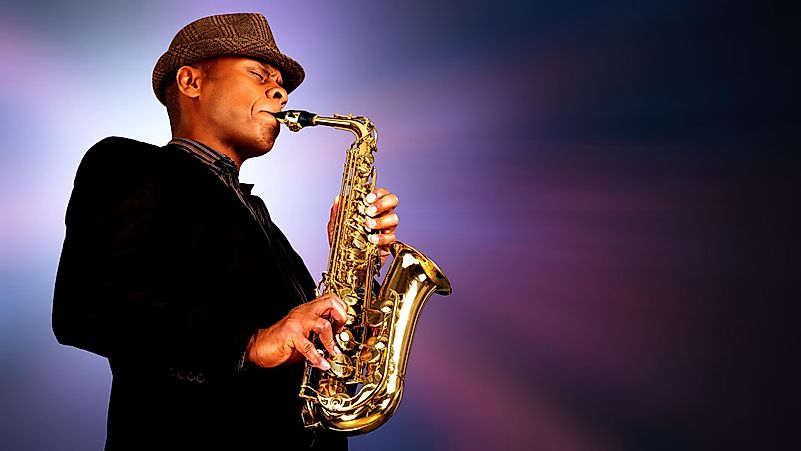 Did you ever want to learn to play the intro to The Baker Street, or Careless Whisper? We all did at some point. This instrument can be incorporated in every style of music due to its soft and, at times, aggressive sound, and wide range of dynamics.
Typically made out of brass, the saxophone is considered to be a "cool" instrument due to its roots in the aesthetics of jazz music, with which it is most commonly associated. If you do consider playing this instrument, there are 4 of the most popular choices: the Soprano, Alto, Tenor, and Baritone. Whichever you chose, you will end up with an instrument that improves aural skill and helps with logic.
Flute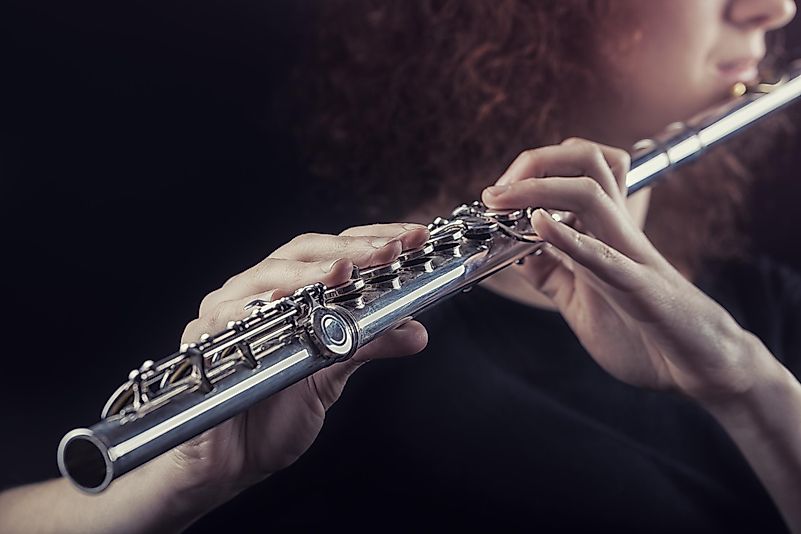 It is inexpensive, it is small, it is not particularly loud. It is easy to learn and easy to carry around. It is one of the oldest instruments, often used in orchestra settings, jazz, and world music. Like many wind instruments, the flute promotes healthy breathing and forces you to work on your core strength. It will also make your finger coordination much better, in case you want to try out other instruments such as the alto saxophone.
Vocals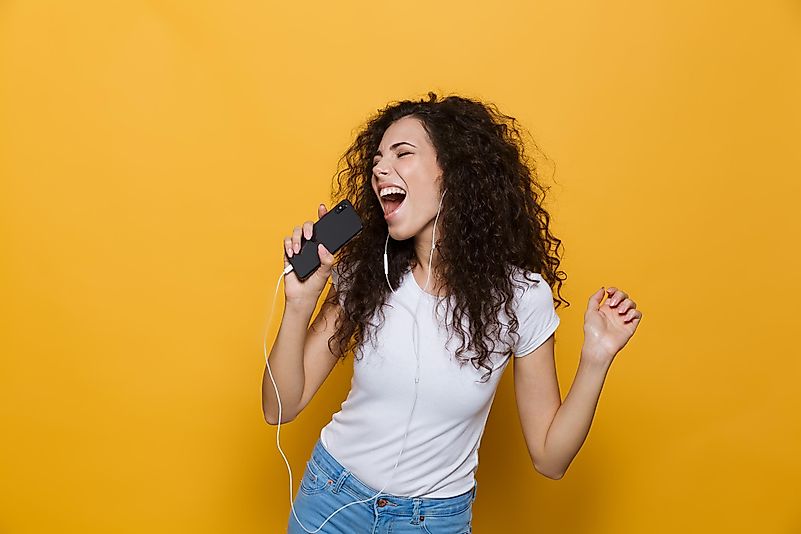 The least expensive of all the musical instruments! Anyone can sing! Not all of us can sing well, but everyone can learn the difference between high and low notes. With enough practice and time, you will be able to notice the mistakes and correct yourself, even without the help of the professional (although online tutorials are recommended).
Understanding how singing works will make your voice perform better, increase your lung and breathing capacities, and strengthen your immune system (which will help you fight off the coronavirus). After the quarantine ends, you can even find a teacher, but in the meanwhile, stick to balcony singing.
About the Author
Antonia is a sociologist and an anglicist by education, but a writer and a behavior enthusiast by inclination. If she's not writing, editing or reading, you can usually find her snuggling with her huge dog or being obsessed with a new true-crime podcast. She also has a (questionably) healthy appreciation for avocados and Seinfeld.
This page was last updated on April 1, 2020.
Citations
Your MLA Citation
Your APA Citation
Your Chicago Citation
Your Harvard Citation
Remember to italicize the title of this article in your Harvard citation.