World Facts
10 Countries With The Most Battlefield Deaths Per Year
War-torn neighbors Syria, Iraq, and Afghanistan continue to top the list of wartime deaths.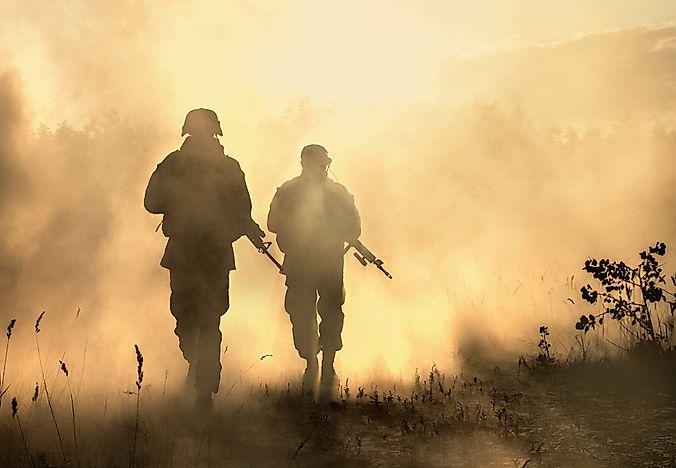 The Middle East is an area which has been in turmoil and confronted with conflict after conflict for several decades. In the 1980s the area saw the Soviets attacking Afghanistan and the formation of the Taliban, and bloodshed has occurred nonstop all the way to the current scourge of the Middle East, the Islamic State in Iraq and Syria (ISIS). The Middle East is a strategic key point and dependably has been all through history. It is attacked regularly essentially due to that reason as whoever holds the Middle East controls a considerable measure of oil. Oil, of course, in turn meaning profit.
Modern Scourge of the Middle East
The modern scourge of the Middle East, is none other than ISIS. ISIS has managed to gain massive influence in the middle east and all over the world, as individuals from each country are setting off to the Middle East to join their cause. ISIS has had an horrendous effect everywhere throughout the world, however they are mostly a monstrous threat to the innocents of the Middle East. ISIS control's numerous regions of Syria and Iraq. Whomever controls those regions, controls loads of oil. It is broadly believed that the greater part of ISIS's income is through oil. The Middle East has been unstable for over 10 years. The Civil War in Syria, the wars in Afghanistan which were initiated in 1978 and still last up to the present, and one of the most noticeably awful problems of the Middle East with ISIS. ISIS is one of the fundamental reasons numerous individuals relocate to various nations, as they slaughter Shiites, Kurds, and other sects of different Muslims who follow different schools of teaching, since they don't adhere to the same belief system that they do. They are viewed as even among numerous Muslims barbaric, heathens, and savages. With a terrorist group free to move around at will, the countries would obviously battle them. A major reason why there is such high battlefield casualties in countries such as Afghanistan, Iraq, and Syria because of problems such as this. ISIS is constantly being fought by the nations army and police to get rid of them. In war there is always casualties. ISIS being the cause of these casualties. In other countries, it is usually Civil War or terrorist groups which are the cause of casualties. The same scenario is relevant to the repulsion that individuals are confronted with in the Middle East.
Casualties
History has proven that there will always be war. Man is primitive by nature and possesses an ego. The ego and our primitive nature driving many to do what seems to many to be against actions of "morality" just as a coin has two sides, so does everything else. With happiness comes sadness, with war comes peace. Aside from peace, however, war also brings many casualties. As you can observe in the chart below, it is indicated that annually Syria has had 54,690 deaths, Afghanistan 12,250 deaths, and Iraq 11,933 deaths, with these deaths being caused all by war, civil conflicts, and combat against terrorists.
10 Countries With The Most Battlefield Deaths Per Year
| Rank | Country | Recent Battlefield Deaths Per Year |
| --- | --- | --- |
| 1 | Syria | 54,690 deaths |
| 2 | Afghanistan | 12,250 deaths |
| 3 | Iraq | 11,933 deaths |
| 4 | Ukraine | 4,352 deaths |
| 5 | Nigeria | 3,793 deaths |
| 6 | Pakistan | 3,140 deaths |
| 7 | South Sudan | 1,674 deaths |
| 8 | Israel | 1,665 deaths |
| 9 | Yemen | 1,660 deaths |
| 10 | Somalia | 1,103 deaths |
This page was last updated on March 14, 2019.
Citations
Your MLA Citation
Your APA Citation
Your Chicago Citation
Your Harvard Citation
Remember to italicize the title of this article in your Harvard citation.