Guide to Dubai International Airport / DXB Airport United Arab Emirates / Dubai International UEA
Airport Guide: Dubai International (DXB) – Dubai, UAE
Dubai International Airport (DXB) is the seventh-busiest in the world, expanding daily both in size and traffic. With a third terminal recently finished and a fourth on the way, it is projected that DXB will greet 90 million passengers in 2015, and 98.5 million by 2020.
The airport is located near a handful of high-end hotels and includes prayer areas, smoking rooms, children's play areas and a health center with a gym, swimming pool, and hot tub. The airport's duty-free shopping area alone comprises 26,000 square meters, a number that is set to rise to 33,000 with the addition of Concourse D in 2015.
DXB services flights locally and internationally. Its recent renovations and current plans for expansion are a model for airports around the world.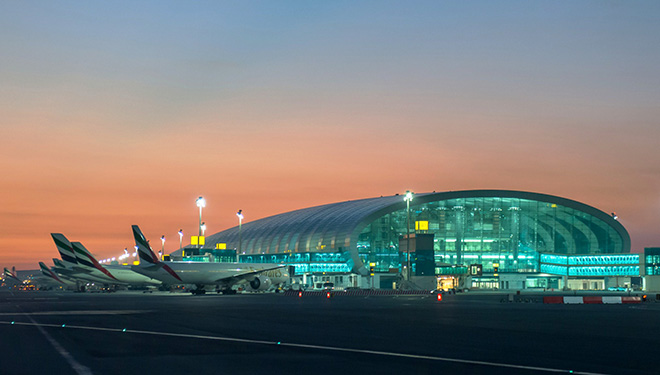 Image via: www.ainonline.com
Information
Address
Dubai International Airport
Al Twar, Dubai
United Arab Emirates
+971 4 224 5555
Map
Transit
Driving to DXB: Located just southeast of the Dubai city centre, the airport is easy to accessby car. To reach the airport from the south of Dubai, simply cross the Al Khor at the Al Gharoud Bridge and drive north, taking a right at Airport Road. Terminal 2 will be north of Terminals 1 & 3. Driving from the city center to the airport takes approximately 10 minutes.
Taxi: Taxis are a useful way of getting to and from the airport if you are in a hurry, are arriving at the airport when public transit is not running, or if you prefer a simpler option. Taxis from the airport charge an initial fee of 20 AED, plus regular fees (calculated on distance, not time; traffic will not factor into the cost). When returning to DXB, a taxi from the city will not charge the airport pick-up fee of 20 AED, but the regular 3 AED. Price of the total ride will vary according to distance.
Subway: The subway is the cheapest option for commuting to and from DXB, although the schedule may be inconvenient. Two lines service the airport (Red and Green), running from 6 am to 11pm every day except Friday, at which time the subway opens at 1pm and closes at midnight. It is to be noted that these times differ during Ramadan. Subway rides to the airport take ten to twenty minutes, depending on your place of departure. For more information, visit rta.ae.
Bus: The airport has its own bus system, which runs passengers to the city center and dozens of hotels in the city. Furthermore, Emirates operates a coach bus service which transits between DXB and Abu Dhabi (four times daily) and DXB and Al Ain (three times daily).
Shuttles: Shuttles are available to carry passengers between Terminals 1, 2 & 3.
Parking
Short- and long-term parking are available at all three terminals. Prices in AED and may vary for each vary.
Short Term: Designed for parking for up to five hours, this type of parking is made for friends and family members picking up or dropping off a passenger.
Long Term: Long-term parking is also available at each of the terminals. Busses carry passengers from the long-term parking lots to the airport; the ride is approximately five minutes long. It is also possible to obtain an annual parking pass.
T1
T1
T2
T3
Cargo
Cargo

Time Band

Car Park A

Car Park B

Car Park A & B




Car Park D
(Gate 13)

Car Park F
(EK SkyCargo)

0-15 min
10
Free
5
10

Flat Rate:
3/hr

Flat Rate:
5/hr
0-30 min
10
5
5
10
30-60 min
15
5
5
15
1-2 hr
25
15
15
25
2-3 hr
35
20
20
35
3-6 hr
50
25
25
50
6-9 hr
80
40
40
80
9-12 hr
110
55
55
110
12-18 hr
160
80
80
160
18-22 hr
220
110
110
220
22-24 hr
280
140
140
280
Daily
240
100
100
240
72
120
Valet: Valet parking is available at Terminals 1 and 3. Prices vary according to service: for regular service, one hour is 40 AED (additional hours are 20 AED each); for VIP service, one hour is 75 AED (additional hours are 30 AED)
Parking for the disabled: Wheelchairs and electric carts are available for those requiring assistance when parking at DXB. Many spots are reserved for disabled passengers. For more information before arriving, contact +971 4 216 2016
Car Rentals
If you have decided to rent a car when travelling to Dubai, the airport provides the ideal location from which to pick it up. The following are some of the companies who are on-site and ready to set you up with a vehicle; it is to be noted, however, that renting a car ahead of time may be a wiser course of action for ensuring that a car will be available to you upon arrival.
Budget Rent A Car
National
Europcar
Hertz Car Rental
Green Car Rental
Sixt Rent A Car
Advantage Car Rental
Thrifty Car Rental
Avis Car Rental
Dollar
Terminals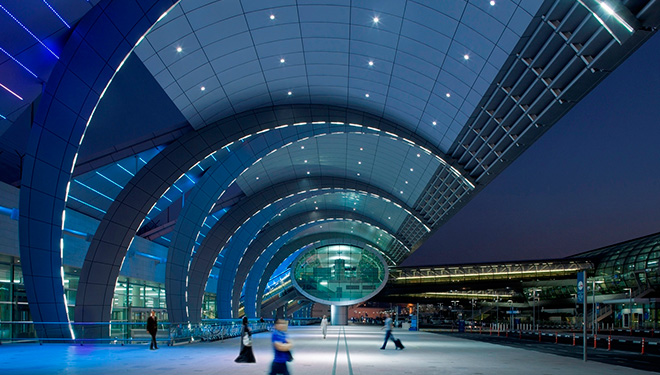 Image via: www.airportsinternational.com
Terminal 1: With a capacity of 38 million passengers, Terminal 1 is the second largest of DXB's three terminals. It services passengers flying to international destinations.
Originally designed to accommodate 24 million passengers annually, the airport recently expanded Terminal 1's capacity to 36 million. Terminal 1 was revamped for size and to improve baggage systems, check-in desks, and the departure hall. Concourse C, located within Terminal 1, is the second-largest concourse in the airport. It includes 50 gates, 28 air bridges and 22 remote gates (inaugurated with the expansion). It has 17 options for eating and drinking along with a five-star hotel and a duty-free shopping area.
Airline lounges in Terminal 1 include Emirates, Gulf Air, British Airways, KLM and Star Alliance.
Terminal 2: Terminal 2 deals mainly with flights to and from countries in the Persian Gulf region, such as Iran, Saudi Arabia, Pakistan, Afghanistan and India. Its capacity is 10 million, with recently-improved check-in and boarding arrangements.
Terminal 3: Terminal 3 was commissioned exclusively for Emirates and is focussed on international destinations. It can welcome up to 47 million passengers and is home to concourses A & B. The terminal houses 180 check-in counters, 2 600 parking spaces as well as first- and business-class lounges, restaurants, immigration counters and the largest baggage operating system in the world with 90 km of conveyor belts. Concourse A has two hotels, the largest lounges in the world, and a duty-free shopping area, along with 14 locations to purchase food and beverages. Concourse B has 32 gates, 5 lounges, and 26 air bridge gates. It includes 18 restaurants, duty-free shopping, and three hotels.
A VIP Pavilion was also inaugurated specially for the Dubai Royal Air Wing. A Dubai Executive Flight Terminal also exists for people of high importance.
Travel Between Terminals: Travelling between terminals can be done on any of the shuttles provided by the airport. Travel time between Terminal 2 and Terminal 1 is 20 minutes; Terminal 2 and Terminal 3, 30. Terminals 1 and 3 are on one side of the airport, Terminal 2 on the other. Transit between terminals can also be done on the metro line.
Servicing Airlines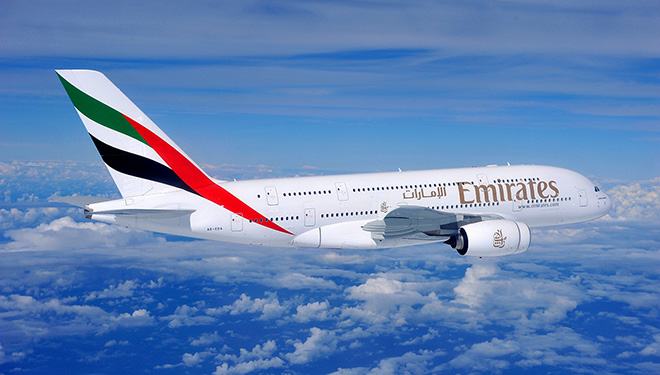 Image via: www.emiratescontactnumber.com/
Over 100 airlines bring passengers to DXB from around the world. With its own terminal, Emirates is by far the largest.
The main airline carriers are as follows:
Emirates
Qantas
Lufthansa
British Airways
Air France
KLM
Gulf Air
Hotels
DXB features three upper-class hotels for travellers to choose from.
Dubai International Hotel: This 5-star hotel is located on the 3rd level of the Airport's Sheikh Rashid Terminal. The hotel can be accessed from Concourse C (in Terminal 1) and Concourses A and B (in Terminal 3). The Dubai International Hotel offers luxurious accommodation on an hourly and nightly basis. The hotel has facilities such as a swimming pool, a health club, a meeting place, an area for dining as well as shopping options.
Phone: (04) 224 4000. Website: www.dubaiintlhotels.com
Millennium Airport Hotel: This is another top hotel within the Dubai Airport. The Millennium Airport Hotel has 115 rooms and is located beside the main terminals. It is popular because it offers a wide range of accommodation and dining options. The hotel also stands out for being close to numerous entertainment venues. It has many amenities, the most notable being the hotel's fitness centre and beauty salon.
Phone: (04) 702 8888. Website: www.millenniumhotels.com
Holiday Inn Express: This hotel is located directly opposite Terminal 3. The hotel is served by shuttle buses which depart every hour from Terminals 1 & 3. It takes approximately 2 minutes to reach the hotel from the Dubai Airport terminals. The hotel offers free underground parking for its guests. You can enjoy the hotel's bar, restaurant and fitness centre after meeting in the rooftop conference rooms.
Phone: (04) 290 0111. Website: www.ihg.com
Food and Drink
Dubai International Airport features a plethora of restaurants to choose from, each located in food courts throughout the terminals. There are currently 100 restaurants, distributed proportionately according to terminal size. Terminal 1 features 21 restaurants; Terminal 2, 12; and Terminal 3, 67. Food from around the world can be found in each of the terminals, offering passengers a wide variety of choices.
Shopping & Duty Free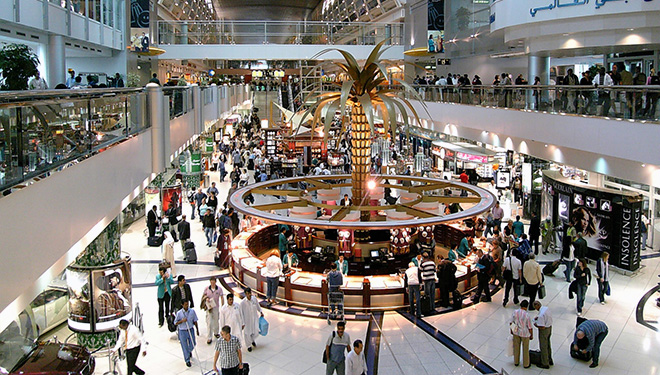 Image via: www.sunrisetravel.co.kr
Dubai International Airport has 26,000 square meters of duty-free shopping space, making it one of the world's largest. It has existed for over 30 years and won close to 500 retail awards. It employs 6,000 people, and made annual sales of 1.8 billion USD last year alone. With the projected expansion into concourse D in 2015, the duty-free shopping area is set to grow by 7,000 square meters.
Renovations & Delays
With the goal of achieving a capacity of 90 million passengers annually, Dubai International Airport is expanding Terminal 3 along with the construction of concourse D, which is projected to welcome 15 million passengers annually. This expansion will put Emirates in total control of concourses A, B & C, and move all other airlines to concourse D, or to Al Maktoum International Airport in Jebel Ali, 20 miles southwest of Dubai. 2020 passenger projections for the airport are placed at 98.5 million.
Entry Visas for DXB
Travellers arriving from Bahrain, Kuwait, Oman, Qatar and Saudi Arabia do not need a visa to travel to the United Arab Emirates.
Travellers coming from the following countries are not required to make visa arrangements prior to landing, but must go through Immigration to obtain a 30-day visiting visa (free of charge). This visa may be extended an additional 30 days at a cost.
Andorra
Australia
Austria
Belgium
Brunei
Bulgaria
Canada
Croatia
Cyprus
Czech Republic
Denmark
Estonia
Finland
France
Germany
Greece

Hong Kong
Hungary
Iceland
Ireland
Italy
Japan
Latvia
Liechtenstein
Lithuania
Luxembourg
Malaysia
Malta
Monaco
Netherlands
New Zealand
Norway

Poland
Portugal
Romania
San Marino
Singapore
Slovakia
Slovenia
South Korea
Spain
Sweden
Switzerland
United Kingdom
United States of America
Vatican City
Travellers from all other countries must arrange to have a visa drawn out prior to arriving in Dubai. Note: It is now possible to apply for the visa online
This page was last updated on June 16, 2020.