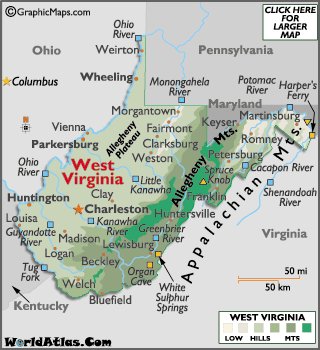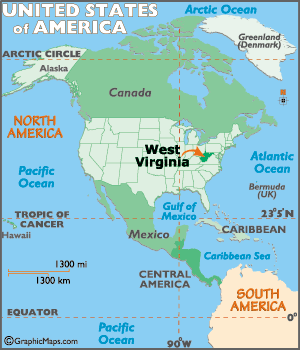 print this map
print this map

People listed are almost always native to the state. We do (on occasion) include those that have either lived within a state for most of their adult life, or have made a significant contribution to the state in their personal endeavors.
1 | 2
Famous Natives (Page 2)


K
John Shively Knight founder knight newspapers
Don Knotts actor
John Knowles author
John Kruk baseball player, television analyst
L - M
Everett Lilly singer, musician
Ann Magnuson actress
Peter Marshall actor
Kathy Mattea singer
Leo Mazzone baseball player, coach
Charles "Charlie" McCoy musician
Marion Meadows musician, composer
Morgan Morgan founder first white settlement in west virginia (born in wales)
Dwight Morrow politician, diplomat
Randy Moss football player
Lou Myers actor
N - P
John Forbes Nash mathematician, nobel laureate
John C. Norman surgeon, pioneer organ transplants
Brad Paisley singer, songwriter
Jedediah Purdy author, educator
R
Mary Lou Retton olympic medalist
Walter Reuther labor leader
Rich "Rod" Rodriguez football coach
Walter E. "Jack" Rollins songwriter
S
Nick Saban college football coach
Chris Sarandon actor
Alex Schoenbaum founder shoney's restaurants
Floyd B. "Ben" Schwartzwalder football coach
Harry Ford Sinclair founder sinclair oil
Michael W. Smith singer, songwriter
Red Sovine singer
Morgan Spurlock director, tv producer, screenwriter
Johnny Staats musician
Eleanor Steber opera singer
Lewis L. Strauss scientist, naval officer
V - Y
Cyrus Vance politician
Beverly Hennen Van Hook author
Harold T. Webster cartoonist
Jerry West basketball player
Jason Chandler Williams basketball player
Bill Withers singer, songwriter
Chuck Yeager test pilot
Steve Yeager baseball player
Steve Yeager baseball player
Fielding Harris Yost football player, coach

Is a famous person missing from this page?
Submit your Famous West Virginian