MILWAUKEE

Milwaukee, Wisconsin's largest city, sits on the shores of vast
Lake Michigan
. 1872 marked the year Milwaukee began to flourish as the biggest beer exporter in the country and the city continues as the state's primary commercial and manufacturing center.
Over the years, Milwaukee has been creating its own Renaissance with the addition of the Riverwalk, Pier Wisconsin, the Milwaukee Art Museum, the renovation of city architecture and neighborhood renewal.
Like other
Wisconsin cities
, Milwaukee loves its sports teams. The University of Wisconsin-Milwaukee is home to the popular Panthers, NCAA Division 1 athletes. The Milwaukee Brewers baseball franchise is one of the oldest in the
United States
, playing out of the Miller Park facility where fans can arrange a fully catered tailgate party.
Milwaukee is a fun town with a growing population and great things to do on a
Wisconsin vacation
, even in the depths of winter. Enjoy ice fishing on Lake Michigan, skating, snow biking, bike races on a frozen lake, and yes, even the Polar Plunge for the more daring members of the crowd.
Every December the Santa Cycle Rampage comes to town...dress in your Santa suit, fortify yourself with the local holiday cheer of a Milwaukee brew, and hop on your bicycle for a tour of all the hole-in-the-wall pubs in town!
ADDITIONAL WISCONSIN CITY PAGES:
Christopher Latham Sholes invented the Typewriter in Milwaukee in 1867.
Milwaukee is the official U.S. national headquarters for the sport of Bowling.
Milwaukee is the hometown of the legendary motorcycle company Harley-Davidson.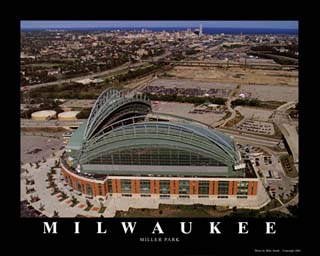 Miller Park...
by Mike Smith
Buy This at Allposters.com