MYRTLE BEACH

Myrtle Beach is a beautiful South Carolina resort town located on the Atlantic coast, not far from the border shared with
North Carolina
. With sixty miles of beach to be enjoyed, this bustling vacation destination is known for gorgeous seaside vistas and its dozens of golf courses, with both amateurs and pro golfers of the PGA tour calling this a favorite links spot.
This southern city offers several malls and is one of the largest shopping hot spots in
South Carolina
. Over 1,600 restaurants provide fare of every variety, many serving local specialties like hushpuppies, crawfish and alligator stew.
Myrtle Beach, named for the local wax myrtle trees, houses 25,000 permanent residents who welcome millions of visitors from all over
the world
year round.
Along with tourism, lumber companies and railroads are significant contributors to Myrtle Beach's economy. Tobacco, indigo and watermelon farms are also big producers in the fertile coastal plains surrounding the city.
ADDITIONAL SOUTH CAROLINA CITY PAGES:
The best selling musical group Alabama got their start playing gigs at a Myrtle Beach bar called the Bowery.
Myrtle Beach is the home of the Shag, a dance that originated during the 1940s Jitterbug movement. The Shag is a slower version of the Jitterbug—the direct result of dancers having too much to drink!
The City of Myrtle Beach has an ordinance requiring customers to pay for gasoline in advance of filling up their tanks.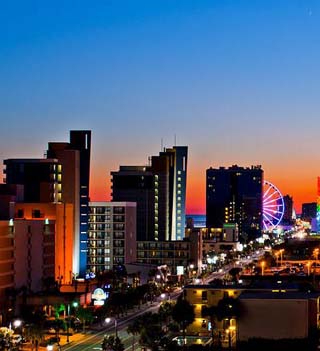 Myrtle Beach skyline, South Carolina
AWSC123 at en.wikipedia.org