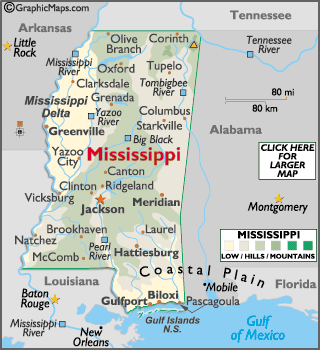 print this map
print this map

People listed are almost always native to the state. We do (on occasion) include those that have either lived within a state for most of their adult life, or have made a significant contribution to the state in their personal endeavors.
1 | 2
Famous Natives (Page 2)
K - L
Simbi Khali actress
B. B. King musician
Diane Ladd actress
Daniel Curtis Lee actor
Tom Lester actor
M
Tom Malone musician
Archie Manning football player
James "Jimbo" Mathus singer, songwriter, musician
Antonio McDyess basketball player
Steve McNair football player
Gerald McRaney actor
Mary Ann Mobley miss america, actress
Dorothy Moore singer
N
Ellis Nassour author, playwright
Brandy Norwood singer, actress
Carrie Nye actress
O
George Ohr potter
Roy Oswalt baseball player
P
Van Dyke Parks composer
Walter Payton football player
Hartley Peavey founder peavey electronics corp.
Joseph "Pinetop" Perkins singer, musician
Donald Peterson astronaut
Robert Pittman founder MTV
Evelyn Preer actress, singer
Elvis Presley singer
Leontyne Price opera singer
Charley Pride singer
R
Jerry Lee Rice football player
Beah Richards actress
LeAnn Rimes singer
Eric Roberts actor
Robin Roberts television host
Jimmie Rodgers singer
Dwayne Rudd football player
S
Saving Abel music group
Larry Semon actor, director
Kevin Sessums singer
Chris Shivers bull rider
Frederick W. Smith founder fedex
Britney Spears actress
Stella Stevens actress
John Marty Stuart singer, songwriter, musician
T
Donna Tartt author
James A. (Gene) Thomas deputy director nasa's kennedy space center
Paul Wayne Thorn singer, songwriter (born in WI)
3 Doors Down band
Richard (Dick) Truly astronaut
Ike Turner singer
Conway Twitty musician
James Michael Tyler actor
W
Sela Ward actress
Muddy Waters singer
Jim Weatherly singer, composer
Ida Wells-Barnett civil rights activist
Eudora Welty author, pulitzer prize winner
Tennessee Williams playwright
Al Wilson football player
Oprah Winfrey television talk show host
Keith Woodside football player
Richard Wright author
Tammy Wynette singer, songwriter
Y

Is a famous person missing from this page?
Submit your Famous Mississippian