1 | 2
Description (Page 2)
Minnesota Commerce and Population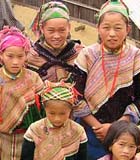 The Twin Cities
(Minneapolis and St. Paul)
became the center of commerce in the 1900's. The Minneapolis Grain Exchange and the founding of a Federal Reserve Bank along with the other industries helped spur the growth of the area.
By the 1980's, Minnesota became home to many
Southeast Asian
refugees from
Vietnam
,
Cambodia
and
Laos
due to the Vietnam War and its aftermath. Today, St. Paul is home to one of the largest contingents of urban Hmong in the United States.
Minnesota is rich in natural resources. More than 75% of the nation's iron ore is from the northern area in the Mesabi, Cuyuna and Vermilion
ranges
. Farming is also a key contributer to the state's economy yielding high volumes of corn, wheat, rye, alfalfa, sugar beets and other farm products.

Minneapolis is considered to be the trade center of the Midwest and St. Paul is the home of the largest publishers of calendars and law books. Of the top 1,000 U.S. publicly traded companies, 33 are headquartered in Minnesota, including Target, 3M, General Mills, Hormel, Land O'Lakes, Best Buy, Cargill, Carlson Companies along with many more.
Minnesota Travel
Tourism, a major revenue producer, attracts millions of visitors each year. Minnesota's
climate
features four distinct seasons, each offering unique opportunities for fun and exploration.
With the diversity of things to see and do, including cultural venues, fishing, hunting, water sports and winter sports, Minnesota is a favorite
travel
destination.