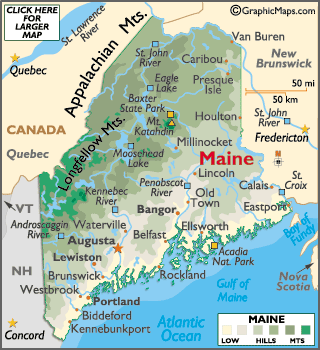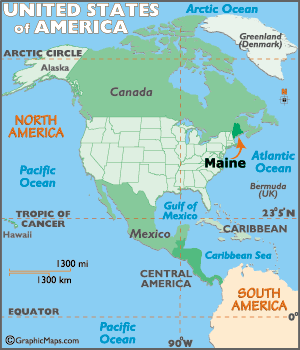 print this map
print this map

People listed are almost always native to the state. We do (on occasion) include those that have either lived within a state for most of their adult life, or have made a significant contribution to the state in their personal endeavors.
1 | 2
Famous Natives (Page 2)
K
David E. Kelley writer, producer
Stephen King author
William King first governor
Matt Kinney baseball player
Henry Knox first u.s. secretary of war
L
Linda Lavin singer, actress
Henry Wadsworth Longfellow poet
Elijah P. Lovejoy journalist, editor, abolitionist
M
Dick MacPherson football coach
Bob Marley comedian
Andrea Martin actress, comedienne
Hiram Stevens Maxim inventor automatic machine gun, mousetrap
Vaughn Meader comedian, impersonator
Carl "Stump" Merrill baseball manager
Edna St. Vincent Millay poet, playwright, nobel prize laureate
George J. Mitchell politician
Ruth Moore author
Marston Morse mathematician
Frank Munsey creator pulp magazines
Edward Muskie politician
N
Judd Nelson actor, writer
Rachel Nichols actress
Lillian Nordica operatic soprano
George Lorenzo Noyes writer, artist, naturalist
P
William Phips colonial governor
Walter Piston composer
Shirley Povich sports writer, reporter
Q
Phineas Quimby philosopher, healer, scientist
R
Thomas Brackett Reed politician
Kenneth Roberts author
Edwin Arlington Robinson pulitzer prize winner
Nelson Aldrich Rockefeller u. s. vice president
Victoria Rowell actress, dancer
S
Tim Sample humorist
Margaret Chase Smith politician
Samantha Smith youngest ambassador
Olympia Snowe politician
Louis Sockalexis baseball player
Percy Spencer inventor microwave oven
Frances Edgar and Freelan O. Stanley inventors stanley steamer automobile
Robert Stanley baseball player
Andrew St. John actor
Harriet Beecher Stowe author, abolitionist
Bill Swift baseball player
Tim Sylvia martial artist
T
Phyllis Thaxter actress
Gary Thorne sports announcer
W
Artemus Ward writer
Sam Webb politician
John Hay Whitney publisher, u.s. ambassador

Is a famous person missing from this page?
Submit your Famous Mainer