ORLANDO

The City of Orlando, Florida is a vacation mecca for people from around the world. In fact, the entire Orlando region is home to an incredible assortment of family entertainment attractions, second to none.
The Orlando area receives over 50 million tourists annually, and Orlando has the second largest number of hotel rooms in the country, after
Las Vegas, Nevada.
Orlando is also one of the busiest American cities for conferences and conventions.
ADDITIONAL FLORIDA CITY PAGES:
The city's namesake was a Second Seminole War soldier named Orlando Reeves, believed to have died in the area in the mid-1800's.
Cinderella Castle at the Magic Kingdom, Walt Disney World Resort was modeled after Neuschwanstein Castle in Bavaria, Germany.
Famous Orlando residents include the Backstreet Boys, Johnny Damon, NSYNC, Wesley Snipes, and of course, Mickey Mouse and Minnie Mouse.
No city in Florida is more than 75 miles from either the Atlantic Ocean or the Gulf of Mexico.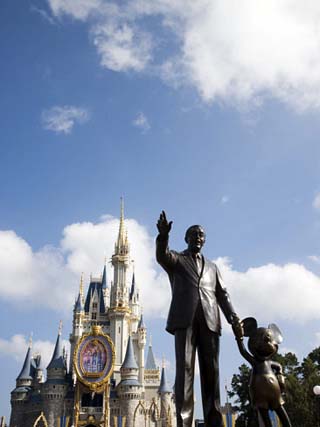 Statue of Walt Disney...
by Angelo Cavalli
Buy This at Allposters.com