HOLLYWOOD

Welcome to Hollywood, California, the birthplace of the movie industry and still the center of the motion picture universe. 'Tinsel Town' offers a wide variety of celebrity tours for your
California
vacation. Many Hollywood studios invite the public to be part of the audience for sit-coms, talk shows and game shows.
This land of glamour and glitz is just minutes from the Sunset Strip, and Beverly Hills and the high priced shopping on Rodeo Drive.
Combining old time movie glamour and incredible theme park rides,
Universal Studios Hollywood
is located in Universal City, another vibrant area of LA, and just minutes away.
ADDITIONAL CALIFORNIA CITY PAGES:
The landmark Hollywood Sign overlooking the neighborhood was erected in 1923 as an advertisement for the 'Hollywoodland' real estate company. The last four letters were removed in 1949.
The Hollywood Forever Cemetery is the resting place of hundreds of famous stars and attracts tourists from all countries of the world. The cemetery theater plays classic movies every Saturday night!
The Kodak Theater has become the crown jewel of the Hollywood & Highland district, hosting the spectacle of the Academy Awards since its opening in 2001.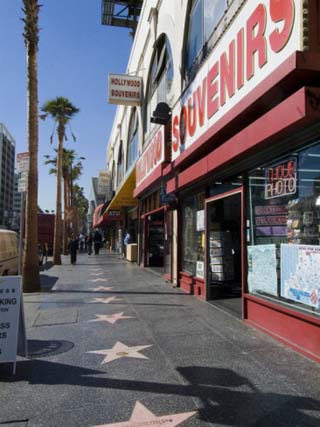 Hollywood Walk of Fame...
by Ethel Davies
Buy This at Allposters.com