New Brunswick Description

At the Bay of Fundy and the Miramichi River, shipbuilding was the dominant industry throughout the 19th century followed by logging and farming. In the last half of the century, railroads were built across the province, making transportation of resources to other markets a viable source of income.

In 1867, Ontario, Quebec, New Brunswick, and Nova Scotia joined together to form the Dominion of Canada. Following this confederation, the provinces suffered significant economic decline, primarily caused by the new national policies and trade barriers that had been established resulting in disrupted trading relationships with New England.

The Great Fire of 1877 in Saint John and the decline of the shipbuilding industry also affected New Brunswick's economy. The Panic of 1893 significantly affected the export economy and many workers lost their jobs and moved west to other parts of Canada or to the United States. New Brunswick Today



The Acadians, mainly French speaking, were isolated from the English-speaking residents of the province and in 1969, the Official Languages Act was passed making French an official language, equal with English. (New Brunswick is the only official bilingual province).

At the beginning of the 20th century, the economy began to expand with manufacturing growth in the textile industry and forestry. Heavy metals mining is prominent in the northern part of the province and includes one of the world's largest potash deposits.

Although New Brunswick has a signficant coast line, it is sheltered from the Atlantic Ocean while its vastinterior contributes to its continental climate. The diverse landscape ranges from the Appalachian Mountains to the Miramichi Highlands to the eastern and central lowlands. One of the Marine wonders of the World, the Bay of Fundy, is home to the highest tides in the world.

A visit to New Brunswick offers a most unique Maritime experience whether enjoying the great outdoors or the lively cities with their eclectic blends of cultures.
New Brunswick Photographs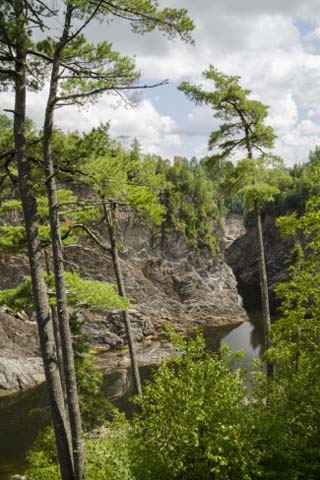 This page was last modified on November 17, 2015.